26 May 2005 Edition
The Fifth Column
Bugging eBay
PART of the MI5 bugging device found hidden under the floorboards of Sinn Féin's Belfast headquarters last September was put up for sale by Gerry Adams worldwide on the auction website, eBay, this week... until it was mysteriously pulled without warning.
Described on eBay as a section of an "MI5 British spy device", the item comes complete with a framed hand-written letter from the Sinn Féin president authenticating the unusual lot's provenance.
The MI5 bug, which was discovered at Connolly House in Andersonstown, had two microphones — one directed at an office, the other at a meeting room.
"This is a unique opportunity," eBay said. "A historical item such as this has never before been made available and it's highly unlikely that it will happen again."
Gerry Adams says that he and Martin McGuinness gave the main part of the spooks' bugging device to Tony Blair during political talks in Leeds Castle in Kent that same month as it was uncovered.
"When we were leaving that meeting I held on to a section of that device," he said.
"Since then I have been in correspondence with various elements of the British system to establish who authorised this electronic surveillance operation.
"In January 2005, Eliza Manningham-Butler, head of MI5, admitted that MI5 bugged Connolly House.
"This note is authentication by me that the section of the bugging device which it accompanies is part of the Connolly House device which was returned to Mr Blair."
But the auction on eBay was dramatically halted within 24 hours of it going online with all the attendant worldwide publicity. Sinn Féin's Mitchel McLaughlin said the "clumsy attempt at censorship no doubt came about as a result of the efforts of the same shadowy individuals who were responsible for putting this bugging device in our offices in the first place".
But all is not lost for bargain bug hunters. The auction has recommenced on the Sinn Féin Bookshop website at http://www.sinnfeinbookshop.com
RUC plaque off the wall
DUP MP Nigel Dodds's personal advisor is pushing ahead with plans to save the Belfast home of a notorious RUC inspector involved in a string of blatant sectarian murders in Belfast in the 1920s.
RUC Inspector John Nixon and his Unionist Party-backed RUC death squads were implicated in countless murders of Catholics, including the McMahon family, shot dead in their home in Belfast's Antrim Road in 1922. Nixon was one of a group of RUC men who terrorised the North's Catholic community in the years following partition. Nixon was a leading Orangeman and a Unionist MP until his death in 1949.
But DUP Councillor Ian Crozier wants to turn Nixon's Ballygomartin Road home into a shrine in honour of the sectarian, state paramilitary chief and his KKK-style of policing.
"It doesn't have to be a museum but it has to have a place in local history," Dodds's backroom boy says. "I will certainly be asking for a plaque to be put up though."
Belfast historian Joe Baker told the Belfast Telegraph that nationalists in the North regard Nixon in the same league as the UVF gang leader and 'Shankill Butcher', Lenny Murphy.
"This will be seen as a completely offensive plan to nationalists across Ireland. DI Nixon was a murderer who killed innocent Catholics and to put up a shrine to him is completely off the wall. I can't believe a politician who wants to be taken seriously would instigate such a plan."
ASBO club
TONY BLAIR'S Ministry of Defence has failed in its bid to get an Anti-Social Behaviour Order (ASBO) put on peace campaigner Lindis Percy to stop her demonstrating outside the US spy base at Menwith Hill in England.
The judge hearing the application for the ASBO said: "I am firmly of the view courts ought not to allow Anti-Social Behaviour Orders to be used as a club to beat down the expression of legitimate comment and the dissemination of views of matters of public concern."
Pot calling kettle
BRITISH National Party Councillor Daniel Kelley has resigned from Dagenham Council in East London.
The local newspaper reports that his "shock exit" comes just nine months after his election. The representative of the white supremacist party cited health reasons and "prejudice" from other councillors.
Greenpeace terror
ANOTHER international network of militant subversives is coming under the legal hammer of post-9/11 terrorism laws. Yes, folks, Greenpeace in Denmark is now in the dock on terrorism charges.
So what have the pacifist saviours of whales, seals and rain forests done to undermine the stability of the Western World? Poisoned the prawn sandwiches at G8 summits? Slipped some bromide into sexual athlete Tony 'Five Times A Night' Blair's champagne? No.
In October 2003, a couple of Greenpeace members got onto the roof of the Agricultural Council headquarters and hung a banner in opposition to GM food. Now the whole organisation has been charged under terrorism laws adopted after September 11.
Police record
REPUBLICANS who have had the dubious pleasure of the cells of Paddington Green Police Station in London, and the unwanted hospitality of the Terrorist Police and the riot squad goons who wait on them, might be surprised to hear that one of their number has at last been suspended for "claims" of racially abusing detainees.
PC David Yates has been suspended after he was secretly recorded by a Kurdish teenager he was arresting. The boy used his mobile phone to record PC Yates allegedly making threats and swearing.
A West London Youth Court judge threw out a case against the boy after hearing the tape on 13 May.
It is said that on it, the officer swears repeatedly, accuses the boy of being a robber and rapist, and threatens to "smash your Arab face in".
District Judge David Simpson said the tape should be sent to the Metropolitan Police Commissioner and the Director of Public Prosecutions for them to consider disciplinary and criminal proceedings against the policeman.
He told the court: "There's a lot of talk about respect and the lack of it. Respect is not something you get by putting on a uniform."
Even Metropolitan Police Chief Sir Ian Blair has condemned PC Yates's alleged behaviour as "outrageous".
"What I have asked for is that, if the evidence stacks up, then we will put the officer on a fast-track procedure out of the force," he promised.
If only they showed the same diligence in the PSNI.
An Phoblacht Magazine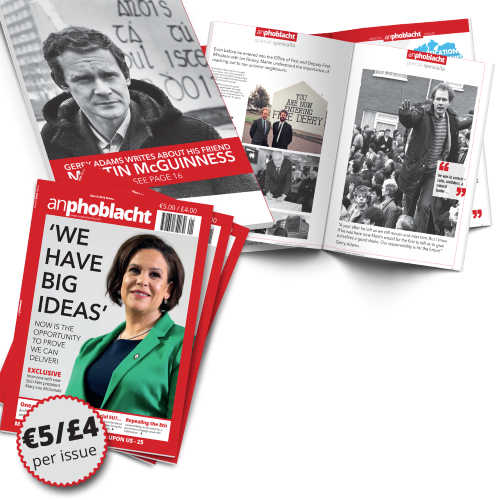 AN PHOBLACHT MAGAZINE:
The first edition of this new magazine will feature a 10 page special on the life and legacy of our leader Martin McGuinness to mark the first anniversary of his untimely passing.
It will include a personal reminiscence by Gerry Adams and contributions from the McGuinness family.
There will also be an exclusive interview with our new Uachtarán Mary Lou McDonald.
test