26 May 2005 Edition
Taking the fifth
On 5 May, Conor Murphy made history by taking the fifth Westminster seat for Sinn Féin, in Newry/Armagh, with a massive 8,000 more votes than his nearest rival, the SDLP's Dominic Bradley. Last week, An Phoblacht's JOANNE CORCORAN met with Conor to ask him how he managed to return almost 21,000 votes for Sinn Féin in a traditionally SDLP area.
An Phoblacht: Conor, can you tell our readers a little bit about your background — where you come from and how you became involved in politics?
Conor Murphy: I was born in Camlough, which is in South Armagh. My family were republican and my grandfather fought in the Tan War. There was always a sense of pride over his involvement in that.
I have memories of the civil rights campaign and the outbreak of the conflict in the late '60s, but I was still quite young then.
I suppose it would have really been growing up in the '70s that led to my becoming involved. My family would have been identified as republican and singled out for harassment. My uncle was interned in the '70s.
Then there were the H-Blocks and the Hunger Strikes. I was actually in jail during the 1981 Hunger Strike. I was interned just after Joe McDonnell died and was only 17 at the time.
That time in prison gave me a chance to sharpen my politics, to sit and debate the future with other republicans.
After jail, I got involved in Sinn Féin. I had been involved in some of the anti-H-Block campaigns, but when I got out it was the beginnings of electoral intervention and I got more active in that.
I got elected to the Newry and Mourne Council in 1989 and I was a councillor for eight years.
In the latter part of that, I went back to studying. I did an adult education course and then a degree in Jordanstown University of Ulster. I was doing a Masters in politics in Queens when the Assembly elections came up, so I actually missed the last part of it.
Your constituency of Newry and Armagh was always considered the cockpit of the revolution, and was even termed 'bandit country' by the British — so how did the SDLP manage to hold onto the Westminster seat for so long?
You have to look at the geography of the constituency. It can be divided up into three distinct areas.
Firstly, you have South Armagh, which has always been a strong republican area. The IRA would have been strong there through the '70s and '80s, right up until the '90s.
And Sinn Féin would have always had a solid base in South Armagh. But even there, our base has seen considerable growth. When I got elected, there were ten or eleven councillors in South Armagh, but we would have only had three or four of them. Now we have about seven.
However, while we were always strong in South Armagh, in 1989 we only had one councillor in Newry/Armagh and one in Armagh District. In terms of voting, we were relatively weak in those two areas. It's taken a number of years of steady growth to build that platform where we could be in a position to challenge for a Westminster seat.
We knew it was coming, though. In the first Assembly elections, most of the media pundits assumed we'd only take one of the six seats in Newry/Armagh. We actually took two. That showed us the level of our strength. In a subsequent Assembly election we took three out of the six and the SDLP only took one. That was a signal for most observers that we were poised to take the Newry/Armagh seat.
We were very close to Séamus Mallon in the last election, there were only three-and-a-half thousand votes between us. I think the SDLP recognised itself that probably 2,000 of those were unionist votes.
I think that prompted Mallon to seriously consider retirement.
Before you were elected, sanctions were placed on the four Sinn Féin MPs. Will they affect you and how do you feel about them?
They do yes, and obviously I feel very aggrieved by them, for all the reasons that the party has already stated. The IMC, which imposed the sanctions, is a completely nonsense body. The remit it was given by the British Government was outside the terms of the Agreement, and the fact that they're penalising us using spurious and unpublished evidence is a corruption of natural justice.
Financial penalties do impact on our ability to work, but what they really impact on is our ability to provide proper services for our constituents. They are an attempt to penalise those who vote for us and that angers me more than whatever restrictions they place on us.
Ultimately, though, we have been involved in politics from a time when there was absolutely no reward for it at all and certainly no money to help us. If all the money was stripped from us, we would continue to work at changing the face of politics on this island.
Not only did Sinn Féin manage to return stronger after the Westminster elections, but nationalism as a whole is now in a better position — holding eight of the 18 MP seats. What, if anything, will this mean for future talks?
What it should mean, particularly in the absence of a proper elected institution in the North, is the beginning of a campaign to get representation in the Dáil. That has always been the Sinn Féin position — for all nationalists to lobby the Dublin Government to give Northern citizens full and proper representation in Southern institutions.
The SDLP obviously plan to take their oaths in Westminster and I think that's very regrettable. If the collective strength we now have could be harmonised, it could be used to advance the cause of Irish citizens North and South of the border.
The fact that there's always been a lack of enthusiasm from the SDLP and the Irish Government in this area has always been a deep regret for republicans.
Nationalism should also now be focusing on insuring that the areas of the Good Friday Agreement, which have been neglected so far by the Irish and British Governments, are implemented, including demilitarisation, policing, human rights and equality.
And then, collectively, we should be getting the DUP involved so we can get the institutions up and running again.
Whether any of this will happen, or whether the work will be left to Sinn Féin again, remains to be seen.
Can you see negotiations getting harder now that the DUP's position has been cemented?
Well, it was never easy with David Trimble. So is it more difficult with a united unionist front? Time will tell.
Certainly, the DUP rhetoric is much more negative than some of the UUP's. But while the UUP can speak positively about engaging in power sharing, the reality is they opted out of it at every opportunity, and it's still the reality that the DUP and the Ulster Unionists opt out of power sharing in councils which they control across the North.
It's up to us to test the DUP, but if they are found to be wanting then the obligation is on us, and the two governments and the other parties, to push ahead with the Good Friday Agreement.
The other news during the election was the appointment of Peter Hain as the new Northern Secretary of State. How do you view his appointment, given his previous involvement in the likes of the anti-Apartheid Movement?
I think it remains to be seen what he will be like.
Our experience with various secretaries of state is that they carry out British policy in Ireland. They may use their own personal stamp to do that, but effectively that's what they're doing.
What we have to do is change British policy in Ireland. That's decided in Downing Street. Secretaries of State won't do that, regardless of whether they are more nationalist friendly or unionist friendly, or whatever their previous political positions.
And you find quite often that the further people get up in government, the more their previous positions are diluted.
From our perspective, our focus has never been on the personalities who happen to be in Hillsborough. Our focus has always been on dealing Downing Street and whoever happens to be in the British Government.
An Phoblacht Magazine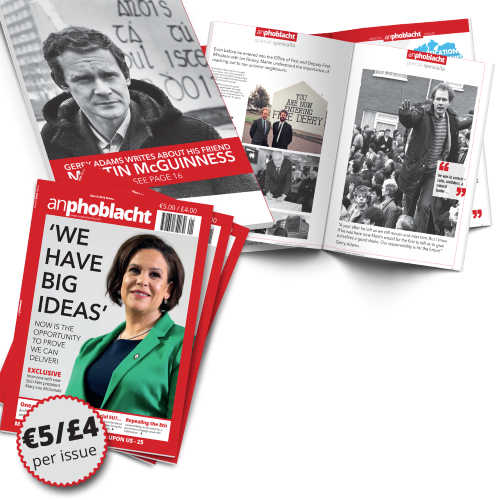 AN PHOBLACHT MAGAZINE:
The first edition of this new magazine will feature a 10 page special on the life and legacy of our leader Martin McGuinness to mark the first anniversary of his untimely passing.
It will include a personal reminiscence by Gerry Adams and contributions from the McGuinness family.
There will also be an exclusive interview with our new Uachtarán Mary Lou McDonald.
test