31 March 2005 Edition
Easter commemorated in Stormont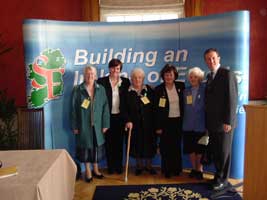 "The history of the old Stormont regime is one of oppression, discrimination and elitism, the very opposite of what the was set out in the 1916 Proclamation."
So said Sinn Féin's John O'Dowd as he welcomed an invited audience of republican activists to the first ever Easter Commemoration in Stormont on Thursday 24 March.
Among those at the ceremony were veteran republican women activists Brigid Hannon, Rosaleen Ferris, Annie Cahill and many more from Tar Anall's 'Over 50s group'; all women activists whose work for the republican cause has stretched over many decades. Ógra Shinn Féin was well represented too, demonstrating the span of republican activism.
Central to the ceremony was republican activists bringing "republican politics into this once bastion of unionism", said O'Dowd.
"We are here to bring the principles of the 1916 Proclamation to life and to remember all those who lost their lives in the struggle for Irish freedom. We remember them today, in Stormont, in a site of continuing republican struggle."
Among the other speakers were Gerry Kelly and Caitríona Ruane, who pointed up the forthcoming Westminster election and urged all activists to work to ensure that after May 2005, there are no nationalist MPs left that recognise the Westminster Parliament. "The most fitting epitaph we can have for Céad Bliain is to ensure that we drive forward to unite our country," she said.
Pictured at the commemoration are Annie Cahill, Caitríona Ruane, Rosaleen Ferris, Anne Murray, Brigid Hannon and Conor Murphy