23 March 2005 Edition
Time to change partitionist party structure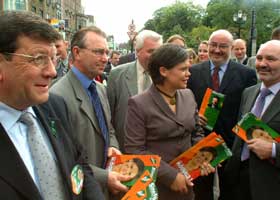 Well done to Domhnall Ó Cobhthaigh on his 'Turning defence into offence' article in last week's An Phoblacht.
Domhnall raises valid new arguments as well as others that have been articulated before but which we, as republicans, need to be ever mindful of as we carry out our roles as political activists. He is dead right about one thing in particular. The recently launched campaign for the Dublin Government to publish a Green Paper on Irish Unity must be central to the work of Sinn Féin members and supporters; of elected representatives and community leaders. Recent and past experience has shown us that if we are to achieve a united Ireland of equals, then we cannot be dependant on Fianna Fáil or the SDLP to do the running. This is a republican project that we need to lead at a national, regional and local level.
It must be pointed out that much work has already been done. Sinn Féin elected representatives, alongside party members working within their communities, have been, for some time, arguing the need to create all-Ireland dimensions to the provisions of services and the structures of the organisations that provide them.
This is, of course, only work at hand. In many respects, the real work is only beginning and the task is set to become even more difficult. As we advance the all-Ireland agenda and the project described as 'from co-operation to integration', our opponents (the opponents of change) are becoming more organised, more resolute and more determined to undermine our project. Our response must be to out-match their organisation, resolve and determination.
We must continually articulate our arguments for all-Ireland integration. We must argue and convince those directly involved in the respective sectors that an all-Ireland economy, health service, education system, etc, saves money and provides a better quality of service for ordinary people.
A number of weeks ago, the Sinn Féin members of Monaghan County Council told the executive of 'North West Tourism' that their partitionist structure actually impeded tourism potential, particularly in the border region. I don't know what impact our arguments had but they must continue, not only with those involved in tourism but across all spheres of Irish life. For our objectives to be realised, these arguments must be won. And they cannot be confined to other organisations. Sinn Féin must also realise that we must move away from current partitionist structures.
I was glad to see that a motion on the clár of this year's Ard Fheis calling for the establishment of a nine-county Ulster Cúige was passed overwhelmingly. Indeed, it was the second time such a motion was passed at the supreme governing body of our party. This time it must be implemented!
If this Ard Fheis resolution were to be ignored for a second time, it would raise serious questions about the constitutional nature of An Ard Fheis. What would it say about the democratic checks and balances that we as a party adhere to?
Just as importantly, what would it say about our sincerity when we call on other organisations to develop all-Ireland structures? At the meeting outlined earlier, I explained to the Chief Executive of North West Tourism that his organisation was fundamentally flawed because it included Monaghan and only one other county that we border, even though we actually border seven. What could my response have been if he had retorted that within Sinn Féin, Monaghan operates within the exact same geographical context?
The present system of a Connacht/Ulster Cúige that includes only three Ulster counties is partitionist, no matter what gloss we put on it! Likewise, the Six-County Cúige as it now stands would make no sense were it not for the status of British rule imposed on Ireland.
If we are to recall the initial basis of the set-up of the Cúige structure, the EU election boundaries were cited. However, the inclusion of Clare in the newly called 'North West' constituency showed the inadequacies of such a structure. What is needed to win such an election is to have a good directorate in place and nine (or more) effective Comhairlí Ceanntair who are represented on it.
This is not to diminish the very positive and constructive work that both Cúigí and individuals within them have done over the past number of years. Indeed, I am conscious that some of these same people (who in many ways are better qualified than I) are among those who make coherent arguments about the difficulties the establishment of a nine-county Ulster Cúige would present. They also point out the possible consequences to the party organisation in Connacht. But this is the crux of the problem.
Nobody said the all-Ireland agenda was going to be easy to implement. It was always going to present many obstacles and difficulties. As republicans, we need to step up to the mark. We cannot expect other bodies to develop anti-partitionist structures if we are not willing to do the same ourselves, regardless of the tests it may produce.
For those party members who articulate the argument that strategies and plans within current organisational structures are already in place, my answer would be the same as where it presented by North West Tourism. Change them!
An Phoblacht Magazine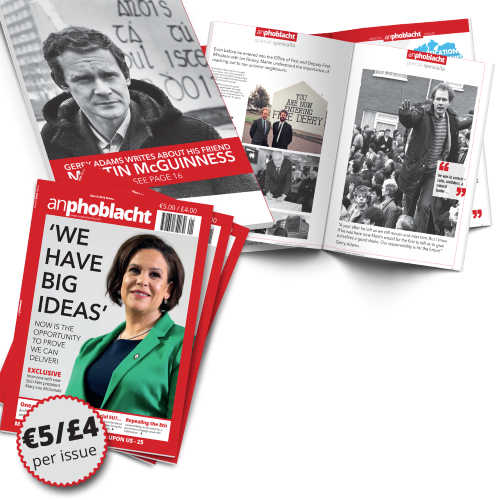 AN PHOBLACHT MAGAZINE:
The first edition of this new magazine will feature a 10 page special on the life and legacy of our leader Martin McGuinness to mark the first anniversary of his untimely passing.
It will include a personal reminiscence by Gerry Adams and contributions from the McGuinness family.
There will also be an exclusive interview with our new Uachtarán Mary Lou McDonald.
test