17 February 2005 Edition
Sinn Féin highlights Kerry A&E crisis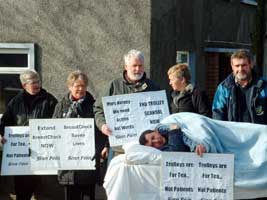 Over 60 people gathered outside Kerry General Hospital last Saturday to highlight the problems at the Hospital's Accident and Emergency Department.
The protest was organised by the Sinn Féin North Kerry TD Martin Ferris, who said that people in Kerry are "very angry with the government's failure to tackle the crisis in the A&E department, the failure to extend the BreastCheck service to the South and the failure to eradicate hospital waiting lists".
Ferris was joined by Sinn Féin Councillors Robert Beasley, Cathal Foley and Maisie Houlihan, as well as members of the public from across the county.
"It is not good enough for Mary Harney to say that the government has poured money into the health service, because we haven't seen any dividend for this. Two years ago, a request was sent to the Department of Health to build an extension to the existing A&E department at Kerry General and it was approved just before Christmas. However, it could take up to four years before it is built. This is not acceptable."