17 February 2005 Edition
Not just your average gay icon - Remembering the Past
BY SHANE Mac THOMÁIS
On 1 March 1965, 40 years ago, the remains of Roger Casement were removed from Pentonville Jail and re-interred in Glasnevin Cemetery. Roger Casement was born in Sandycove, County Dublin, in 1864 and educated at Ballymena Academy, County Antrim. In 1884, he travelled to Africa as an employee of the International Association (later re-named the Congo International Association), an enterprise sponsored by King Leopold II of Belgium to develop his country's colony. Casement worked for a time as a surveyor for a railroad line.
Casement left the company in 1892 to work for the British Consular Service. Posted to Nigeria (then called the Oil Rivers Protectorate), he undertook several map-making expeditions.
After three years, Casement's performance had so impressed his superiors that he was advanced from an employee to a member of the consular service, without needing to take the Civil Service exam. He was stationed at various posts in southern Africa.
In 1903, Casement was ordered to report on allegations of atrocities against indigenous people in the Belgian Congo. Casement's report confirmed that rubber production there was organised on the basis of forced labour, accompanied by horrendous punishments and mutilations of the population.
Casement gained an international reputation for his humanitarian efforts in the Congo, and in 1910 he investigated charges of ill-treatment of indigenous people in the Putumayo region of Peru, again an area of rubber production. Once more, Casement's report lucidly exposed the 'murder, violation and constant flogging' to which people were subjected by agents of a rubber company, and the report's publication in 1912 created an international sensation. Casement was knighted for his services in 1911 and retired from the consular service in 1912.
Despite his years of service to the British Empire, Casement had for many years held strong views in favour of Irish independence. He joined the Irish Volunteers, who he drilled on their foundation in 1913, and on the outbreak of World War I in 1914 he supported Britain's enemy, Germany, in the hope that it would assist the achievement of Irish independence. In 1914, he published Ireland, Germany and the Freedom of the Seas. Casement under orders from the IRB, travelled to Germany in 1914, where he endeavoured to secure significant military aid and to persuade Irish prisoners of war to join an Irish Brigade. In 1915, Casement published The Cause of War and the Foundations of Peace.
Casement negotiated a German ship, the Aud, to sail for Ireland in April 1916, with several machine-guns, 20,000 rifles and a million rounds of ammunition for the Volunteers. But he unwittingly told a British spy about the consignment and the authorities were in a state of alert when the Aud arrived off the Irish coast. The German captain scuttled the ship rather than allow it to fall into British hands.
Casement himself returned from Germany by U-boat, and having landed at Banna Strand, near Tralee, County Kerry, he was arrested by the RIC. Imprisoned in the Tower of London, he was placed on trial for high treason at the Old Bailey; he was convicted and sentenced to death. In the time honoured tradition of condemned Irish patriots, Casement delivered one of the finest speeches from the dock, in which he declared:
"Self-government is our right, a thing born in us at birth, a thing no more to be doled out to us or withheld from us by another people than the right to life itself, than the right to feel the sun or smell the flowers, or to love our kind."
On being sentenced to death, many famous figures, including George Bernard Shaw, Sir Arthur Conan Doyle, the Archbishop of Canterbury, and the US Government issued appeals for clemency, given Casement's standing as an international humanitarian figure. In an attempt to deny him political martyrdom, British Government agents (amongst them the Director of Naval Intelligence, Captain Reginald Hall), circulated copies of Casement's personal diaries, which were full of graphic details of sexual encounters with other men.
British Intelligence's strategy of releasing the diaries for public scrutiny to discredit Casement is a typical tactic of Perfidious Albion. But what is really scandalous is that the strategy worked.
Some still refuse to accept that Casement was gay, based mainly on the belief that the Black Diaries were forged by the British. Most people today, however, accept Casement's sexuality, although the authenticity of the Diaries has still not been proven.
The sad fact is that the debate around Casement has focused on whether or not the Diaries were forged and whether or not Casement was homosexual, rather than on his undisputed contribution to the cause of universal human rights and Irish freedom.
Following an unsuccessful appeal, Roger Casement was hanged at Pentonville Prison on 3 August 1916.
An Phoblacht Magazine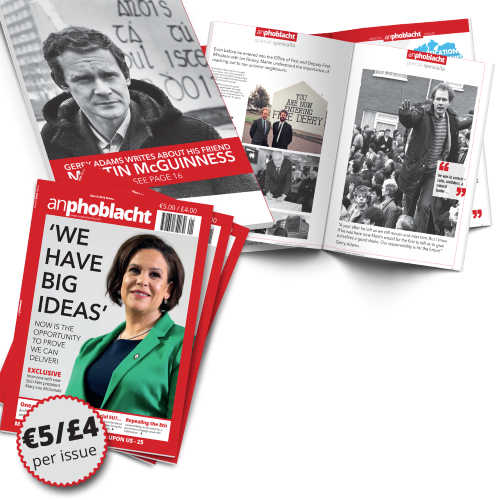 AN PHOBLACHT MAGAZINE:
The first edition of this new magazine will feature a 10 page special on the life and legacy of our leader Martin McGuinness to mark the first anniversary of his untimely passing.
It will include a personal reminiscence by Gerry Adams and contributions from the McGuinness family.
There will also be an exclusive interview with our new Uachtarán Mary Lou McDonald.
test