17 February 2005 Edition
Sinn Féin demands speaking rights on Banbridge Council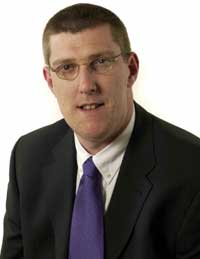 Upper Bann Sinn Féin Assembly member John O'Dowd and South Down Assembly members Caitríona Ruane and Willie Clarke have responded angrily to a motion passed by Banbridge District Council in favour of writing to Bertie Ahern, Tony Blair, Paul Murphy and George W Bush seeking their support in excluding Sinn Féin from any restored northern assembly.
Willie Clarke noted that the SDLP and the so-called cross-community Alliance party failed to vote against the exclusionist motion. "I think this speaks for itself," he said, "however, it is worth noting that the stance of the SDLP representatives on Banbridge Council is in stark contrast to the stance of their leader Mark Durkan who claims to be opposed to excluding Sinn Féin from any future Assembly."
In response to the exclusionist motion, Sinn Féin will be writing to the Chief Executive of Banbridge Council asking that he caters for the Sinn Féin mandate in the area by allowing party representatives speaking rights at council meetings.
"Sinn Féin are well-positioned to take seats on Banbridge Council in the May elections, however our electorate are entitled to have their voices heard now," said Clarke. "The Banbridge people need elected representatives who will fight strongly against the kind of exclusionism, sectarianism and bigotry that has for too long been associated with Banbridge council."