17 February 2005 Edition
Through my eyes
Jennifer Williams, who is with An Phoblacht on work experience from her West Belfast college, travelled to Newry for her first taste of a Sinn Féin women's conference and below writes about her experiences.
I was delighted to see such a great turnout of women and feel the buzz circulating around the huge conference hall.
As a young Irish woman keen to enter the world of politics, I was eager to hear the views of the youth who were present at the conference, therefore my first targets were Tierna Cunningham and Marie Mackessy, who are running for Sinn Féin in this May's local government elections in North Belfast.
Both women, who are in their 20s, spoke about being "still in shock" at the idea of running in the elections but both hope to inspire young women everywhere to get involved in the political process.
As two of Sinn Féin's youngest representatives, Tierna and Marie were keen to tell me how they feel. "It is vital for more young people, and young women in particular, to get involved politically and make a difference," said Tierna.
"The republican family has always been there to support and guide me, and Sinn Féin are great for the opportunities they offer to women," added Maria.
It was also uplifting for me to listen to those women who spoke at the conference, including Sinn Féin's Dublin MEP Mary Lou McDonald, Céad Bliain organiser Caitríona Ruane and the Sinn Féin MP for Fermanagh/South Tyrone, Michelle Gildernew.
However, there was also a host of international speakers, including Mavivi Myakayaka-Manzini of the African National Congress (ANC) who reflected on the commitments made in Bejing to bring women into political life, while Kurdish MEP Felenkas Uca talked about the need for women to enter into politics.
Although the conference was aimed at highlighting women's involvement in politics, it also created a greater awareness of the struggles faced by women in today's society.
One such issue is that of domestic violence and violence against women in general. And it was encouraging to see the input of two young girls in promoting awareness of the issue at the conference.
Eimear Ruane-McAteer and Tarah Mc Ateer, both aged 12, spent the day campaigning against domestic violence by imprinting people's hands on a sheet and asking them to sign their imprint.
I spoke to the girls, who told me that the sheet, which is a presentation of those who were present at the conference, and they said that they would be bringing it to future events around the country.
I must admit I was taken back by how young both Eimear and Tarah are, and so asked them why they got themselves involved in the project.
They told me that the issue of domestic violence is a very serious issue and that it is important for young people to get involved in highlighting it and hopefully make a real difference to the lives of women who are suffering such abuse.
Tarah told me how one in every four women suffers from domestic violence. "We want to give young girls everywhere a voice," she said.
I was also heartened to see such a large turnout of men at the conference, considering the emphasis was on women. At times I have felt that the world of politics is dominated by men, however, it was great to see men there supporting women.
Overall, the conference made me more aware of the achievements and strengths of women, past present and future. However, it is clear that the young people of Ireland need to become more aware and involved in politics if real change is to come about.
From my point of view, it was a great inspiration to see the Sinn Féin women who have worked themselves up the political ladder at the conference and see how enthusiastic the party is about welcoming young people in and in giving them the opportunity to make a political impact on society.
An Phoblacht Magazine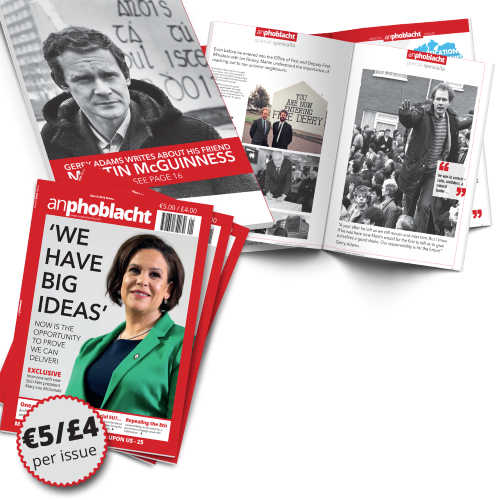 AN PHOBLACHT MAGAZINE:
The first edition of this new magazine will feature a 10 page special on the life and legacy of our leader Martin McGuinness to mark the first anniversary of his untimely passing.
It will include a personal reminiscence by Gerry Adams and contributions from the McGuinness family.
There will also be an exclusive interview with our new Uachtarán Mary Lou McDonald.
test