17 February 2005 Edition
Health service is a steal
Health service is a steal
"Does this legislation measure up to the responsibility to ensure the rights of the most vulnerable in our society are protected? I say no. The legislation should be withdrawn."
Last December, Minister for Health and Children Mary Harney ignored the recommendation of Sinn Féin TD Caoimhghín O Caoláin and pushed ahead with legislation that was on Wednesday struck down as 'repugnant' to the 1937 Constitution by the Supreme Court.
Chief Justice Murray stated that patients charged illegally for care in State-run homes over a 30-year period are entitled to recover money illegally deducted by the State from their pensions. The number of people all over this island who lost out to this deplorable racket will be in the tens of thousands, and the cost to the exchequer could be as much as €500 million in compensation.
The judgement is a comprehensive defeat for the Government and for bungling PD Leader Mary Harney, who clumsily rushed the legislation through Leinster House on the last day of the Dáil session of 2004. But while Opposition leaders are rightly attacking her competence and fitness for office in light of this debacle, the vehemence of their attacks hides their own role in this loathsome system.
For 29 years, the 26-County state has been levying these charges without any legal basis, a system presided over by all of the establishment parties at one time or another, despite the fact that senior Health Board and department officials knew the charges were suspect. If there was an ounce of principle among the lot of them, Fine Gael and Labour would be too embarrassed to even comment.
For three decades, the southern government has been engaged in stealing from one of the most vulnerable sections of society and now must pay the people back. In this regard, it is ominous that Minister Harney refused to rule out cutbacks in current health spending to make up for 30 years of thievery and organised criminality by successive Dublin Governments.
An Phoblacht Magazine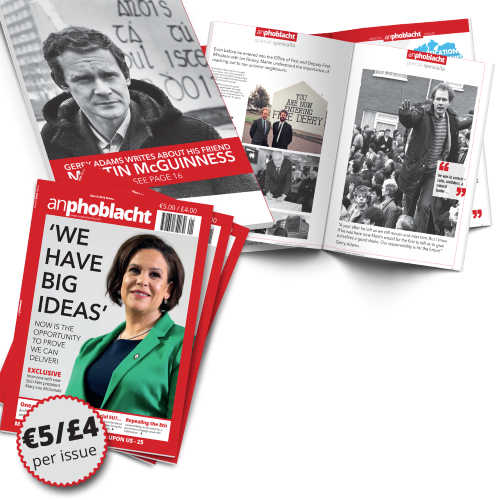 AN PHOBLACHT MAGAZINE:
The first edition of this new magazine will feature a 10 page special on the life and legacy of our leader Martin McGuinness to mark the first anniversary of his untimely passing.
It will include a personal reminiscence by Gerry Adams and contributions from the McGuinness family.
There will also be an exclusive interview with our new Uachtarán Mary Lou McDonald.
test