17 February 2005 Edition
Democratic resistance brings Six Counties to standstill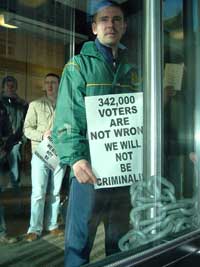 Nationalists, angry at the British-led onslaught against Sinn Féin, took to the streets in protest last Thursday 10 February. Motorways, major road junctions and main arterial routes in Belfast and Derry as well as other major junctions in Counties Derry, Tyrone and Down were blocked for 30 minutes, bringing traffic to a standstill during the evening rush hour.
In further protests this Tuesday, nationalists occupied key British Government offices in Belfast city centre and in Derry.
Bedford House and Windsor House in Belfast city centre were both taken over for 45 minutes as protestors carrying banners and posters made clear that Sinn Féin's massive mandate of over 340,000 voters would not be marginalised or criminalised.
In Derry, Orchard House in Foyle Street and the Tax Office on Duncreggan Road were occupied by dozens of people.
Speaking at Orchard House, Sinn Féin Assembly member Raymond McCartney said: "Protestors have come here to protest at the way the British and Dublin Governments, as well as the unionist parties and SDLP, are treating the Sinn Féin electorate.
"People are also angry at the IMC, which has regurgitated PSNI and Special Branch allegations, to attack and punish Sinn Féin. Our electorate will not be marginalised nor will their votes be treated as less valuable than those of any other party."
All the occupations lasted for 45 minutes and ended without incident.