17 February 2005 Edition
Women's Rights: Our Unfinished Revolution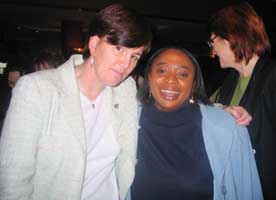 THE Fourth World Conference on Women, held in Beijing in 1995, marked a colossal step forward in the global fight for women's rights. Ten years on a Sinn Féin conference in Newry, last Saturday, marked a major step forward by republican women — to acknowledge the part played by women in the last 100 years of struggle and to mark women's determination to take up the challenges in that unfinished revolution to win rights for all.
Around 1,000 women from across Ireland packed the conference in the Canal Court Hotel for was one of this year's major Céad Bliain celebratory events, marking the party's 100th anniversary.
The conference was about rights: women's rights, which as Joanna McMinn of the National Women's Council of Ireland said, "are indivisible from the rights of Travellers, of disabled, of asylum seekers, of the homeless, of gay people, of the people who live in poverty, of older people, of children, the rights of the sick, the rights of all different social economic groups to housing to education, to health, the right to be a part of decision making".
Sinn Féin President Gerry Adams opened the conference. "One in four women experiences domestic violence in today's Ireland," he said. "One in every four single mothers lives in poverty." Half the children in the Six Counties are in, or at risk of, poverty. 60% of children in the Six Counties are excluded by results in the 11+ exam. Infant mortality for Travellers' children is three times higher than for settled children.
Laws were used to uphold the rights of men to beat their wives — until women organised, he said. Kids' rights are still at that level, with a law entitling 'reasonable chastisement'. There are only 14 beds for mentally ill children in the Six Counties. Similar statistics in the South are even worse. The rights of women, the ideals to which Beijing committed 189 governments, are still crying out for action, in the world and today, in Ireland.
Right to Equality
Nearly a thousand women left the conference with these injustices ringing in their ears, that people, women always and especially, are denied their rights — their right to equality as human beings.
As Gerry Adams said in his opening address: "Our goals will only be realised when the goals of women are resolved." He took a standing ovation from all the women there on behalf of the many republican women who have been part of the 100 years of struggle, and though often written out of the history of it, fought for social justice. "That history needs to be rewritten," he said.
"So many women who suffered poverty, imprisonment, brutality and death at the hands of RUC death squads, including 20 members of the Sinn Féin party, have died in this struggle. Our vision of society is very different. It is a vision of a rights based society, an end to the abuse of Travellers' rights, or the rights of lesbian couples, or the rights of women not to be abused or suffer violence. It is always the women who are worst affected. We republicans look for fundamental change in Irish society, and women, people, working together can bring about that change."
Beijing
Mavivi Myakayaka-Manzini, familiar to many in Sinn Féin from last year's Ard Fheis, brought greetings from the ANC to the leadership of Sinn Féin, the women's leadership, and revolutionary greetings to Sinn Féin and congratulations on 100 years of struggle in hardship. "We have gone though the same struggle," she said.
"Women's' rights are human rights and are indivisible. We fight for peace based on rights and equality, and you will achieve it."
She spoke of Beijing and its Declaration and Platform for Action, which called for the full realisation of human rights of women — "where racial and ethnic discrimination are the very roots of all discrimination". She set the tone for the conference by listing the 12 areas of inequality: poverty, access to education and training, health care, violence against women, women living under occupation and armed conflict, the economy, power and decision making, political human rights of women, media stereotyping, environment, the gender inequality in the management of resources, and violation of the girl child.
And then Mavivi spoke of just some changes in these areas in South Africa. She spoke first of the legal aspect, how South Africa is now a democratic state, founded on human rights and non-sexism; of their Bill of Rights, which became a part of their Constitution, which enabled affirmative action by those disadvantaged in the past — the right to life, to terminate pregnancies, establishing the right of government to intervene against violence, the right to education, shelter, land and gender equality. "These have been some of the fundamental changes we have tried to establish," she said.
And then she turned to the area of eradicating poverty. "I want to share with you what we have done in education, in providing shelter, electricity, in helping those who cannot earn, in providing health care, with hundreds of clinics and a hundredfold increase in the health budget, and meeting the ANC target of 33% membership of women in institutions of government."
Fifth World Conference?
Noirin Clancy, from the Women's Human Rights Project, took up the story. She spoke of the 36,000 women who were at Beijing and the excitement experienced at the ten-year Global Action Plan adopted by so many countries, including the 26 Counties and Britain, which held out the promise of improving conditions for women across the globe.
She reviewed the progress and talked of areas in Ireland where there had been no progress. In 1995 there were 20 women in the Dáil — in 2005 there are 22. Women make up 7% of High Court judges in the 26 Counties. There is still a lack of childcare. Thirteen years after the Supreme Court decision allowing an abortion to save the life of the mother, the government has still not enacted legislation. We screen our motor cars, by law, every two years, yet there is no law to facilitate women to get breast cancer screening. Racism, or in its form of sectarianism, continues unmolested. Domestic violence has increased.
She urged states to recognise that women have been at the heart of the transformation of society, and to recognise the importance of their direct presence in negotiating the new society. Still there is no action plan, ten years on, in the South. There is a backlash against the women's' movement, and a decrease in funding to challenge racism in our increasingly diversified society. We have to build the role of the NGOs, to keep these resolutions of Beijing on the agenda, and men have to take a part, she said. "Feminism is for everybody."
"Time of my Life"
Then Caitríona Ruane, who was at Beijing, took up the story: "Our Sinn Féin submission to Beijing spoke clearly that women's rights are human rights. The Beijing Platform confirms what Sinn Féin has said since Markiewicz, who was the first woman Minister in Europe.
"And we learned much, that you need colour, music and arts, and above all that we need to listen to each other. We had a rally at Crossmaglen shortly afterwards — the Brits didn't know what had hit them."
She listed some of the areas where human rights and women's rights are denied. She spoke of rural women, who have no access to childcare, the half of Irish women who suffer sexual violence, the cuts in budgets for essential services. There are five key areas: economic inequality, lack of childcare, sexual and domestic violence, equal representation in institutions, racism towards women, aside from their gender, and their suffering under occupation.
She talked of some of the work Sinn Féin has begun to change all this, for affirmative action to achieve 30% women in the party's leadership, Aengus Ó Snodaigh's work in the Dáil against gender-based violence, and to forward socio-economic rights, and the rights to childcare. And she talked of the hardship of women who have supported prisoners through endless years, of the life of her mother-in-law, who spent 55 years visiting family, who said, "to all our daughters: 'The world is your oyster. Go out and get it'."
Women's Pathway into Politics
Michelle Gildernew MP chaired a panel of women whose lives encapsulate the struggle for rights. Claire Hackett of the Falls Community Council spoke of her experience of overcoming ostracism and opprobrium that brought contempt and ridicule to lesbians as they struggled to find a voice. She paid tribute to Sinn Féin people who in 1999 had launched the Gay Pride march, people who led the way for Sinn Féin's recognition of gay people, and who spoke on behalf of those who did not enjoy the right to decide "who you love and how".
Rosanna Flynn of Residents against Racism spoke of the struggle of women asylum seekers, and the failure of the state to recognise the forced genital mutilation of women as grounds for their claim to be refugees. She told the story of Juliette, a brave and long-term campaigner against FGM, who though she has at last won the right to reside in the 26 Counties, could not be present in Newry, because that right only extends to the 26 Counties.
Mary O'Rourke from Fianna Fáil shared her personal history of struggle against the culture which said of her, as she sought selection as a candidate: 'Hasn't she young children? She should be at home.' "Get involved early, dress up and above all be bold," she wisely counselled.
But it was Rosaleen McDonagh, a Travellers rights activist, from her wheelchair, who won the respect of all. She spoke of the life of herself, one of eleven sisters and nine brothers, of her mother who had lived with much violence, of the days in Tallaght when a local community had marched on their homes, and in Finglas where Travellers were imprisoned by the council behind a huge wall — a wall of hate and fear of those denied their rights.
Rights Based Citizenship
This panel discussion was chaired by Bairbre de Brún MEP, who spoke of Sinn Féin's Rights for All document, and the importance of a rights-based approach. "Rights may be won on paper but that is only the start," she said. "Rights have to be demanded. Governments have to be challenged to implement them."
Maggie Beirne from the Committee on the Administration of Justice talked of how the struggle for rights has changed. People need to be empowered to achieve rights, and power needs to be made accountable. Rights cannot be given, they must be taken.
Paddy Kelly, from the Children's' Law Centre, congratulated Bairbre on what she did for children as Minister in the last Assembly. "Things have gone backwards since the Assembly collapsed," she said. "Participation is fundamental to citizenship. To make rights a reality we must always challenge laws which don't protect children's rights."
At Holy Cross, over which Paddy Kelly had resigned from the Human Rights Commission, the right to life, to education, to protection from abuse were not realised. "Children's' voices must be heard. Governments must live up to their commitments under the UN. We could start by eliminating "reasonable chastisement".
Mamo MacDonald, a campaigner for older women's rights, spoke of the exclusion of older people in our society. Cancer screening is not free to women over 64, yet more of them die of breast cancer than other age groups. "Older people are excluded from health research, and then they are told there is no evidence that treatment works on them," she said. "Now older people are called 'bed-blockers'. Aging is portrayed as a criminal offence, or a tragedy.
"Eleven of every 12 reported cases of abuse are against older women, yet violence against them is seen as less important than violence against young women. Old age rights are not just about those in care, or social housing or hospital; they are the people most likely to be poor, to have no heating, no social life. Our gains will benefit everyone — they'll all be here someday."
Many points were raised in the following discussion. Bairbre talked of women who live in rural communities, who are not even recognised as existing in the social insurance system, others of their inability to access services, without childcare or help with the costs of travel.
And people spoke of the effects of the conflict on children. Kids today cannot identify themselves as carrying trauma from conflict. Instead they are replaying it. Joyriders, glue sniffing, suicides are all seen as pathological behaviours — and not viewed as symptoms of conflict. The traumatised need a Human Rights movement too, yet the British Government is doing nothing to address this.
Republican Women working for Unity
Margaret Ward, feminist historian, powerfully reviewed the history of republican women's struggle, starting with the Land League in the 19th Century, where women spearheaded the resistance to landlordism. At the turn of the century, women embraced radicalism, with countless campaigns, including that for the right to vote.
They resented their exclusion and redefined their identity with a strong sense of sisterhood, and a determination to extend the political boundaries for women. And women fought endless campaigns for social economics conditions, such as school meals, in a conservative Ireland. It was they who took on their role as equals in the Irish Citizen Army. In the aftermath, militant women fought strong campaigns on republican socialist platforms, for equality of treatment. She spoke of Cumann na mBan, and the amazing role of women such as Maire Comerford, Sile Humphries and Eithne Coyle, against the Black and Tans, and the legacy of the Civil War in the denouncing of women as 'furies', the unmanageable revolutionaries.
Geraldine Gildernew then spoke as a republican activist, of the struggle in the 1960s over housing, and the Gerrymander, which denied people without wealth the vote. The Gildernews, along with six other families, agreed to squat. She told of the violent suppression by the RUC and B Specials of their non violent protest, all of which escalated to 1969, and the civil rights protests.
Martina Anderson then took up the story of 13 years in jail with Ella O'Dwyer, where they learned together collective resistance. They saw the need for radical transformation of our society to eliminate discrimination, be it on the basis of race, gender, or religion.
Sinn Féin National Administrator Olive Sloan talked of the changes the party has undergone, to the point where truly women are now running the party.
Councillor Toiréasa Ní Fhearaíosa, daughter of TD Martin Ferris, described her adventure from earliest years, going round the estate, from first light, "to ensure all the neighbours knew the dramatic details of us being dragged out of our beds to watch the Special Branch ransack our house and/or take our daddy away".
She paid tribute to many republican women who inspired by their lives, people like Rita O'Hare, Ann O'Sullivan, Anne Devereaux, Monica Brolly, Chrissie Keenan. "I agreed to speak here today so I could honour some of these people," she said, "including the scores of Irish women who provided safe beds and a meal for those involved in our struggle, when by doing so they created a risk for themselves and/or had to go without bed or a meal themselves".
And first among these she paid tribute to her mother - "how, with five children, pregnant with another, she hitched to town, with a bag of food, and then she walked the streets of Portlaoise after visiting our father, invariably without a penny in her pocket, entertaining us until the return journey.
"People don't know my mam as Martin's wife — she is an Irish republican in her own right, who sacrificed as much as he did for our cause and is as much of an inspiration to my siblings and I as daddy is," she said, to sustained applause. "Our continued success electorally, or in the Peace Process, has been built on the foundations laid by the people being honoured today."
Paying tribute
MEP Mary Lou McDonald, in a final address to the conference, drew the many strands of women's struggle against injustice together. "Politics," she said, "is not family friendly, and the dominant culture is that politics is something that men do. But women must play a role if we are to challenge the status quo — and men have a critical role to play if we are to lead this struggle for change. It is the challenge that I put to you: to build our strength, use our votes as instruments of change."
An Phoblacht Magazine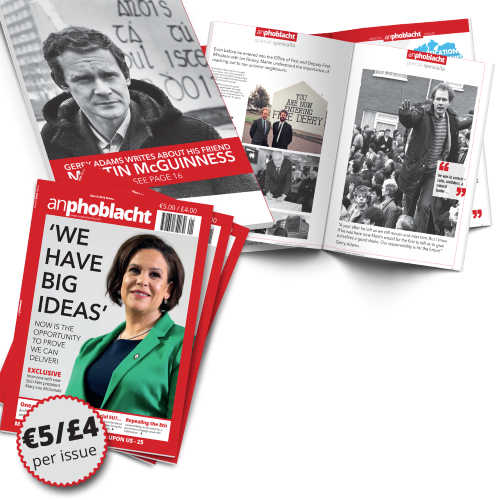 AN PHOBLACHT MAGAZINE:
The first edition of this new magazine will feature a 10 page special on the life and legacy of our leader Martin McGuinness to mark the first anniversary of his untimely passing.
It will include a personal reminiscence by Gerry Adams and contributions from the McGuinness family.
There will also be an exclusive interview with our new Uachtarán Mary Lou McDonald.
test