20 January 2005 Edition
Marie Wright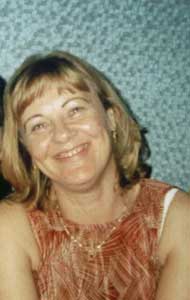 There's a story told about Marie Wright by her friends and comrades. It's an account of a single incident that happened after Marie had been released from her first term of imprisonment in 1987 and before she was jailed again two years later.
A neighbour who had witnessed Marie being stopped and harassed by an RUC foot patrol came out of her house to protest. "Leave that girl alone," the woman had said, "she's done her time".
Marie's reaction marked her out as the kind of person and republican she was. It concerned Marie that anyone, even a well-meaning neighbour, might imagine that she had already 'done her bit'. For Marie, participation in the struggle for Irish freedom and justice was an ongoing commitment.
Marie was born in Belfast on 20 October 1960 and as a child attended St Comgall's and Holy Child schools before moving onto St Genevieve's. Growing up in West Belfast throughout the turbulent late 1960s and early '70s, with the campaign for civil rights and later resistance to Internment and British occupation, gave Marie a front-seat ticket in the living history of the current phase of the struggle.
But Marie wasn't the kind of person to be content to sit and watch the world go by and it wasn't long before she found a way to play her part by joining Cumann na gCailíní and later Cumann na mBan. By the 1980s, as resistance to Britain's criminalisation policy was at its height and republican POWs on protest in the jails began a hunger strike, Marie was a determined and dedicated republican.
In 1983, Marie was arrested and instead of her planned first holiday trip to Spain, found herself in Armagh Women's jail. Charged with possession of explosives, Marie served four years of a seven-year sentence.
The regime at Armagh Jail was as daunting as its bleak 18th Century façade. But even at the tender age of 23, Marie, like many of her fellow POWs, was more than able for the challenge. Marie viewed imprisonment as just another arena of struggle and, undeterred by the difficulties life and the struggle placed in her path, she set about the tasks of challenging strip-searching and defending the right of political prisoners to be segregated away from criminals.
On release in 1987, Marie immediately reported back for IRA active service and just two years later was captured again. During her arrest in 1989, Marie was badly beaten by a covert RUC unit. Sentenced to 24 years, Marie's second term of imprisonment was at Maghaberry, where she was soon appointed as the Officer Commanding (OC) of women IRA prisoners.
As OC, Marie's formidable leadership talents were soon challenging the British authorities daily. But where her opponents found her tough and confrontational, her comrades experienced those same qualities as unflinching commitment to their needs and welfare. Marie was that rare individual who could combine steely determination with a giving and affectionate heart. Her fellow POWs deemed invaluable Marie's friendship and constant support.
Marie's and her comrades' resolve was particularly tested in March 1992, when they were subjected to an eight-hour ordeal at the hands of riot clad prison officers. During the brutal attack, women POWs were beaten, (one so severely that she was subsequently taken to Lagan Valley Hospital) held down by gangs of male wardens and forcibly strip-searched.
All 21 women prisoners sustained cuts, bruising and strain injuries. The incident gained international attention and was widely condemned. As campaigners against strip-searching pointed out, nothing of any significance was ever found during strip-searches, leading many people to deduce that the practice was a punitive measure designed to undermine the prisoners' morale.
It did not succeed and with Marie's guidance and support, the women of Maghaberry were soon putting the pressure on the prison authorities, running successful campaigns against sexist discrimination and the right to access education and training within the jail.
In an interview with An Phoblacht in October 1998, Marie highlighted the importance of what she termed "the battle for education" for women POWs. Marie was one of the first republican women to be released under the terms of the Good Friday Agreement and had completed an Open University exam on the morning of her release.
"The whole ethos of women republicans in jail was about getting education," Marie said. "The attitude from the prison education department was difficult, they tried to block and frustrate everything we came up with."
But the women's determination eventually triumphed. A civil action challenging discrimination against women within the jail system forced the NIO to concede and granted women prisoners equal access to academic and vocational education.
"Jail teaches you there is nothing you can't do," said Marie, "especially as women and as part of an ongoing struggle".
Republicans throughout Ireland mourned the untimely death of Marie Wright on 19 December last. Since her release from prison in 1998, Marie had worked tirelessly, throwing her energy into the Peace Process, community politics and election work. The National Graves Association and the Bring Them Home Campaign were the focus of Marie's commitment in recent years. She also helped organise the Tírghrá commemoration, in which the families and friends of fallen comrades came together to remember and to celebrate. She also continued to serve as a Volunteer in the IRA.
In February 2004, Marie was diagnosed with leukaemia and endured a rigorous regime of treatment before her death just before Christmas. The courage and unassuming selflessness that had characterised her commitment to the struggle remained with her to the end. Just a few days before her own death, her thoughts were with the Colombia Three, having learnt of the lengthy sentences imposed arbitrarily on the Irishmen by the regime.
"To do justice to the life and memory of a special friend in words is not something that comes easy. When that friend was also a comrade with whom you shared and experienced involvement in a struggle that entailed sacrifice and the giving up of many of the everyday things that make up ordinary life, then that task seems almost too daunting to fulfil," said Maura McCrory, delivering the Oration at Marie's funeral.
"For all of us who knew and loved her, Marie's death is an immeasurable loss. Her life is a treasured experience and our lives are all the better for having shared even a small part with her," said Maura.
Family Notice
Volunteer Marie Wright. The mother, brothers , sisters and family circle of the late Marie Wright, RIP, wish to sincerely thank all those who sympathised with us in our recent sad bereavement. We wish to thank all our family and friends who helped Marie through her illness, her friends Mary, Chris and Shauneen whose constant help and support during her many stays in hospital were invaluable and greatly appreciated. A special thank you is due to consultants Cuthbert, Jones and McMillan, and to all the medical, nursing and ancillary staff of Ward 10 North BCH. The level of care afforted to Marie was overwhelming. We will be eternally grateful to the medical staff of the Intensive Care Unit, Wards 2, 4 and 8 of the Bridgewater suite, the physios, Occupational Therapist, Dieticians, McMillan nurses, District nurses, carers, Dr Gilligan and the GPs from the Grosvenor Road surgery, Coopers Chemist and all those who cared for Marie through her illness. Thanks to our Neighbours of "The Loney", Edenmore and Kenard. To all those who helped in many practical ways we extend our thanks. We wish to thank all those who expressed sympathy by sending Mass Cards, floral tributes and who came to our home, they are far too many to name individually but we will never forget you. A special word of thanks to Siobhán for always being there for Marie, to Ginny and to her friends in the Falls Women's Centre whose help and support both during Marie's illness and following her death was immeasurable. We thank all Marie's friends who travelled from all parts of Ireland to sympathise with us. We wish to thank the singers, and Healy's for their sensitive handling of the funeral arrangements. Special thanks are extended to Monsignor Raymond Murry for the beautiful requiem Mass, Fr Owens for his kind words and Fr Eastwood. We thank the Felon's Club and the caterers for the refreshments they provided after the funeral, they were very much appreciated. We thank her friends and comrades in Óglaigh na hÉireann, Sinn Féin and the wider Republican Movement for the dignified funeral and touching tributes paid to Marie. Marie's family is sincerely grateful for all the support received during this difficult time and hope that this acknowledgement will be accepted as a token of our heartfelt thanks. The holy sacrifice of the Mass will be offered for your intentions. Go raibh maith agaibh. Marie's month's mind will be celebrated in St Agnes Church at 10am Thursday 20 January.