20 January 2005 Edition
Bogtrotters struggle through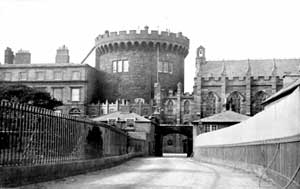 As the bells of Christchurch pealed out through the stormy midnight air of 7 January last, a group of hardy walkers set out from Dublin Castle on the annual Red Hugh/Art O'Neill walk, over 30 miles of it. Included in this band of hardies were a number of Bogtrotters and friends.
On the night of "Christmas of the Star" (7 January) 1592, the three most important political prisoners at that time, Red Hugh O'Donnell, Art O'Neill and Henry O'Neill, slid down a silken rope to freedom. Henry immediately headed off on his own (much to the annoyance of Red Hugh) while Art and Red Hugh headed for the "Sliav Rua" with their guide, one Edward Eustace who had been sent by that famous Wicklow chieftin, Feagh McHugh O'Byrne.
Our walkers marched on into the gale and showers up through Templeogue, over Ballinascorney Gap and past the military camp at Kilbride before cutting across country to the "Iron Bridge" at Ballysmutten. From here they followed the narrow winding road up to the saddle at Blackmore Hill, high above the Blessington lake, not that they could see anything as it was a very dark night indeed. From the end of a bog track it was all compass work as they struggled on through Billy Byrne's Gap across wet mountain terrain through blinding sleet showers driven by gale force winds.
From daybreak, a small backup team was waiting at Ballinagee with very welcome hot soup and sambos as the walkers squelched their way off the mountain.
Art O'Neill had been injured during the escape and as the escapers reached this area he had to be helped along, until finally at Glenreemore, Red Hugh decided to send the guide on to Feagh's stronghold in Ballinacore for help, as Art had to be now carried all the time.
Feagh immediately sent a party of four men back with Eustace carrying "food, beer and ale". When the rescue party found the two escapers they were frozen to the ground and covered with hail with their light prison clothes stuck to their bodies. Alas, Art couldn't be revived but after taking some food, Red Hugh came around and although having frostbite in his feet, he was carried to safety in Glenmalure. According to one source it states that because Red Hugh was so upset at his friend's death, Art's body was carried "some distance" out of his sight before it was buried, and the exact spot is unknown but a plaque marks the general area.
After a short break and before stiffness could set in, our Bogtrotters next headed for this plaque in this wild and lonely valley. From the plaque it was a steep climb for about 500 feet to the windswept heights where Arts Cross stands with its "shoulders in the clouds". From here it was straight into a bitter wind as we crossed snow covered and very rough terrain to the shelter of Glenmalure. At Baravore ford the backup team waited with dry clothes and transport to the Glenmalure Lodge where the walkers slowly recovered over "refreshments".
Red Hugh recovered and returned to his native Tír Chonaill, expelled the English sheriff, was elected O'Donnell and quickly united his lordship, which had been split for almost 30 years. Not too long after these successes, the confederacy of Red Hugh, Hugh O'Neill and Hugh Maguire embarked on what became known as the "Nine Years' War".