15 July 2004 Edition
British responsible for Ardoyne trouble
BY ÁINE Ní BHRIAIN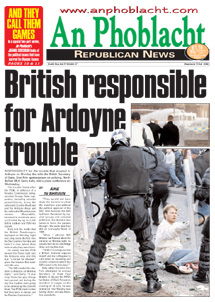 Responsibility for the trouble that erupted in Ardoyne on Monday lies with the British Secretary of State, Sinn Féin spokesperson on policing, North Belfast MLA Gerry Kelly, told a press conference on Wednesday.
The trouble flared after the PSNI, in defiance of a Parades Commission ruling, escorted Orange Order supporters, including unionist paramilitaries, along the nationalist Crumlin Road and past the Ardoyne shops and the nationalist Mountainview estates. Meanwhile, hemmed-in residents were confronted by up to 2,000 British soldiers and PSNI riot squads.
Kelly told the media that the British Paratroopers deployed on Monday night had only been drafted into the Six Counties that day and hadn't a clue where they were or why they were there.
He added that the PSNI moved the Paras right into the Ardoyne area and this was "a recipe for disaster" given the tension that existed in the area.
"The NIO created the situation in Ardoyne on Monday night," said Kelly. "It was clear from the way things had panned out during the day that loyalists were going to be allowed up the Crumlin Road. The PSNI made it clear that they were in charge, not the Parades Commission."
"They would not have made the decision to allow the marchers past without the political approval of the NIO. And because the NIO had been threatened by loyalist groups and unionist politicians, the decision was taken to force the parade through - the same way they did on Garvaghy Road in 1995.
"When I phoned NIO Minister Ian Pearson about the situation on Monday night, he actually told me to calm things down and ring him back.
"I think it is outrageous that a British minister expects myself and my colleagues to calm down an escalating and volatile situation which the NIO created in the first place."
Kelly added that when Sinn Féin attempted to contact Secretary of State Paul Murphy to discuss the PSNI's facilitation of Black Perceptory marchers in Lurgan on the evening of 13 July, he was instructed that Murphy was having dinner and was therefore unavailable.