20 November 2003 Edition
Catholic loses an eye in loyalist murder bid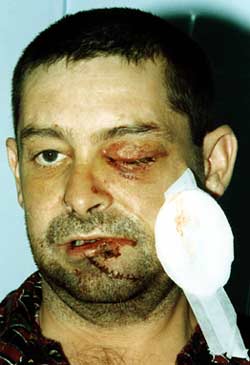 A 37-year-old Catholic man lost an eye after being viciously attacked by four loyalists armed with hammers and machetes as he left the Boundary bar on the Shore Road on the outskirts of North Belfast on Sunday 16 November. The sectarian murder bid happened at around 11pm, when four loyalists leaped from a car that pulled up alongside Paul Denvir. One of the gang then hit him on the back of the head with a claw hammer.
The blow rendered Denvir unconscious and he was then repeatedly beaten about the head with hammers and machetes before his attackers made off in the direction of Newtownabbey.
The father of one lost an eye and underwent several hours of recontructive surgery to his face, such was the ferocity of what his family said was, an attempt to murder him.
Paul Denvir's brother said his family were still trying to come to terms with the horrific injuries inflicted.
"They went out to murder someone. You don't go out with these weapons to do anything but kill," he said. "It could have been anybody. We are relieved he is still alive, although we are concerned for his future."
Sinn Féin Assembly candidate Gerry Kelly appealed for a strong voice from within unionism to bring such attacks to an end.
"This is a very serious incident and we are extremely lucky we are not dealing with the killing of another nationalist at the hands of loyalists," he said. "There is an onus on all political parties, especially unionists, to use whatever influence they have, such as their place within the Loyalist Commission, to bring these sectarian attacks to an end once and for all".
A number of Catholic homes in the nearby Longlands area, off the Whitewell Road, were attacked just hours before the Shore Road attack.
"These attacks are becoming an almost nightly occurrence," said Gerry Kelly. "Most of them are orchestrated by the UDA, who are intent on ensuring that the people of North Belfast don't benefit from the peace process."
Kelly called for calm and urged nationalists to be extremely vigilant.
Meanwhile, a Catholic man was treated in hospital for shock after a UDA pipe bomb exploded at the rear of his house in Saunderson Court in the Oldpark area of North Belfast at around 7.30am on Saturday 15 November.
The man who was alone at home at the time discovered damage to the back door and windows smashed after the bomb partially exploded.
Members of the PSNI recovered the remains of the blast type incendiary.
Sinn Féin councillor for Oldpark, Eoin Ó Broin, said the UDA were responsible for the sectarian attack.
"Even though North Belfast has been relatively quiet in recent months, there was a similar incident with a pipe bomb last week following the showing of the Holy Cross film," he said. "This causes great concern not just because these devices can kill, but because it highlights the recklessness of unionist paramilitaries."