9 October 2003 Edition
F is for Murder - The Bloody Sunday Inquiry
BY FERN LANE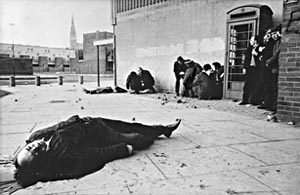 "That individual, from my personal point of view, was more than any other individual, responsible for instigating and perpetrating what occurred on Bloody Sunday." - Soldier 027, referring to Soldier F, when giving evidence to the Saville Inquiry
The soldier who has, for more than 30 years, been believed to have been responsible for at least four of the deaths on Bloody Sunday and several of the woundings has been directly accused, by one of the lawyers acting for the Saville Inquiry itself, of murder.
On Thursday last week, Christopher Clarke QC, told Soldier F that the evidence was that he had opened fire on Michael Kelly, Patrick Doherty and Bernard McGuigan, and William McKinney entirely "without justification". In each case, the soldier admitted to the inquiry that, despite his many previous claims to the contrary, he was in fact responsible for all of the shootings.
This admission, however, only came after two days of intense questioning by both Clarke and the lawyers representing the families. For most of that time, the former Lance Corporal in the Anti-Tank Platoon had made every effort, possibly under instruction, to obstruct the inquiry by claiming to have what Seamus Treacy termed as "total amnesia" about the events of Bloody Sunday. But as the evidence against him mounted up, he was left with no place to hide.
"You killed up to four people, possibly even more," said Clarke in a dramatic series of questions, summing up the raft of charges against him. "Firstly Michael Kelly, and we know that you killed him because of the forensic evidence that a bullet from your gun was found in his body."
"That is correct," replied F.
"Secondly," Clarke continued, "you have accepted that you shot Barney McGuigan, whose photograph, in a pool of blood, you have seen; do you remember that?" Soldier F: "Yes." Clarke: "Do you also accept that you shot Patrick Doherty?" Soldier F: "Yes." Clarke: "There is evidence that you shot William McKinney in Glenfada Park; do you follow?" Soldier F: "Yes." Clarke: "What is alleged in relation to each of those four people is that you shot them without justification, that is to say, that you murdered them; do you follow?" Soldier F "I follow, it is not correct, but I follow, yes."
Soldier F was also accused of wounding at least three other people in Glenfada Park and at the Rossville Flats. Clarke then told F that, further, he was accused of lying when he made each of his numerous statements, and of perjuring himself, both a the Widgery Tribunal and at the current inquiry "both as to what you have said and as to what you have not revealed". The reason for this, said Clarke, is because "you have needed to conceal unlawful activities on your part and on the part of your colleagues".
Finally, the former Para, also identified as 'Dave', was accused of "appalling brutality", amounting to torture, of the detainees at Fort George, people who he had, quite deliberately, falsely accused of being rioters.
During Soldier F's evidence, the inquiry heard that he had been "great mates" with Soldier G and that the two had worked together on Bloody Sunday. Between them, they are accused of the killings of upwards of seven people and of attempting to kill several others. In this respect, the inquiry was reminded of the evidence of Soldier 027, also a member of the Anti-Tank Platoon. 027 recalled that the night before Bloody Sunday, the platoon was urged to "get some kills" by their lieutenant, known as 119.
"I cannot now remember whether these events were first voiced by the lieutenant, but I do remember the comment being repeated by the soldier sitting next to me to my left. I have a clear memory of him nodding his head in acknowledgment and repeating what was said, as if he had made his mind up. Because he was the first individual I noticed from our platoon who fired a shot on the day, the memory of his reaction during the discussion the previous evening stayed in my memory.
"That individual, from my personal point of view, was more than any other individual, responsible for instigating and perpetrating what occurred on Bloody Sunday."
That individual was, of course, Soldier F.
Soldier 027 also recalled the moment when F opened fire. "We ran towards a small wall surrounding a garden in front of Kells Walk - a crowd of people were facing us. As F reached the pavement by the end of the small wall, he went down into a kneeling position beside it, raised his rifle to his shoulder and, without pause or hesitation, commenced firing towards the centre of the crowd.
"Within seconds, other soldiers came on the scene, some kneeling and some standing, joining in the firing. I could see strikes on the barricade. Two people towards the centre of the barricade, who had been facing us, fell within a few seconds of each other in the opening burst of firing.
"I had the distinct impression that this was a case of some soldiers realising this was an opportunity to fire their weapon and they did not want to miss the chance.
"My impression has always been that the two of them, Lance Corporal F and Soldier G, had a preconceived idea of what they were going to do that day and set about doing it as a pair of oppos."
The inquiry was also reminded of the evidence of a priest, Father O'Keefe, who had been detained at Fort George. Soldier G was described by Father O'Keefe as "very blond, almost whitish hair. He had very scary eyes and had a frightening, almost psychotic look about him". Soldier F was described as smaller, "about 5'7" or 5'8" with a thin face and a regional accent, maybe Scottish".
In his evidence, Father O'Keefe vividly described the behaviour of the two men. "I distinctly remember these two soldiers roaming around and subjecting people in the room to more idle brutality," he said. "They would stamp on people's feet or knee people in the groin for no apparent reason. They appeared to be targeting younger lads, 15- to 17-year olds.
"I remember one soldier coming into the room and ordering that heaters should be brought in. Heaters duly arrived and the two soldiers I have described made two young fellows stand with their faces very close to the heaters for a long time.
"One of these two young fellows was clearly distressed by this treatment. I remember F saying to him 'Do you want a drink?' The young fellow said Yes' and was told to open his mouth. F spat in it."
At one point, Fr O'Keefe said, "F came up to me and said 'You were throwing stones, were you not?' I said, 'No, I am a Roman Catholic priest and a lecturer in philosophy and I do not throw stones'. F stepped back, paused for a moment and then kicked me very hard in the groin."
Over the course of his time in the witness box, the inquiry heard how Soldier F, along with his friend Soldier G, has been the subject of sustained and detailed allegations of brutality in Derry and in Belfast by both civilians and other soldiers. However, his actions, observed Treacy, both on Bloody Sunday and elsewhere, had never harmed his career. He had been promoted and had remained in the army until 1988. The implication was therefore, said Treacy, that not only did the army authorities not disapprove of his actions, they positively endorsed them.
His career progressed despite the fact that the British Army at one point had to settle out of court after F and G severely beat Francis Creagh and Roman Muldoon, before dumping them on the Shankill Road. Soldier F blithely denied being involved and claimed that, in his two years in the Six Counties, he had never, as Treacy put it, lifted his hand to anybody, nor had he seen any other British soldier do so. He also claimed to have "scrupulously" adhered to the Yellow Card rules on discharging his weapon at all times, an assertion dismissed as "rubbish" by Treacy after the inquiry heard how Soldier F admitted that he had cocked his weapon with a round in the breech before advancing into the Bogside - an action expressly forbidden in the Yellow Card.
"You have a casual disregard for life [and] you also have a casual disregard for the truth," Treacy told him.
At one point, as the soldier continued with his increasingly ludicrous and implausible inability to remember anything at all, even Lord Saville appeared to become increasingly frustrated. "I am beginning to wonder about the utility of this," he commented.
During questioning by Eilis McDermott QC, for the family of Patrick Doherty, Soldier F was accused of using a "hunting shot" to kill Doherty. "The sort of shot that you take if you can get no other kind of shot - a cheap shot.
"I want to suggest to you on behalf of the Doherty family," she said, "that you murdered Mr Doherty and that as you sit there, you have got away with murder and that you have no intention of alleviating the suffering that they have endured over all these years by even attempting explain to them your role and what went on."
Lord Anthony Gifford QC, representing the family of James Wray, suggested to Soldier F that "you personally relished the prospect of going into the no-go areas and getting to grips with the people of the Bogside. You were sent in like a school of piranha fish into a public swimming pool to create mayhem - and you drew blood wherever you went."
McGuinness to dismiss British agent allegations
No IRA attacks took place before or during the British Army's killing spree on Bloody Sunday. The only casualities were unarmed Derry citizens. Responsibility lies entirely with the British Army and the politicians who sent them into the Bogside.
In a further statement to the Bloody Sunday Inquiry, Sinn Féin's Martin McGuinness is expected to reiterate these inescapable truths, facts that no amount of spin can set aside.
The Mid-Ulster MP has already made two statements to the Saville Inquiry. This latest statement will specifically address recent allegations contained in Liam Clarke and Kathryn Johnston's book, From Guns to Government.
One of the main sources used by the authors has been identified as a self-confessed Special Branch agent, Paddy Ward. As a British agent, Ward was allowed to give evidence to the Saville inquiry from behind screens in London. He later emerged as the main source for Clarke and Johnston's book.
Ward's credibility as both a witness and source is significantly undermined by the fact that his own account of events to the inquiry differs substantially from the version attributed to him by Clarke and Johnston.
The questionable motivation of the authors as well as the credibility of their sources will also be raised by McGuinness. Both authors were at one time members of the Officials, a politically rival organisation to mainstream republicanism.
In more recent years, Liam Clarke is widely seen as having been a journalistic conduit for leaks and briefings by Special Branch, British Intelligence and other elements opposing the current peace process.
As part of his statement, it is believed that McGuinness will point out that he did not know Ward personally and only became aware of him much later, when it became public knowledge that he was a British agent.
It is believed that McGuinness will also deal in some detail with the claims made in the book and in Ward's statement. Ward's allegations are expected to be dismissed as the utterances of a complete fantasist.
The Sinn Féin leader will argue that many of the claims and allegations contained in the book are a diversion from the fact that the British Army shot 14 demonstrators dead on Bloody Sunday.