SUBSCRIBE TO AN PHOBLACHT
Only €10 Per Year For Premium Online Service
For less than €1 a month, you get An Phoblacht's Premium Online Service. Sign up today!
PREMIUM SERVICE INCLUDES:
Full access to all An Phoblacht articles
Interactive online PDF Booklet of each edition
Access to our historic archives online from 1997 to present day
Discounts for the Online Shop
IRIS: THE REPUBLICAN MAGAZINE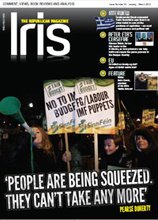 You can buy IRIS through the Sinn Féin Bookshop by clicking here
An Phoblacht Premium subscribers can view PDF booklets of IRIS here for free.
iPad and iPhone users please note:
There are some technical problems that mean that the archived Flash PDF version of An Phoblacht cannot be accessed on iPad or iPhone. These issues are beyond the control of An Phoblacht but we understand are being addressed by the providers of the Flash content – Issuu – and Apple. It is, however, possible to view the PDFs on Apple Macs and the HTML version of the paper is viewable across all platforms including iPad and iPhone.