16 May 2011
Singer Morrissey says British queen should give Six Counties back to Ireland
WITH the visit of Queen Elizabeth to Ireland due to begin, the Lancashire-born singer, songwriter and performer Steven Patrick Morrissey has written an article for Dublin's Hot Press, which challenges in trenchant terms the appropriateness of welcoming the British monarch to Ireland.
Morrissey, both of whose parents are Irish, dismisses the four-day visit as part of a new palace PR campaign to reinvent the Windsors. However, while Morrissey's opposition to the royals is well known, there is a political dimension to his latest missive which will no doubt cause fury among the British Establishment – and find considerable resonance among Irish republicans.
Morrissey says in the article:
As recently as the turn of the 1980s, the Queen supported Margaret Thatcher by not dismissing Thatcher as she allowed hunger strikers to die at the Maze Prison, most famously Bobby Sands, who was 27 years old.
Morrissey suggests that the Queen's silence at the time makes her culpable for Sands's death and for those of the other Hunger Strikers.
Morrissey continues:
As Sands starved to death in protest at being tagged a 'criminal' and not a 'political prisoner' by the Thatcher Government, the Queen sat in her Palace and said nothing.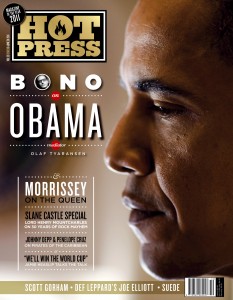 Hot Press says that while there are other fascinating aspects to what Morrissey has to say in his  polemic, the views he advances on the Irish political dimension are sure to raise the hackles of conservatives in both Britain and Ireland:
The Queen also has the power to give back the Six Counties to the Irish people, allowing Ireland to be a nation once again. The fact that she has not done so is fascism in full flow. What else could it be? Name one other European country that is controlled by its neighbour.
Hot Press is on sale on Thursday 19th May.



Lyrics to Morrissey's 'Irish Blood, English Heart'
Irish blood, English heart, this I'm made of
There is no-one on earth I'm afraid of
And no regime can buy or sell me
I've been dreaming of a time when
To be English is not to be baneful
To be standing by the flag not feeling
Shameful, racist or partial
Irish blood, English heart, this I'm made of
There is no-one on earth I'm afraid of
And I will die with both my hands untied
I've been dreaming of a time when
The English are sick to death of Labour
And Tories, and spit upon the name of Oliver Cromwell
And denounce this royal line that still salute him
And will salute him forever
An Phoblacht on Twitter

An initiative for dialogue 
for reconciliation 
— — — — — — —
Contributions from key figures in the churches, academia and wider civic society as well as senior republican figures