21 February 2002 Edition
February 1992 - A storm of death and repression
An Phoblacht's LAURA FRIEL looks back at the events of February 1992, when repression in the South forced Sinn Féin to hold its Ard Fheis in a suburban Dublin community centre against a backdrop of a sustained wave of state and state-sanctioned assassinations of republicans and nationalists in the Six Counties.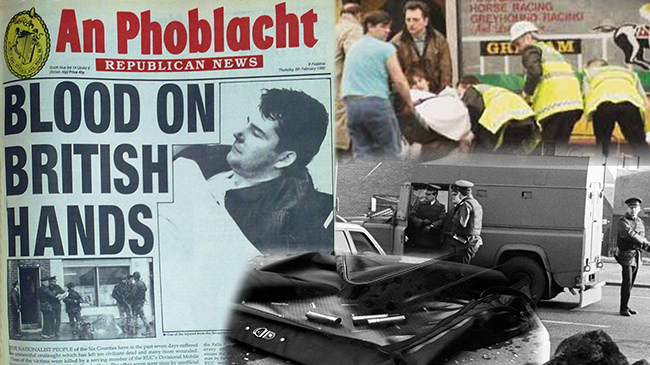 Repression is often recorded but never experienced in fragments. A sectarian killing, a shoot to kill operation, political murder, a decision by the Director of Public Prosecutions, the words of a presiding judge, these elements all present themselves as a separate story, a collection of snapshots devoid of the dynamic within which northern nationalists have encountered British occupation.
Even when recorded en masse, repression appears as a linear narrative when in reality it is far more organic, sometimes dormant, other times full blown. Or to put it another way, repression comes in waves, relentlessly eroding, or pounding and punishing. And in February 1992 we were in the middle of a storm.
"He's got a gun," Paddy Loughran shouted in warning over the intercom just moments before he was shot dead by RUC officer Allan Moore. Moore had gained entry to Sinn Féin's Falls Road Press Office posing as a journalist. It was shortly after 1.15pm on 4 February 1992.
In the confines of the reception area, the shots rang out as the RUC officer sprayed the room with gunfire before making his getaway. The carnage downstairs was matched by pandemonium upstairs. Workers at the centre ran to the scene to find three dead and two injured, one seriously.
Sinn Féin activist Pat McBride had died beside his party colleague Paddy Loughran. Michael O'Dwyer, a local resident seeking advice, died as he sat waiting for an appointment. Discovered still beside his father's body was the dead man's two-and-a-half-year-old son. The child was uninjured.
Michael was not the first member of the O'Dwyer family to be killed by loyalists. His mother Sarah had been one of two people who died when the UVF threw a bomb into a Catholic pub on the New Lodge Road in 1976.
A few hours after the killings, a caller to a Belfast newsroom named the RUC gunman as a member of the UDA. Allan Moore and another RUC officer, Norman Spratt, both members of the same DMSU in West Belfast, were also members of the UDA.
"It involves the Inner Circle," the caller had said. To many people at the time the notion of an 'inner circle' in which it was alleged senior members of the RUC colluded with loyalist killers, was relatively new. In 1991, investigative journalist Sean McPhilemy had produced a documentary "The Committee", which alleged collusion at the heart of the unionist establishment.
Following the broadcast, the documentary makers were hounded by the British government and RUC, which culminated in a high profile court case in which the government unsuccessfully tried to force McPhilemy to reveal his sources.
The body of Allan Moore was discovered on the shore of Lough Neagh a few hours after his attack on the Sinn Féin office. The RUC claimed he had committed suicide. Spratt had died a few days earlier in a domestic shooting incident.
"The right of republicans and nationalists to organise politically in the party of their choice was as much the target of the attack on Sinn Féin's Falls Road office as were the individuals inside the building," said Gerry Adams.
Repression thrives in obscurity. Secrecy and denial are prerequisites, even more fundamental than whose finger is on the trigger. But the conspiracy at the heart of the Six Counties does not only operate in the shadows of covert operations or the murderous activities of pro-state forces, it also thrives at the heart of civic society; it is enshrined in law, sanctioned by practice, endorsed by the media.
In the immediate aftermath of the Sevastopol Street killings, Allan Moore's loyalist affiliations were airbrushed out. RUC spin-doctors presented the image of a 'rogue cop', an RUC officer under enormous stress. The killings were dismissed as a moment of madness.
The central issue, that the attack on the Sinn Féin centre was only the latest in a series of deadly attacks on party members and elected representatives, was ignored. But as Sinn Féin raised this issue with the press, another deadly plot was already about to take centre stage.
It was shortly after 2.20pm, almost exactly 24 hours after the Sevastopol shootings, when two masked and heavily armed men entered Sean Graham's bookmakers on the Ormeau Road, South Belfast, and opened fire. In the crowded shop the loyalist gunmen fired over 50 shots, killing five and wounding nine other people, one critically and five seriously.
The youngest to die was a 15-year-old schoolboy, James Kennedy, the eldest a 67-year-old father of three, Jack Duffin, together with Christy Doherty (52), William McManus (54) and 18-year-old Peter Magee. As anticipated by the gunmen, all the victims were Catholic.
One of the injured described his ordeal. "At first I thought it was a hold-up but then someone yelled, "Hit the deck." I tried to, but I got hit in the leg on my way down. I just lay there and prayed the shooting would stop."
And when the shooting did stop, "there wasn't a sound for a few seconds, everyone was so stunned but then the screaming started. People were yelling in agony and others were crying. You could hardly see anything. The room was filled with gun smoke and the smell would have choked you."
The UDA later admitted they had carried out the attack. Days earlier, UDA gunmen had killed two other Catholics, a North Belfast taxi driver and prominent member of the Irish speaking community, Padraig Ó Cléirigh, and Lisburn Catholic Paul Moran.
During a subsequent Orange Order march along the Ormeau Road, several Orangemen would hold up their outspread hands in a gesture mocking the deaths of the five local people killed in the attack.
Meanwhile, as the UDA were pursuing their bloody campaign on the streets, in Belfast City's High Court the trial of British agent and UDA intelligence officer Brian Nelson was drawing to a close.
In a last minute deal, the Director of Public Prosecutions allowed the most serious charges against Nelson to be dropped in return for guilty pleas to a series of lesser charges. The deal was unprecedented; plea-bargaining is not usually contemplated in relation to murder charges.
In his role as a member of the UDA, Nelson had been involved in numerous assassination plots, supplying personal details including photographs of the victims to loyalist death squads, at times even taking a more active role.
But as a British agent attached to one of the British Army's most covert groupings, the Force Research Unit, the prosecution of Nelson in open court was set not just to embarrass his British paymasters but also to implicated them in a campaign of covert terror.
Almost to the day of the third anniversary of the death of Belfast defence lawyer Pat Finucane, one of the most high profile killings in which Nelson was implicated but for which he never stood trial, presiding Judge Kelly announced Nelson's sentence.
The widows of two of Nelson's victims, Theresa Slane and Maura McDaid, wept with the realisation that despite conviction for 20 serious crimes Nelson would serve less than five years. By ordering the sentences to run concurrently, Judge Kelly transformed a total of 101 years imprisonment to a jail term of four years and eight months.
At a time when Irish republican prisoners held in English jails were refused the right to serve their sentence in the North of Ireland, Nelson was immediately transferred to a jail in England. After his release, Nelson was given a new identity and relocated while continuing to be bankrolled by the British Exchequer.
In sharp contrast to the Nelson trial, in the rural County of Tyrone 'justice' of a very different kind was being planned by the British SAS. There would be no plea-bargaining for four young Irish republicans, no sympathetic judge or lenient judgement. Indeed, there was to be no trial at all.
In the grounds of St Patrick's Church, Clonoe, two young IRA Volunteers climbed a ladder to remove a machine gun mounted on the back of a lorry. The lorry had been used in a gun attack on the heavily fortified British barracks in the centre of Coalisland a short time before.
A third Volunteer was seated in the cab of the lorry and a fourth was waiting beside another car when the SAS, who had been lying in wait, opened fire. Local people described hearing prolonged shooting for up to ten minutes, with tracer bullets cutting across St Patrick's grounds.
No warnings were given, there was no exchange of fire and when, during a short break in the gunfire, one already wounded Volunteer raised his hands in surrender, he was ruthlessly shot dead. Pictures of the gutted chapel roof engulfed in flames after being bombarded by tracer bullets was an indication of the ferocity with which the SAS attacked their targets.
Kevin Barry O'Donnell (21), Sean O'Farrell (22), Peter Clancy (21) and Patrick Vincent (20) died at the scene. The four killings followed the death on active service of another young Volunteer, 22-year-old Joseph McManus, just ten days earlier on the Fermanagh border.
Of course summary execution isn't legal; staking out territory and establishing a killing zone isn't a part of the British Army's rules of engagement in Ireland and ambushing young Irish men without warning or allowing them the opportunity to surrender isn't adhering to official protocol. But in the unlikely event that the actions of any of the British soldiers who carried out the killing came under public scrutiny, like the card in the popular board game Monopoly, the British Army's infamous yellow card holds a 'get out of jail free' clause. A British soldier has only to claim that he believed his own life, or the lives of his colleagues, were in danger to render his decision to open fire justified. This claim has been successfully used even were the victims have been proven to be unarmed civilians.
To date, no British soldier has been questioned in relation to the four chapel killings. Ironically, a few days before the SAS ambush in County Tyrone, two British soldiers were arrested following a public outcry at the blatant killing, and serious wounding of two young republicans in South Armagh.
Fergal Caragher was shot dead and his brother Michéal seriously injured when two British soldiers riddled the car they were driving with bullets. Moments earlier, the soldiers had questioned the brothers and searched their vehicle. The incident took place in broad daylight and was witnessed by dozens of local people waiting in a queue of traffic at a British Army roadblock.
Despite the evidence against them, the two soldiers were subsequently acquitted at trial after the presiding judge dismissed eyewitness evidence on the grounds that local people were, by definition, biased.
While the RUC attacked mourners attending the funerals of the four Volunteers in Tyrone, loyalist gunmen continued to prosecute their sectarian murder campaign against the northern nationalist community unimpeded.
In Coleraine, a 31-year-old Catholic was shot and seriously wounded by a UDA gunman as he made his way to work. In a second attack, a Catholic worker was shot as he was waiting for his usual lift to a nearby psychiatric hospital in the predominantly nationalist Bawnmore area.
On 20 February, the North Belfast home of Sinn Féin Councillor Gerard McGuigan came under gun and grenade attack. McGuigan had survived two previous loyalist attacks, including a rocket attack on the local Sinn Féin centre and an earlier gun attack.
"At the sound of gunfire I initially froze but then I managed to take cover close to a wall. The grenade, which fell short into the garden, scattered glass and shrapnel into the house. My children were squealing and I shouted upstairs to ask if anyone was hurt. It was a sheer fluke that none of us were injured," said Gerard.
The month was to end with a brutal sectarian killing. 26-year-old Anne Marie Smyth, a Catholic mother of two from Armagh, was strangled and her throat was cut with a kitchen knife after she was lured from the East Belfast Glentoran Supporters club to a 'party' where she was stabbed to death.
Meanwhile, in Portlaoise prison, County Laois, republican POW Brendan Seery was dying of wanton neglect. On 16 February, Seery was transferred to the local hospital after complaining of serious chest pains. He was kept overnight before being discharged and brought back to Portlaoise on Monday afternoon.
On Tuesday he complained of chest pains again. On Wednesday, after Brendan was discovered to be too ill to get out of bed, a prison medical officer gave him a tablet for indigestion. He was found dead in his cell a few hours later. A press release after his death was only carried by one national newspaper.
On 22 February, Sinn Féin held its 86th Ard Fheis in a community centre in Ballyfermot, on the outskirts of Dublin. A protracted campaign of vilification had denied the party its usual Mansion House venue in central Dublin.
A campaign led by an unholy alliance of Fine Gael, Labour and Workers' Party factions sought to prevent Sinn Féin from holding its annual conference in Dublin. Determined to play their part, the Garda Special Branch threatened several hotel owners with the loss of their licence if the party was allowed a venue.
To a standing ovation from a packed hall, Sinn Féin President Gerry Adams described British policy as "in tatters" but he warned: "This is also when it is most dangerous. But we are used to living in dangerous times.
"You cannot assassinate us out of existence and you won't. You cannot censor us into silence and you'll never stifle our voices. You haven't marginalised us into political inactivity. Sinn Féin is not going to go away."