15 November 2001 Edition
Remembering the Past
Maurice O'Neill executed

BY ART Mac EOIN


In the early 1940s, in the midst of the Second World War, the IRA was under severe pressure in the Six and 26 Counties. The Movement, suffering serious disorganisation was at a very low ebb and state forces on both sides of the border were determined to eliminate it from Irish politics forever.

They maintained an unrelenting process of attrition through harrassment and arrests of republicans, a vicious shoot-to-kill policy pursued with vigour by the Garda Special Branch and executions, by hangings and firing squads, in both states.

During this period IRA Volunteer, Maurice O'Neill from Caherciveen, County Kerry, was called to Dublin in connection with a planned push against border targets following the execution in Belfast of Tom Williams on 2 September 1942.

When this plan failed, the IRA leadership in Dublin, hunted and harried, lay low in safe houses across the city. It was in one such house in Donnycarney that Maurice O'Neill and Harry White, from Belfast, were surrounded by Free State forces. Unaware of their predicament the two Volunteers emerged from the house into a hail of bullets. In crossfire a Garda Detective Officer named Mordant was shot and killed.

Harry White, the man the gardai were really after in the raid, as they knew nothing of O'Neill's presence, made good his escape. He got out the back of the house, across a number of adjoining gardens and walls until finally hurling himself over a wall leading to a railway embankment. He then fell sixteen feet into a dense thicket of briars where he lay for two days with a gunshot wound in the leg. Eventually, covered with mud and blood, White made his way to a bus stop, boarded a bus where he got off in crowded O'Connell street in the city centre and made his way to a safehouse in the Summerhill area of the city.

O'Neill was not so lucky. He was captured and charged with 'shooting with intent'.

To the horror and dismay of many people across the country, Maurice O'Neill was sentenced to death and was executed by Free State firing squad in Mountjoy Jail on 12 November 1942. O'Neill's execution provoked particularly widespread protests, as he was a popular figure in his native Kerry. Following his death the situation on the streets deteriorated rapidly and tensions between IRA Volunteers and the Garda Special Branch were understandably strained. More shootings followed, resulting in further deaths of both Gardaí and IRA Volunteers.

Four years later, in 1946, Harry White was captured in Derry and handed over to the Gardaí by the RUC who hoped that a Free State military court would condemn him to death. However, lawyer and former IRA Chief of Staff Sean MacBride persuaded the court of the fact that while the bullet which killed Garda Mordant was fired from White's gun, he was entitled to defend himself as the raiding gardaí had not identified themselves before opening fire. The court held that this was not murder but excessive use of force by White when resisting unlawful arrest and it found him guilty of manslaughter.

Maurice O'Neill had been tried and executed following Mordant's death. However, it was clear from the evidence that White and O'Neill were separated at the time the fatal shot was fired, so O'Neill may have known nothing about it.

But O'Neill himself was stoic, calm and courageous when his fate became clear. In a letter to his elder brother Sean from Arbour Hill Prison, he wrote: "I suppose you saw in the papers where I met my Waterloo last Saturday night. Well, such are the fortunes of war... There is only one sentence, death or release. So I believe it is the full penalty for me. There is no good in having false hopes, hard facts must be faced."

Maurice O'Neill was executed in Mountjoy Jail, Dublin, on 12 November 1942, 59 years ago this week.


An Phoblacht Magazine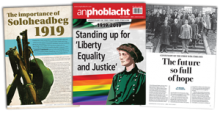 AN PHOBLACHT MAGAZINE:
Don't miss your chance to get the first edition of 2019 published to coincide with the 100th anniversary of An Chéad Dáil and Soloheadbeg.
In this edition Gerry Adams sets out the case for active abstentionism, Mícheál Mac Donncha takes us back to January 21st 1919, that fateful day after which here was no going back and Aengus Ó Snodaigh gives an account of the IRA attack carried out on the same day of the First Dáil, something that was to have a profound effect on the course of Irish history.
There are also articles about the aftermath of the 8th amendment campaign, the Rise of the Right and the civil rights movement.