30 June 2010
Clondalkin double murders: Extra Garda resources wanted
CLONDALKIN Sinn Féin Councillor Matthew McDonagh has renewed his call for a significant increase in Garda resources for the Garda Drugs Squad after the double murder of two brothers in Neilstown, Dublin West, this week.
They came on the same day that the Garda seized 14kg of cocaine along with two semi-automatic handguns in Terenure.
"We have gardaí fully trained to fight crime sitting behind desks and carrying out administrative duties," the Sinn Féin councillor said.
"These gardaí need to be taken out from behind their desks and put directly into the fight against gangland crime and the drugs crisis on the streets and in our communities."
ENDS
An Phoblacht Magazine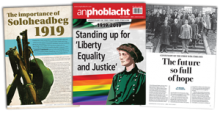 AN PHOBLACHT MAGAZINE:
Don't miss your chance to get the first edition of 2019 published to coincide with the 100th anniversary of An Chéad Dáil and Soloheadbeg.
In this edition Gerry Adams sets out the case for active abstentionism, Mícheál Mac Donncha takes us back to January 21st 1919, that fateful day after which here was no going back and Aengus Ó Snodaigh gives an account of the IRA attack carried out on the same day of the First Dáil, something that was to have a profound effect on the course of Irish history.
There are also articles about the aftermath of the 8th amendment campaign, the Rise of the Right and the civil rights movement.
An Phoblacht on Twitter

An initiative for dialogue 
for reconciliation 
— — — — — — —
Contributions from key figures in the churches, academia and wider civic society as well as senior republican figures