23 June 2010
Cuban delegation meets Sinn Féin in Belfast and Dublin
Sinn Fein hosted a delegation from Cuba at the annual Cairde Sinn Fein in Belfast at the weekend. The delegation joined over a thousand guests at the Europa Hotel for the evening event.
The group had met the Sinn Féin TDs in Leinster House earlier in the week.
The Cuban Ambassador to Dublin Terecita Trujillo accompanied government representatives, Angel Arzuaga from Cuba's International Affairs Department and Maria Karla Rodriguez of European Affairs.
The delegation arrived in Belfast on Friday to meet with Sinn Fein's MEP Bairbre de Brun and other party members. They also met with Sinn Fein President Gerry Adams and during the course of their visit discussed a wide range of issues with the party.
The current global economic situation and financial crisis and its impact on Cuba and Ireland were discussed, as well as the continuing blockade against Cuba and its economic, social and humanitarian implications.
The delegation urged Sinn Fein to continue to resist attempts to undermine progressive support for Cuba within the European Union and highlighted the importance of the European lobby.
Quantanamo
The issue of Quantanamo jail was discussed and the implications of a US prison and torture centre located on Cuban soil. The delegation pointed out that as well as humanitarian outrage at atrocities carried out in Quantanamo, the prison's location was an assault on the sovereignty of Cuba.
The case of the Miami Five, and the continuing refusal of the US Administration to grant two of their wives visas to facilitate visits, was also highlighted. Two women have been unable to see their husbands in eleven years.
During a tour of West Belfast on Saturday morning, the delegation visited the Republican plot in Milltown Cemetery and laid a wreath of the grave of Bobby Sands. Earlier in Dublin, the Cuban delegation launched what is hoped to be an annual event, the Bobby Sands Memorial hike in Cuba's Sierra Maestra mountains.
Terecita Trujillo, Cuban ambassador to Dublin, Maria Karla Rodriguez, European Affairs, Bairbre de Brun Sinn Féin MEP and Angel Arzuaga, International Affairs department Cuban Government
An Phoblacht Magazine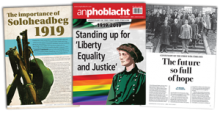 AN PHOBLACHT MAGAZINE:
Don't miss your chance to get the first edition of 2019 published to coincide with the 100th anniversary of An Chéad Dáil and Soloheadbeg.
In this edition Gerry Adams sets out the case for active abstentionism, Mícheál Mac Donncha takes us back to January 21st 1919, that fateful day after which here was no going back and Aengus Ó Snodaigh gives an account of the IRA attack carried out on the same day of the First Dáil, something that was to have a profound effect on the course of Irish history.
There are also articles about the aftermath of the 8th amendment campaign, the Rise of the Right and the civil rights movement.
An Phoblacht on Twitter

An initiative for dialogue 
for reconciliation 
— — — — — — —
Contributions from key figures in the churches, academia and wider civic society as well as senior republican figures