23 June 2010
Rejuvenated and re-energised - An Phoblacht monthly new prices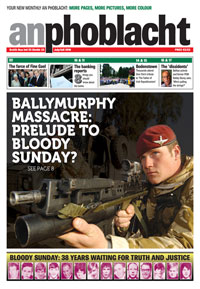 By now, many of our readers will know that An Phoblacht will launch as a new monthly on 24 June. The paper is adapting, like most print media, to the phenomena of online media and is also changing its format - the new monthly edition will be crammed with interesting features, interviews and analysis. This edition will complement the vastly improved, dynamic web presence.
The monthly print edition is increasing from 20 pages to 32 full-colour and will be sold at €2 or £2 per paper. It will be available the last weekend of each month.
The website is moving to a subscription-based service, and as well as featuring the paper it will contain extensive republican archives - the envy of historians throughout the world. We are urging readers to avail of one of our subscription options which not only will make it easier for you to access the paper, but on the web, also save you money!
To ensure that you don't miss out on the first edition of the new-look An Phoblacht, please renew or take out a subscription now.  Remember the last weekly edition is next week.
The new annual subscription rates are as follows (includes postage and packaging):
Ireland: 26 Counties      €32
Ireland: 6 Counties      £30
England, Scotland
and Wales      £30
Mainland Europe      €35
USA      $50
Canada      $55
Australia      $55
Elsewhere      €60
Or ...  SPECIAL MONEY SAVING ONLINE OFFER
Subscribe to the online edition, available anywhere in the world at the click of a mouse, for the special price of €20 for 12 issues.
You can access our extensive archives online for an additional €35 per annum. These exclusive archives include editions of An Phoblacht from as far back as 1981. From coverage of the Hunger Strikes, the Peace Process and recent elections, this in depth political insight is what made An Phoblacht Ireland's largest selling political weekly.
The website will include free access to an updated news service, videos and special features such as live streaming interviews. In the first month, we'll be putting the paper up free view to give readers a taster of the quality material to come.
We are also developing an historic photo service. These photos are exclusive to An Phoblacht and cannot be sourced anywhere else. Details of this service and how it can be paid for will be available soon.
MAKE CHEQUES PAYABLE TO:PARNELL PUBLICATIONS
An exciting new opportunity to spread the republican message
Would you like to make some extra cash while playing a key role in spreading the republican message?
In an exciting new development An Phoblacht  will become a monthly publication with more in depth analysis, interviews and features.   We want to give as many people as possible the chance to buy this new improved publication and are recruiting a new team of An Phoblacht sellers across every part of Ireland.
Would you interested in becoming a seller of the new monthly An Phoblacht?
If so we are offering you the opportunity to make £25/€25 for every 50 papers sold.  Under the new arrangement there will be a 50p/50cent commission for every paper sold and sellers will have 3 weeks to sell the papers.
If you are interested in playing an important part in building support for the party by becoming an An Phoblacht seller please contact: An Phoblacht on 01-8733611/8733839 or Email: [email protected]
An Phoblacht Magazine
AN PHOBLACHT MAGAZINE:
Don't miss your chance to get the second edition of the 2019 magazine, published to coincide with Easter Week
This special edition which focuses on Irish Unity, features articles by Pearse Doherty, Dr Thomas Paul and Martina Anderson.
Pearse sets out the argument for an United Ireland Economy whilst Pat Sheehan makes the case for a universally free all-island health service.
Other articles include, 'Ceist teanga in Éirinn Aontaithe', 'Getting to a new Ireland' and 'Ireland 1918-22: The people's revolution'.
An Phoblacht on Twitter

An initiative for dialogue 
for reconciliation 
— — — — — — —
Contributions from key figures in the churches, academia and wider civic society as well as senior republican figures