4 October 2010
'Kitchen press' Bertie should give up his secretarial perks, says TD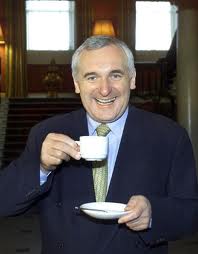 THE TAOISEACH'S PERK paid for by taxpayers which provides two salaried secretaries to former taoisigh, including Bertie Ahern, should be ended Sinn Féin TD Aengus Ó Snodaigh said after the former Taoiseach's TV ad for his News of the World column.
Aengus Ó Snodaigh added that Mr Ahern is still a TD, takes advantage of an author's tax breaks and gets a state car and driver.

The sight of Bertie Ahern's head appearing in a kitchen press has caused amusement to some and disgust to many. His venture into TV advertising to promote his column in the News of the World adds to his already tarnished political reputation.

The serious side of this, though, is that the state is paying very generous pensions and perks to former taoisigh, including Bertie Ahern.

Last June, it was revealed in reply to a Sinn Féin Dáil question that the Department of the Taoiseach is paying salaries to secretarial assistants employed by four former taoisigh, including Bertie Ahern.

As a TD, Bertie Ahern is already entitled to salaries for a parliamentary assistant and a secretarial assistant. But according to the current Taoiseach's reply, Deputy Ahern also benefits from the former taoisigh scheme by having the salaries of two secretarial assistants paid for up to five years after his retirement as Taoiseach, and the salary of one secretarial assistant indefinitely after five years.

In Deputy Ahern's case the secretarial allowance amounted to €114,000 in 2009 alone.

This lavish expenditure on former taoisigh is in addition to their very generous pensions and the state cars and Garda drivers at their disposal.

Home-help hours for elderly citizens are being cut and we must ask how many such hours would this scheme pay for? It should be ended and the funds made available for a useful purpose.
An Phoblacht on Twitter

An initiative for dialogue 
for reconciliation 
— — — — — — —
Contributions from key figures in the churches, academia and wider civic society as well as senior republican figures