1 October 2010
Pamela Kane: The fighting spirit of Tyrone and Dublin
BY SORCHA BERRY

PAMELA KANE comes from a republican family. Growing up in Baldoyle, in north Dublin, her mother is from Ringsend in south inner city Dublin; her father, Albert, is from Tyrone. Her republican roots come from her father's side of the family. His mother was in Cumann na mBan. Pamela's own role in the republican struggle began with the 1980 Hunger Strike.
It was during the first H-Blocks Hunger Strike that I became involved. I joined Na Fianna Éireann, the republican youth movement, at 16.

I was unable to stand idly by as I witnessed the discrimination and oppression experienced by nationalists during family holidays we took in Cappagh, east Tyrone. I wanted to get involved and so I made it my business to find out how I could.
Coming from the suburb of Baldoyle, Pamela says she didn't know any other republicans in the area. This spurred her decision to join Na Fianna Éireann.
The idea of a scouting organisation with a republican ethos was appealing to me so I joined. I loved the camping, the drilling and the debates with like-minded young people.
We got to meet with senior republicans like Joe Cahill, Sighle Humphreys and Cathal Holland. As teenagers we were fascinated by their experiences and were in awe at their commitment to a cause that we were now a part of.
We were even more determined after the deaths of the Hunger Strikers. We sought to build our organisation and bring the truth about British occupation to other young people in Dublin by various means.

One of the more daring publicity stunts I was involved in was the climbing of the RTÉ TV mast on the eve of the 1984 European elections. Sinn Féin candidates were banned from the airwaves because of the state censorship of Section 31 of the Broadcasting Act. We got through that day, though! Making the headlines of the six o'clock and nine o'clock news made our arrests and getting the Probation Act worthwhile.
Being a member of Na Fianna Éireann brought a lot of attention from the Garda Special Branch. Pamela was harassed, arrested and had her home raided on many occasions. But the Special Branch's attempt to dissuade her from her republican activities were all in vain.
The harassment only made my four brothers and two sisters very aware of the sinister use of political policing to harass young republicans. We were convinced that our cause was right and just. Some of my siblings also went on to join Na Fianna Éireann and my father, Albert, later became very involved in Dublin North-East Sinn Féin.

Never ashamed or shy about expressing my republican views, I became active in many campaigns during the 1980s. Prisoner-related issues like against strip-searching in Armagh, Maghaberry and Portlaoise, anti-extradition protests and campaigns for the repatriation of IRA prisoners.

I was also very involved in social issues like supporting Dublin's 'Molly Malone' street traders, the anti-drugs street campaigns and the Dunnes Stores anti-apartheid strikers.

I stood for Sinn Féin in Dublin North-East in the 1987 general election, paving the way for my good friend and comrade, Councillor Larry O'Toole.
Arrested in London in 1988 and held for seven days in Paddington Green top-security police station, Pamela was told by a Special Branch detective on her 'escorted' journey back to Ireland that she would be in prison or dead within five years.
As it happened, he was right.
On May Day 1990, Pamela was arrested during a bank robbery in Enniscorthy, County Wexford, along with five comrades. She was sentenced to 10 years and sent to Mountjoy Prison. Shortly after she began her sentence, she was moved to the high-security Limerick Prison.
Farmers kept their animals in better conditions than the women prisoners are kept in Limerick Prison.

That was how the Irish Countrywomen's Association described the women's wing on an inspection visit during my time there. It was confined and filthy.

Prisoners had to eat alone in their cells and endure excessive lock-up periods. We had to slop out as well.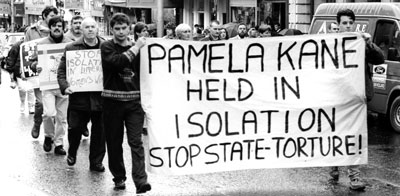 A successful campaign on the outside by Pamela's family, friends and comrades ensured that the conditions in Limerick Prison were never very far from the political and media spotlight.
Their successes ensured some improvements and eventually secured her a move to Mountjoy back in Dublin once every three months so visiting was easier and closer to her family and friends.
While in prison, Pamela studied Social Science and took other classes. She recalls receiving a sack full of mail every day from comrades and republicans all over the world. It was through these letters that she met her husband-to-be, Martin O'Neill.
He was serving 20 years in Long Kesh and my cousin, Seamus Corrigan, had put him in contact with me to teach me how to do matchstick handcrafts.

Our relationship grew into something more than comradely banter and we ended up being married shortly after our release.

Our mutual desire to see our country free from foreign and domestic oppression, our love of Tyrone (he's a Strabane man) and the support of our great families and friends has meant we have survived 14 years together.
Has she ever regretted the hardships she has endured from being a committed and active republican?
Never! I have made some of the best friends that anyone could ask for in a lifetime; friends who have been there through hard times and good.

Unfortunately, I have also lost many friends as a result of the struggle, though my life has been made richer through the experience of knowing them.

Okay, so we don't have a united Ireland (yet) but the lives of people on this whole island have been greatly improved since the dark days of the late 1970s and '80s and I would like to think in some small way the sacrifices that I made have contributed to this in some way.
An Phoblacht on Twitter

An initiative for dialogue 
for reconciliation 
— — — — — — —
Contributions from key figures in the churches, academia and wider civic society as well as senior republican figures