1 October 2010
FRIDAY 8pm: Belfast music night for Basque political prisoner in Maghaberry
Roddy McCorley Club on Friday night from 8pm till late
A great line-up of musical acts including Gráinne Holland and Felimi O'Connor, Acoustic Dan and the Black Mountain River Dipsos, Caoimhín and Flavia, and Buddy Checker and the Smokin' Elbows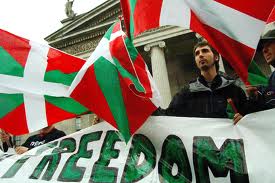 THE Belfast Basque Solidarity Committee is urging  people across Belfast to come along to a music night fund-raiser this Friday for Fermin Vila, a Basque political prisoner currently being held in Maghaberry and facing extradition proceedings brought by the Spanish Government.
Fermin Vila is the third Basque man to have been arrested under extradition proceedings in Belfast over the last two years. The theme of the function is 'Spain – Hands off Belfast!'
Spokesperson for the Belfast Basque Solidarity Committee Kevin Morrison says that Belfast is clearly in the sights of the Spanish Government as a result of the strong links of friendship and solidarity that exist between the republican community and the Basque people.
This fund-raiser will provide practical help for Fermin and his family who we have been supporting him as they travel from the Basque Country to Belfast for prison visits. It will also give this community the chance to come along and show their support for members of the local Basque community.
The Belfast fund-raiser will take place only days after the arrest of seven alleged members of Askapena in the Basque Country. Askapena, a pro-independence international solidarity group, organises the work of the Solidarity committees throughout the world and works closely with the Belfast Basque Solidarity Committee.
Kevin Morrison says the targeting of the international section of the Basque pro-independence movement on Tuesday is a deliberate attempt by the Spanish Government to undermine efforts to rebuild the Basque peace process. It also shows the importance of the international solidarity with the plight of the Basques, he adds.
This operation was launched in the context of two recent statements from ETA announcing a ceasefire in the interests of rejuvenating a process of dialogue with the Spanish Government.

The international community has urged the Spanish Government to seize this chance to develop a peaceful resolution to the Basque conflict. However, since the ceasefire two weeks ago, the Spanish authorities have arrested 18 people.

Askapena was campaigning for international support for this new initiative for peace. For the Spanish Government to launch this attack at this critical juncture is clearly an attempt to undermine efforts to rebuild a peaceful process of dialogue on the Basque national issue, and it should be condemned by the international community.

We need to step up our efforts to build awareness and solidarity with our Basque friends facing persecution for their political beliefs – both those living in Belfast and those in the Basque Country.

So, come along on Friday night for a great night of music and craic – all in aid of a very worthy cause! The best message we can send to the Spanish Government is a concert full of people ready to say no to attacks on the Basque Country.
An Phoblacht on Twitter

An initiative for dialogue 
for reconciliation 
— — — — — — —
Contributions from key figures in the churches, academia and wider civic society as well as senior republican figures