9 November 2023
1983 - Gerry Adams elected Uachtarán Sinn Féin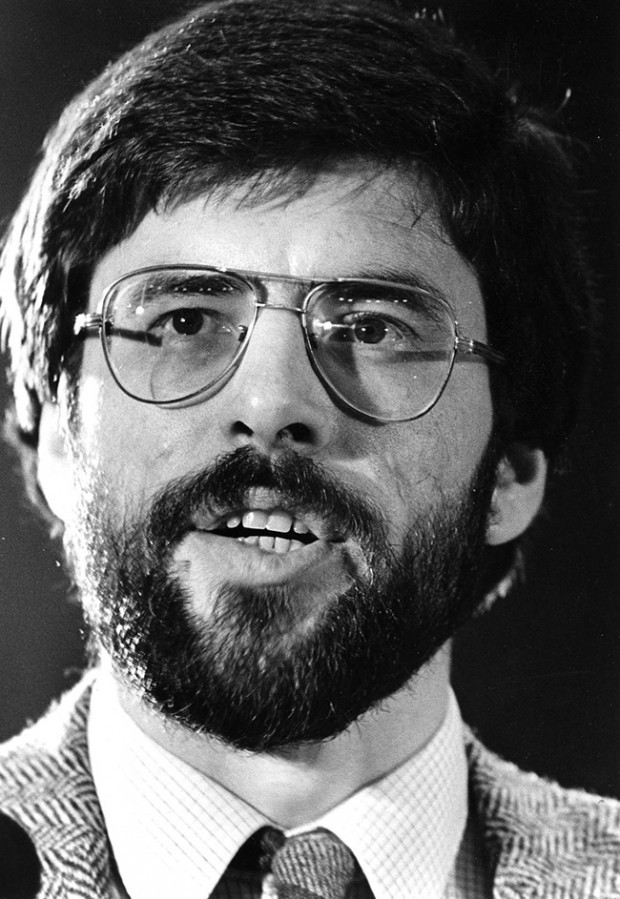 40 years ago this week at the 1983 Sinn Féin Ard Fheis in Dublin's Mansion House, Gerry Adams was elected President of Sinn Féin.
• — • — • — • — • — • — • — • — •
Gerry Adams was born in October 1948 and grew up in the Ballymurphy district of West Belfast. His parents, Gerry Adams and Anne Hannaway came from republican backgrounds. His grandfather, also Gerry Adams as a member of the Irish Republican Brotherhood was active during the Tan War, and his sons Dominic, Gerry and Paddy were active in the IRA in the 1940s and were interned in that period. Anne's grandfather Michael was an active member of the IRB in England, while her father Billy was an election agent for Éamonn de Valera in the Belfast (Falls) constituency in the December 1918 general election when Joseph Devlin beat him 8,488 to 3,245.
Gerry Adams attended St Finian's Primary School on the Falls Road and then he attended St Mary's Christian Brothers School before leaving and getting a job as a barman. He joined Sinn Féin when it was still a banned organisation in the mid-1960s and along with other republican activists became involved in campaigns around bad housing and equal rights and attended the inaugural meeting of the Civil Rights Movement in 1967. Memories of his early years are described in his Falls Memories book. Gerry has been an unremitting writer of short stories, history, articles and recently tweets. In 1971, Adams married Collette McArdle, with whom he has one son, Gearóid.
In 1972 he was interned without trial by the British, but was released in July to participate in secret talks in London between Irish republicans and the British government. The republican delegation that met with British Home Secretary William Whitelaw in Chelsea included Gerry, Martin McGuinness, Seán Mac Stiofáin, Dáithí Ó Conaill, Seamus Twomey, Ivor Bell and Myles Shevlin. The resultant ceasefire by the IRA was short lived and he was re-arrested 1973 and interned in the Cages of Long Kesh. His Cages Eleven book contains glimpses of life while interned in the British Concentration Camp Long Kesh.
He tried twice to escape from Long Kesh Prison Camp, but failed and was imprisoned for daring to attempt to escape from illegal custody. He was eventually released in 1976. In 1978 he was again arrested and imprisoned for alleged IRA membership and was held this time in the H-Blocks of Long Kesh. The charges were later dismissed. During his periods of incarceration he wrote articles in the republican newspapers An Phoblacht and Republican News often under the by-line 'Brownie'.
Gerry Adams played a leading role in the campaign for political status for those imprisoned in British jails. He was a friend of Bobby Sands and knew many of the hunger strikers who died in 1981. The electoral success of Bobby in Fermanagh-South Tyrone, of Kieran Doherty in Cavan-Monaghan, Paddy Agnew in Louth, and anti-H-Block candidates in Sligo, Cork and other constituencies spurred the debate within Sinn Féin about the strategic value of electoral intervention.
• Gerry Adams and Ruairí Ó Brádaigh at the 1983 Sinn Féin Ard Fheis
Gerry was subsequently central to the formation of Sinn Féin's electoral strategy which saw the party stand in the October 1982 Assembly election in which the party won five seats. Gerry topped the poll in west Belfast with 9,740, 4,533 ahead of the SDLP's Joe Hendron. Two months later in December the British government banned Gerry Adams from travelling to Britain under the Prevention of Terrorism Act.
In June 1983 Gerry Adams was elected MP for West Belfast. He won the West Belfast seat again in 1988 but lost it briefly to the SDLP in 1991. In 1997, in 2001, in 2005 and in 2010 he was re-elected as MP for West Belfast. In 2010 he won over 71% of the vote in the constituency. In 1998 he was elected to the Assembly and re-elected in 2003 and 2007. 
In 1978 he became one of two vice-presidents of Sinn Féin, the other being Dáithí Ó Conaill. Both remained in that position until 1983. It was in that year in the Westminster elections on 9 June 1983 that Gerry Adams was first elected MP for West Belfast increasing his majority over the SDLP's Joe Hendron. Later that year, on 12 November, Gearóid MacAdaimh (Gerry Adams) was elected by the delegates of the party in the Mansion House, Dublin to succeeded Ruairí Ó Brádaigh as Uachtarán Shinn Féin.
In his address, the new party president, Gerry Adams, dismissed media claims of a 'Northern takeover' and said: "We are not a Northern, nor a Southern party – we are an Irish republican party organised throughout Ireland."
The main theme of his speech was the need for republicans to break out of political isolation and "get among the people in the basic ways which the people accept". In line with this approach, the Ard Fheis voted to contest European Parliament elections with the intention of taking seats if they were won. This followed the expansion of party electoral strategy the previous year.
In March 1984 as he and several other members of Sinn Féin drove through Belfast city centre they were ambushed by the British-sponsored Ulster Defence Association. Gerry Adams was shot five times and seriously wounded. Three others in the car were also injured. Later his home was also bombed.
On 2 November 1986 the Ard Fheis in Dublin's Mansion House passed a motion with a two thirds majority to change the long held abstentionist policy to the Dáil and begin to address its isolation. When the vote result was announced a small number of delegates led by Ruairí Ó Brádaigh and Dáithí Ó Conaill left the hall and Sinn Féin.
It was also that year that Gerry Adams was instrumental in launching the party's current peace strategy. He privately met with John Hume and in the following year the Sinn Féin launched Scenario for Peace. In January 1988 a public meeting was held between Gerry Adams and John Hume which was the start of an eight-month long process of discussions between Sinn Féin and the SDLP. The meetings ended in August 1988 without agreement.
Five years later, in 1993 it emerged that the Sinn Féin President had been holding private meetings with the leader of the SDLP, John Hume. In the first of six joint statements issued by the two party leaders they set out their hope for the future. 
"Everyone" they said,  "has a solemn duty to change the political climate away from conflict and towards a process of national reconciliation, which sees the peaceful accommodation of the differences between the people of Britain and Ireland and the Irish people themselves… we accept that an internal settlement is not a solution because it obviously does not deal with all the relationships at the heart of the problem…the Irish people as a whole have a right to national self-determination… we see the task of reaching agreement on a peaceful and democratic accord for all on this island, as our primary challenge… and we both recognise that such a new agreement is only achievable and viable if it can earn and enjoy the allegiance of the different traditions on this island, by accommodating diversity and providing for national reconciliation."
The political and media response to this was hysterical, spiteful and vicious. Led by the Independent group of newspapers in Dublin Gerry Adams and John Hume were vilified and attacked day after day, week after week. Nothing much has changed in the approach of the Independent Group of Newspapers since then.
From these meetings both leaders agreed a joint position which was to become the Irish Peace Initiative. 
It also emerged in November 1993 that there had been also secret dialogue taking place between Sinn Féin and the British government from 1990.
In January 1994 President Bill Clinton gave Gerry Adams, who was banned from entering the USA, a 48 hour visa to attend a conference in New York. It caused a major diplomatic crisis between the USA and British government.
Six months later in August 1994 the efforts of the Sinn Féin leadership and those of others, including the Irish diaspora in the USA, persuaded the IRA to call a cessation of all military actions. After a year and a half of fruitless efforts to get the British to agree to all-party inclusive talks the cessation ended in February 1996. Following months of efforts and the election of a British Labour government the cessation was restored in July 1997. This led to all-party talks and in April 1998 the Good Friday Agreement was achieved.
However, the decade after the Agreement was fraught with many difficulties as Gerry Adams and others sought to have its terms implemented. There was considerable opposition from sections of unionism and the British state. 
In 2005 Gerry Adams appealed to the IRA to take decisive decisions that would save the peace process from imminent collapse. As a result the IRA formally ended its armed campaign and in conjunction with the International Independent Commission on Decommissioning it dealt decisively with the issue of arms.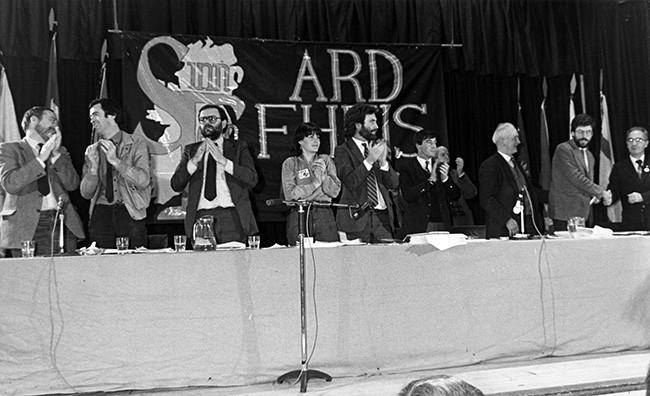 • Ruairí Ó Brádaigh congratulates Gerry Adams on his election as president of Sinn Féin
In March 2007 Gerry Adams and the leader of the Democratic Unionist Party Ian Paisley agreed a deal which a few months later saw the political institutions restored.
As part of a collective Sinn Féin leadership Gerry Adams has been instrumental in helping to build Sinn Féin into an effective radical political party. 
In 2011 he resigned as MP and contested the Louth constituency in the general election for the Dáil. He topped the poll and led a renewed and strong Sinn Féin team of 14 TDs into the Dáil in June of that year, with three seanadóirí being elected later. In 2014 Sinn Féin won four European seats making it the largest political group from Ireland in the European Parliament. At local government level Sinn Féin now has over 250 Councillors in every part of the island. 
In February 2016, after topping the poll again Gerry led and increased Sinn Féin of 23 Sinn Féin TDs into the Dáil, followed later by seven Seanadóirí. In 2017's Assembly elections and Westminster elections Sinn Féin secured its largest ever vote in the North winning 27 Assembly seats and seven Westminster seats. Over half a million people vote for Sinn Féin across the island. A far cry from 1983 when the party had one MP and a handful of councillors.
Addressing the Ard Fheis in November 2017 when he announced his decision to step down as Uachtarán Shinn Féin Gerry Adams said:
"Those of us who want a United Ireland must articulate that clearly, and in the context of the Good Friday Agreement. And we have to persuade our unionist neighbours to support a new and agreed Ireland in which Orange and Green can live together in prosperity and harmony. We have so much in common. We have to ensure that everyone's rights are underpinned. An agreed Ireland has to guarantee unionists their rights. The future is for the people to decide - peacefully and democratically… I firmly believe that one person can make a difference. The first step in making a difference is believing that you can be that person. One woman – one man – doing their best. That's what it takes. You don't have to do as much as Martin McGuinness did, but we all have to do our best – and we have to do it together. That has been the key to our successes so far. Doing our best, moving forward, united, strong and together."
• From 'Presidents of Sinn Féin, Uachtaráin Shinn Féin 1905-2018' By Aengus Ó Snodaigh TD