25 October 2023
Palestine, you are not alone - we are all Palestinians now!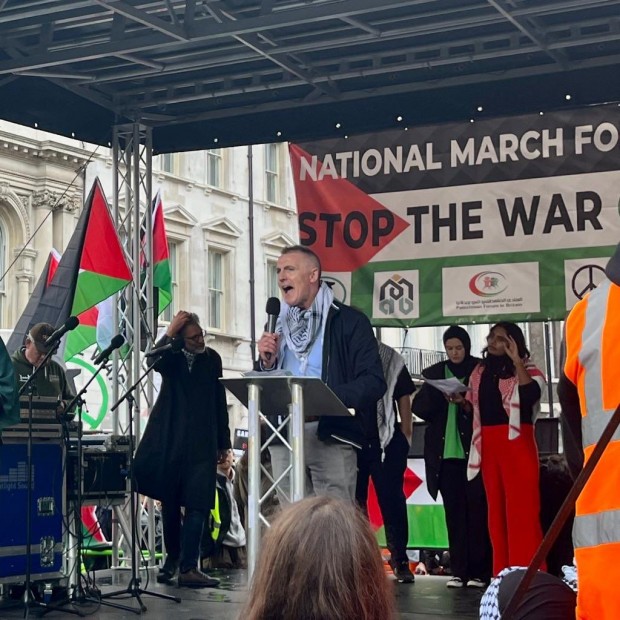 The terror and depravity of these days needs to give way to a momentum in support for international law, and the universal values of freedom, equality, justice, and security. That is what happened for South Africa: It must now happen for Palestine.
At the time of writing Israel has carried out over 400 missile strikes on Gaza and more than 700 Palestinians have been killed in 24 hours by Israeli forces.
It has become impossible to fully grasp the scale of the human suffering and the scenes of living horror emerging from the rubble of Gaza and the refugee camps and towns in the West Bank. 
The sustained, relentless campaign of bombing being waged by the Israeli state, particularly against the population of Gaza can only be understood through the prism of ethnic cleansing.
How else is the forced displacement of 1.2 million Gazan citizens from the north of Gaza to the south to be explained? The children of parents and grandparents who were refugees when they first came to Gaza, have themselves now become refugees in the Gaza Strip itself.
And this is happening with the complicity and collusion of western political leaders. The positions they have adopted are an absolute anathema to any moral compass.
When western politicians refuse to condemn as war crimes, the stopping of water, medical supplies, power, and fuel by Israel, then a new line has been crossed. 
The double standards of those same leaders and large media organisations is appalling and indefensible. 
Palestinians aren't just dying, they are being killed. An armageddon is being inflicted upon the Palestinian people in Gaza and the West Bank.
In Ireland this year we marked the 25th anniversary of the Good Friday Agreement.
Our peace settlement drew a line under political conflict and established a framework of rules and principles to create a democratic process which would manage change and guarantee all citizens their rights. It has not been easy. There have been many challenges and others remain. But the Irish peace process created a better future for new generations.
Five years earlier the Oslo Accords were agreed between the Palestine Liberation Organisation (PLO) and the Israeli state, based upon a 'two-state solution', contiguous with the 1967 borders. 
For the first time since the Nakba of 1948, Palestinians hoped that their rights to peace, equality, national democracy, and statehood would be secured.
That hope began to disintegrate as successive Israeli governments immediately began to undermine the basis of the two-state solution, by reneging on outstanding commitments, commencing a strategy of land dispossessions, unleashing a strategy of settler colonisation and a system of apartheid across the occupied West Bank, and laying siege to the Gaza Strip from 2006.
As a result, today in Palestine there is no peace process.
The lived reality for successive generations has been colonisation, occupation, apartheid and dispossession.
No generation of Palestinians have enjoyed normal childhoods since 1967. 
Israel has repeatedly flouted every UN resolution which has been adopted on  Palestine.
Now an Israeli bombardment and humanitarian catastrophe is taking place in Gaza, the likes of which we have never seen.
One Palestinian child has been killed by Israel every 15 minutes since 7 October.
To date, over six thousand Palestinian civilians have been killed, including more than two thousand children. 
70% of all those deaths are women and children. 
The hundreds of thousands ordered by the Israelis to move to Southern Gaza have been targeted with new waves of missile attacks en route and upon arrival.
The hospitals which continue to function in Gaza face the prospect of shutting down within hours because their generators will be without fuel due to the Israeli blockade.
Gaza is facing human, social and environmental annihilation.
At the same time, the West Bank is under unprecedented military lockdown. 
Almost 100 have been killed; thousands injured; hundreds have been arrested.
War crimes are being executed with impunity against children, women, hospitals, schools and churches. 
This is not self defence.
Now at last, the UN Secretary General of the UN has spoken out to assert the inviolability of international humanitarian law.
The terrible, tragic loss of Israeli lives on 7 October has been rightly condemned.
But make no mistake.
Israeli aggression against Palestine long predates that terrible day. As Secretary General Guterres said in New York, those actions did not happen in a vacuum.
The Israeli occupation of Palestine, its settler colonisation strategy and apartheid system not only perpetuates the oppression of Palestinians but has provoked a crisis within Israeli society itself. 
This current onslaught, bombardment and pre-meditated collective punishment of Palestinians is the inevitable culmination of a fanatical government mind set which views the Palestinian people as animals:
Which dehumanises and demonises them as a non-people:
Which asserts they must either leave their remaining lands; or, accept total domination; or, be killed.
These are the publicly expressed views of Israeli senior government ministers. 
And while this happens the silence of the EU and other western governments has been deafening; matched only by their failure to unambiguously condemn Israeli violations of international law and war crimes. They should heed the intervention of Antonio Guterres.
This is now a defining moment for our generations of humanity.
Our children and grandchildren will speak of this time in the future.
Let's make sure we can look them in the eye when asked, and say we did not stand by and fail to act.
Now, the world has a choice to make.
To stand with the oppressed and dispossessed of Palestine, or not.
To assert the primacy and full implementation of international law, or spectate while western leaders make to rip up the UN Charter.
Gaza must not become a graveyard for international law.
Ireland must be clear which side we are on.
We must stand on the side of humanity, decency, universal democracy and international law.
All Palestinian and Israeli citizens have a right to live in peace and security, free from threat, occupation and apartheid.
So there can be no equivocation, this war must end immediately.
In the midst of the escalating carnage in Gaza and the West Bank there is only one correct political and humanitarian position to take.
That must be for ceasefires now and ending military actions by all sides: 
For urgent resolution of the humanitarian crisis:
And, a decisive international intervention, based on rigorously impartial leadership is required and Irish political leaders should be central to that: One which delivers a road map to achieve a just and lasting peace settlement; and a free and independent Palestine.
Diplomacy and politics are the only way forward. There is no military solution. The spirit of Palestine for freedom has endured and will not be defeated.  
But a tipping point has been reached. The dial of world opinion is moving. The minds of some western leaders are increasingly out of touch with global public opinion.  
The terror and depravity of these days needs to give way to a momentum in support for international law, and the universal values of freedom, equality, justice, and security. That is what happened for South Africa: It must now happen for Palestine.
To our Palestinian brothers and sisters - we see you.
From Gaza city to Khan Younis; From Jenin to Hebron; And from Ramallah to  East Jerusalem...
We are with you. You are not alone. 
More and more, in our millions, and in our billions, we are all Palestinians now.
Palestine will be free!