22 September 2023
The Catalans are not Spanish – They are Catalan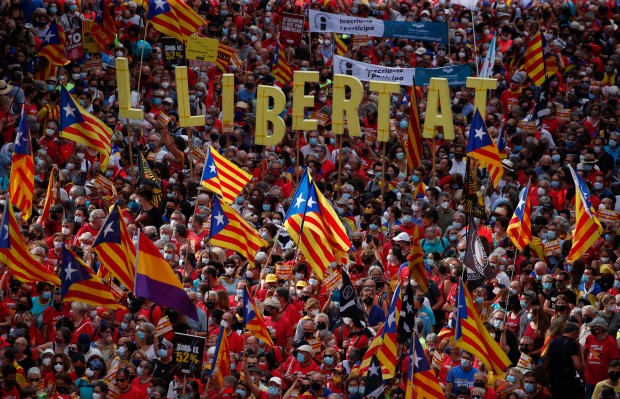 When political leaders commit to working together in a spirit of partnership and pragmatism, everything becomes achievable. A road map to a permanent democratic political settlement in Catalunya can be negotiated and successfully implemented.
During a recent political event in Barcelona I said, "The Catalan people are not Spanish – they are Catalans." I made this assertion in my contribution to a political discussion on national democratic rights organised by the CIEMEN civic organisation as part of a programme to mark La Diada – Catalan National Day, on 11 September. 
International delegates joined me in travelling to Catalunya, from Euskal Herria, Scotland, Wales, Galicia, Corsica, Quebec and the Faroe Islands.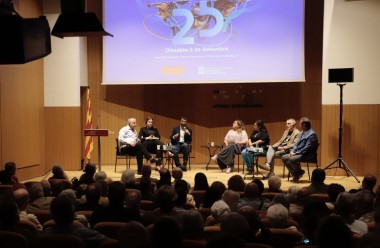 This is a pivotal period for the Catalan independence movement in the aftermath of the recent Spanish general election. 
During the previous term, Pedro Sanchez's PSOE led coalition relied upon the parliamentary support of Catalan and Basque MPs in particular, and it will now depend on their continuing support. 
The coalition government has been good for politics in the Spanish state. It is the first progressive government including a coalition of left wing parties since the Second Republic in 1936/37. 
While the legacy of Franco's regime continues to exert a toxic and reactionary influence, and the conservative and extreme right wing Spanish parties pose a real threat to the democratic process, the Sanchez coalition, with Catalan and Basque support, successfully introduced important progressive, social reforms.
Catalunya has a population of nearly 8 million and possesses a strong economic base. It has a powerful national political and cultural identity. Historically its national movement has been very strong. It grew in political and electoral strength during the period following enactment of the Catalonian Statute of Autonomy in 1979. In more recent years the national movement has become decisively pro-independence.  
Today the main political forces heading the independence movement are Esquerra Republicana de Catalunya (ERC) and Junts per Catalunya (Junts). Both parties served together in the Catalan coalition government until 2022. 
When that government held the independence referendum in 2017, the Spanish state declared it to be illegal and acted to brutally suppress popular participation in the vote. It attempted to crush the independence movement and imprison its political and civic leadership. 
Many figures such as Oriol Junqueras, leader of ERC, and then government vice President, were imprisoned. Others, including President Carles Puigdemont, the leader of Junts, and Marta Rovira, ERC General Secretary, were forced into continuing political exile. The current Foreign Minister, Meritxell Serret, has since returned from exile to serve in the Catalan government but still faces criminal charges, which could result in her being banned from political office. Hundreds of other political activists have faced, or remain subject to judicial proceedings. 
Currently ERC leads the Catalan government under President Pere Aragonès. Earlier this year he visited Dublin and met myself and Sinn Féin President Mary Lou McDonald TD. While in Barcelona, I met again with President Aragonès and we discussed in detail the political situations in Ireland and Catalunya.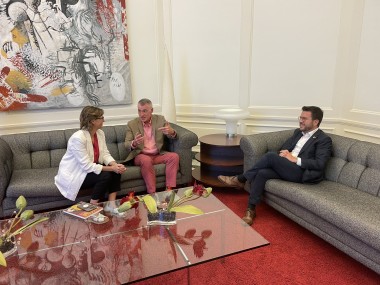 Historic bonds exist between Catalunya and Ireland. There is strong mutual solidarity between our independence struggles, and Sinn Féin and ERC enjoy longstanding fraternal relations. 
The denial of national democracy in Catalunya, alongside Ireland, Euskal Herria and Scotland can no longer be ignored as a European issue.
This shared struggle was highlighted by Pere Aragonès during an ERC organised event to mark La Diada, when he spoke about the momentum for self-determination and independence in Ireland, Euskal Herria, Scotland, and elsewhere. He declared:  
"Today we in Catalunya are sharing the struggle with you; tomorrow we will share the victory."
Since the independence referendum of 2017, and despite the anti-democratic backlash from Spanish authorities, support for self determination has endured in Catalunya. 
The positive momentum and energy for Catalan independence was palpable in Barcelona on La Diada; manifested in a massive demonstration with an estimated 800,000 participants. 
Now the post general election landscape has opened up new opportunities. 
There was a notable example of this changed context last week when the newly agreed right to speak Catalan, Euskara and Galego was exercised during the plenary session within the Spanish parliament.  
The Spanish government has also agreed to seek official recognition of the Catalan language in the European Parliament and institutions. 
While these may be symbolic gestures they are also significant because such steps pave the way towards a new negotiation horizon between the Spanish government and the Catalan independence movement. 
The immediate priority of ERC is to achieve amnesty for all those convicted by political trials to date; an immediate end to the ongoing punitive, political prosecutions; and, the right for those in exile to return home, free from threat of future legal action.
Securing these outcomes will create the required political conditions for a negotiation process to resume between the Catalan and Spanish governments on achieving the right to self-determination and new national democratic arrangements. 
A properly constituted negotiation process will provide mutually significant opportunities for both the Spanish and Catalan governments to finally resolve the historic political division between Spain and Catalunya. 
It is time for the distinct national rights and identity of Catalans, and also Basques to be fully recognised.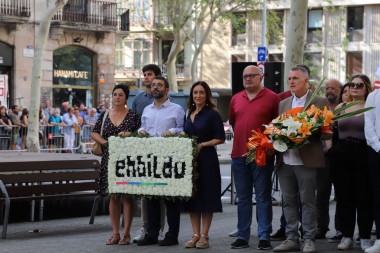 However, progress in bringing about negotiations on the future of Catalunya cannot be separated from the need to maximise unity and consensus among all sections of the pro-independence movement. That will be essential to developing a successful and cohesive negotiation strategy. 
This is the political challenge now facing the wider independence movement, and particularly ERC and Junts as the largest political parties.  
Unity and cohesion among Catalans will be an important foundation for helping to leverage the combined political strength of the progressive Catalan and Basque parliamentary bloc in future talks with the Spanish coalition government. 
As with Ireland, self determination and managed constitutional change for Catalunya and Euskal Herria, are now fundamental political questions for the EU which must be democratically addressed. 
Negotiated agreements on self-determination and national independence between Spain and the Catalan and Basque peoples represents the pragmatic way forward. 
The EU could play a constructive role in supporting such a process. 
There is no threat to Spanish democracy by embracing the need to manage the constitutional change being called for by increasing numbers of citizens in Catalunyaand Euskal Herria, as evidenced in successive elections. On the contrary, democracy will be strengthened. New, resilient intergovernmental relations will be constructed as a direct result. 
The continuity of the coalition government and Spain's presidency of the Council of the EU can help to unlock all of these possibilities, including a constructive political and diplomatic role for the EU itself.  
Good faith and positive political initiatives from all sides will enhance the new potential for political progress and agreement between Spain and Catalunya. 
When political leaders commit to working together in a spirit of partnership and pragmatism, everything becomes achievable. A road map to a permanent democratic political settlement in Catalunya can be negotiated and successfully implemented. 
For our part, Sinn Féin remains fully committed to assisting all these efforts, and supporting the achievement of a new, inclusive, progressive Catalan republic.  
Viva la Independencia.  
Visca Catalunya.