5 September 2023
Bernadette O'Hagan – 1927-2023
The recent passing of Bernadette O'Hagan saw the end of a life well lived by a woman well loved by family and friends, a deeply committed Republican who gave decades of dedicated service to the cause of Irish freedom.
Bernadette will be forever associated with her native Lurgan, Co. Armagh and with Co. Monaghan where she lived for several years. Across Ireland and beyond Republicans will have many fond memories of her friendship and activism. 
Throughout their lives Bernadette and her late husband Joe, affectionately known as Joe B, were synonymous with Irish Republicanism. JB was a participant of the famous helicopter escape by IRA prisoners from Mountjoy Jail in 1973. Both Bernadette and JB remained committed to the ideals of the Irish Republic declared in Easter 1916 throughout their lives. They also were staunch supporters of the Peace Process and the political developments that evolved from it.
Bernadette and Joe B in Dublin in 1959
Large crowds attended Bernadette's wake in her home in Lurgan and her Requiem Mass at St. Paul's Church and burial at St. Colman's Cemetery in the Armagh town. Among those who travelled to pay their respects were many serving and former Sinn Féin public representatives, including the First Minister (designate), Michelle O'Neill, as well as many of Bernadette's friends and comrades from all over Ireland.
Tribute – Ó Caoláin
In a brief tribute on the death of his longtime friend, former Sinn Féin TD Caoimhghín Ó Caoláin described the late Bernadette O'Hagan as both a "courageous and determined woman" and "an exceptional Irish republican".
"The passing last week of Bernadette O'Hagan of Lurgan and Monaghan, in her 96th year, has left not only her own family, but countless others in these counties and across all of Ireland, grieving the loss of an exceptional Irish republican woman who throughout her lifetime had made an immeasurable contribution to the Irish republican cause and to a significant number of justice campaigns over her many years of political activism.
"Bernadette and her late husband Joe B set up home in Monaghan town in the 1970s. They were key contributors to the republican struggle and central players in the development and growth of Sinn Féin in Co. Monaghan.
"Bernadette was a courageous and determined woman, a wife and mother who knew first hand the reality of forced separation from loved ones. She was a dependable anchor for her family, a strength that she also brought to her tireless work on behalf of Sinn Féin.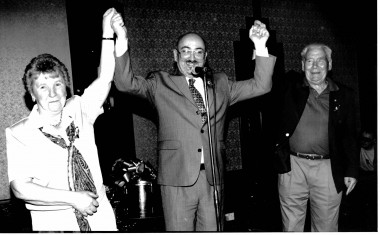 Bernadette and JB with their friend and comrade Caoimhghín Ó Caoláin TD
"Those of us of a certain age will have many happy memories of time spent and special moments shared with Bernadette. She was a warm hearted, kind and caring human being who gave so much of her life to the cause of a United Ireland and the establishment of an Irish Republic worthy of the allegiance of all who know this island as 'home'.
"On behalf of her many friends in Monaghan and Cavan I extend heartfelt sympathy to Bernadette's family on their great loss. Suaimhneas síoraí dá hanam dílis."
"Inspired" – Carthy
In a short tribute on Social Media last week, current Cavan Monaghan Sinn Féin TD, Matt Carthy, said: "Bernadette and JB O'Hagan were leaders in every sense of the word. Bernadette was a great Republican woman who contributed immensely to Ireland's freedom struggle. I am proud to have been one of the many from younger generations who she encouraged and inspired. I measc laochra na hÉireann go raibh sí lena fear chéile JB."
Gerry Adams Graveside Oration
The graveside oration to honour Bernadette O'Hagan was delivered by former Sinn Féin President, Gerry Adams. He said:
"Ba mhaith liom mo comhbhrón a deanamh libhse uilig ar mo shon féin agus ar son Colette. Táimid anseo inniu chun slán a fhágáil lenar gcara agus ár gcomrádaí, Bernadette. Chun céimeanna deiridh an turais a siúl léi, agus chun seasamh leis an chlann uilig.  
We are here today to say our final farewell to our friend and comrade Bernadette. We are here to stand in solidarity with Barry, Kevin, Fintan, Siobhan, Felim and Dara, as well as Janet, Cáit, Noirín and Gary. Bernadette was also a loving granny, great granny and great great granny.
On behalf of Colette and myself and of republicans across this island and beyond I want to extend our deepest condolences to the extended O'Hagan family. 
"When I heard that Bernadette had died I was sad but then I reflected that she was 95 – she outlived Joe B by 22 years. But your mummy is your mummy and your granny is your granny and the loss is deep and forever, especially for the young ones. The rest of us can only be thankful that we knew her.
"So today is our day to say thank you to Bernadette for all that you did.  We are proud of you. And we are proud of all the women of her generation who stood in the Bearna Bhaoil. Bernadette lived a long and full life and was a committed republican through all of it.  I had the honour and privilege to know her for over 50 years. Along with Joe B she was a stalwart of our struggle.
"She was born in Mary Street in Lurgan on 6 December 1927. It was just over six years after partition and the establishment of the Orange State. She was the youngest of nine children. Their family home was one of the tiny two-up, two-down houses built for the weavers and stitchers who worked in the linen factories in Lurgan.
"From an early age Bernadette always had a grá mór for all things Irish. She started Irish dancing classes when she was seven, going on to dance at Feiseanna around the country and winning all-Ireland dancing medals. She began learning the Irish language at age 12 and it remained a life-long passion for her. She joined up for camogie with An Cumann LúthchleasGael. 
"Little wonder that this wee Gael, this young active Irish girl stuck here in the apartheid core of the Orange State became an Irish republican. The Stormont regime that endured at that time ensured that unionists dominated public boards, hospital authorities, the judiciary, education bodies, business, jobs, housing allocation and the political and electoral system. In addition almost every Cabinet Minister, Judge, senior civil servant, and RUC officer was an Orangeman. Poverty was widespread.
"In 1939 when Bernadette was just 11 a survey concluded that a third of the population was living in absolute poverty. Life was hard for working people, including working class Protestants.  Bernadette started work in Lipton's grocery shop in Lurgan when she was 15.  Years later in 1945 she met Joe B in her Uncle Charlie Lavery's house. Her Uncle Charlie had been interned.  So was Joe B. Four years later Bernadette and Joe B were married. 
"Joe B was a republican activist from the 1940s and in every decade following until his death in 2001.  In the 50s he was imprisoned in the Curragh and in Belfast prison. In the 1960s both Joe B and Bernadette were active in the Civil Rights struggle.  Bernadette was a founding member of the Civil Rights campaign in Lurgan.
"In the 1970s with the conflict raging here Joe B and Bernadette moved to Monaghan and became a much loved part of the republican family there with links which remain strong to this day. In October 1973 Joe B was imprisoned in Mountjoy Prison in Dublin. Joe B, Seamus Twomey and Kevin Mallon escaped by helicopter.  Later Joe B was imprisoned in Portlaoise Prison.Bernadette too was imprisoned in Armagh Gaol in 1974. 
"Despite it all they both continued their activism. Bernadette was a strong advocate for the political prisoners, especially during the H Block/Armagh campaigns. Two of her sons were on the blanket. Bernadette was active in the Relatives Action Committee. She travelled everywhere from London to the USA to champion the hunger strikers and the blanketmen and the women in Armagh. Later when she moved back to Lurgan Bernadette was heavily involved in community and political campaigns.
"In May 1997 she was the Sinn Féin Upper Bann candidate in the Westminster election. The Sinn Féin vote increased substantially to 16% and Martin McGuinness and I were elected for Mid-Ulster and West Belfast and the party came third in the election overall. In Upper Bann Bernadette almost doubled the Sinn Fein vote. It was a remarkable victory for Bernadette, for Upper Bann and for Sinn Féin.
"Joe B and Bernadette supported the peace process. They were fascinated by and very much a part of the twists and turns of that strategic phase. Then Joe B died. I spoke at his funeral.  It was a great honour for me – just as it is a great honour for me to speak here today.
"I saw Bernadette many times after Joe B's death. She remained active and increased her Irish language activism, in particular her work with Naíscoil Cois Locha. Today hundreds of pupils have benefited from her vision and commitment and the efforts of other Gaeilgeoirí here in Lurgan, most especially around Bunscoil Naomh Proinsias. She was also a stalwart supporter of the Armagh footballers and in 2002 she fulfilled a lifelong ambition to be in Croke Park as Armagh won the all-Ireland. 
"Five years ago in May 2018 Bernadette and her good friend and comrade for many years Pádraigín Uí Mhurchadha, former Sinn Féin Councillor in Monaghan and a sister of Fergal O'Hanlon, visited Leinster House as our guests.
"Caoimhghín Ó Caoláin, Mary Lou and I made presentations to our two comrades for their long service to the republican cause.  It was a lovely event and a fitting tribute to Bernadette and Pádraigín who have given so much over the decades.
"Today Sinn Féin is the largest party on this island.  In the North another woman stands ready as First Minister Designate to lead us into a new era and we look forward to that.  It's a far cry from the days of Bernadette's youth. We also have now a means to end the Union with England.  This is in no small measure due to the activism of comrades like Bernadette.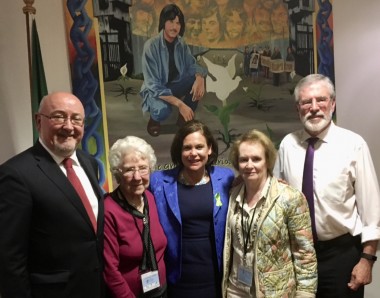 Bernadette and Pádraigín Uí Mhurchadha as guests of Sinn Féin in Leinster House 
"Bernadette was a woman of huge integrity, very genuine and sincere. Her activism made a real difference.  Today we need more activism, more activists, not least so that we can secure and win the referendum on unity which is part of the Good Friday Agreement.
"That is Bernadette's generation's gift to us. Let's not waste it. Change is underway.  Bernadette's long life is a story of change.  But it didn't happen by accident.  There can never be progress without struggle. Bernadette led by example.  Let's follow her example and be an activist.  If you are not an activist become one.  And if you are do more.  Ná habair é; déan é. 
"Finally, there is no greater tribute that can be paid to one person by another than to say they are a decent human being. Bernadette O'Hagan was all of that – a decent compassionate, loving human being. 
"A strong Irish woman and a patriot.
"To Barry, Kevin, Fintan, Siobhan, Felim and Dara let me again extend my solidarity and sympathies to you and to the family at this time"