26 July 2023
National Hunger Strike Commemoration to be held in Cork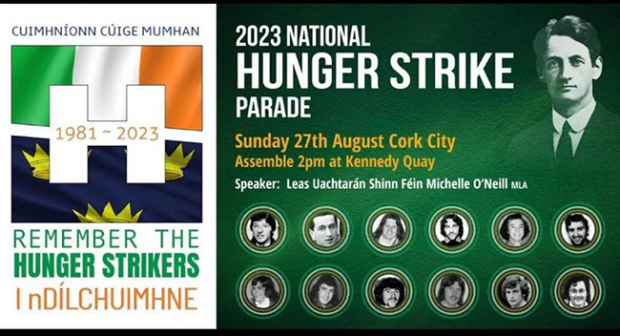 The annual National Hunger Strike Commemoration will be held in Cork City for the first time ever this year on Sunday 27 August. Sinn Féin's National Commemorations Committee is urging people from all across Ireland to attend this event. 
The pandemic meant that the 2020 centenary of the hunger strike deaths of three Cork Republicans – Terence MacSwiney, Michael Fitzgerald and Joseph Murphy - could not be marked with the National Commemoration as planned. Now they will be remembered with their Cork IRA comrades Denis Barry and Andy O'Sullivan who died in the 1923 mass hunger strike in the Free State, along with all Republicans who died on protest fasts, including Michael Gaughan and Proinsias Stagg in English jails in 1974 and 1976 and the ten H-Block hunger strikers of 1981. 
The National Hunger Strike Commemoration has become the largest such event organised by Sinn Féin. The living memory and the participation of the families and comrades of the 12 hunger strikers of the most recent phase of struggle has ensured that their legacy is vibrant and continues to inspire Republicans in the ongoing work for Irish Unity and the Republic of Equals for which they gave their lives. 
The National Hunger Strike Commemoration is on Sunday 27 August, assembling at 2pm at Kennedy Quay, Cork City. It will proceed through the city centre to the National Monument at Grand Parade.