25 May 2023 Edition
A mentor in momentous times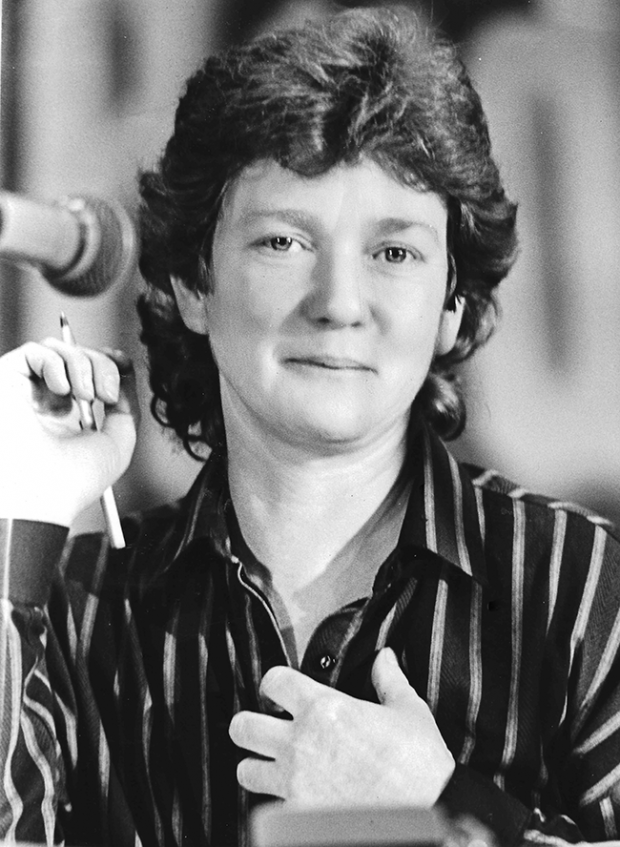 I got to know Rita shortly after I joined Sinn Féin in the late 1980s. I think I was 19, having just returned from a year in London. Rita was editor of An Phoblacht/Republican News (AP/RN) at the time, but I knew her as a member of Dún Laoghaire Sinn Féin. We would often travel together to cumann meetings in Mountown in the back of Kevin Fitzpatrick's milk van!
When we'd get stopped by the Special Branch coming or going from these meetings, Rita would take great delight in teasing the Branch men in front of new members like myself. It had the desired effect - their authority, their power - dismissed in an instant by this little five-foot, fiery redhead.  She was tough as nails. But she had a way about her that made you feel welcomed and valued from the very start.
Rita invited myself and a couple of other young activists from Dún Laoghaire into AP/RN to help out in putting together some booklets. From there, I went to help in Ard Oifig. And it was shortly after that that Danny Morrison, Sinn Féin's then Director of Publicity, was arrested after being set up by a British agent. And it was this event that changed everything and led to Rita, as I used to accuse her, 'stealing my youth'.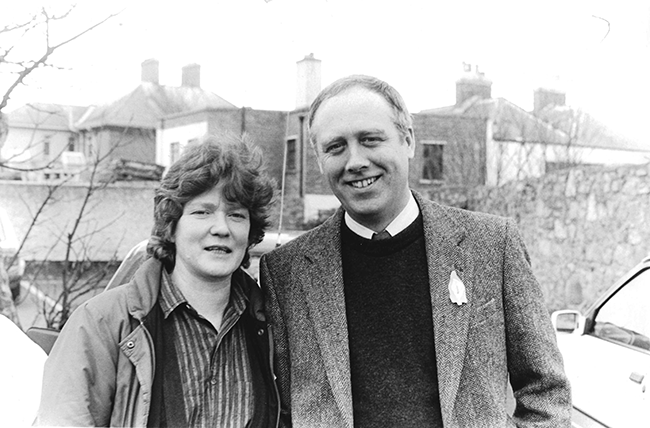 • 1988 — An Phoblacht/Republican News editors Rita and Danny Morrison
Rita was appointed Sinn Féin's new Director of Publicity. She left her post as Editor in AP/RN and moved from 58 to 44 Parnell Square. She asked if I'd join her in the Publicity Department. I was delighted to be asked, although not entirely sure what the role would entail, especially given that Sinn Féin was still operating under Section 31 censorship and we had just one elected representative in Dublin City!
Rita wasn't a techie person, and by technology back then I mean an Amstrad computer with a monochrome monitor, floppy disk, and the computing power of a lightbulb. She left that to me. No, Rita liked her pencil and paper. Writing and editing in longhand on A4 notepads. The margins would become populated subconsciously with her doodles - mostly little cartoon faces of women, girls, and flowers - as she'd speak to somebody on the phone.
Rita taught me, or at least tried her best to teach me, how to write a statement. She was horrified by my butchering of the English language. It was to remain a running joke between us right up until the end. My incorrect use of the word 'done' when I should have used 'did' drove her mad. A week before she passed away, she was still correcting me. "Did, Michael, Did! For fucks sake!"
• 1994 — Rita (back right) watches events, as during the historic meeting between Gerry Adams, Albert Reynolds and John Hume in Government Buildings in Dublin
Our time together in the press office in Dublin with Ursula Quinn, Olive Sloan, and Dawn Doyle coincided with the burgeoning Peace Process and all that entailed. They were momentous times. A conflict raging. Assassinations. Bombings. Protests. Pickets. Censorship. But in the background things were happening.  Secret talks. Ideas exchanged. A pathway to peace emerging. And Rita was central to it.
As the Peace Process started gathering pace, one of the hurdles that had to be overcome was censorship. The role Section 31 had in this State in prolonging the conflict should not be underestimated. The mindset it created for a section of the establishment is still with us today. Back in early 1994, we had a good inkling that Section 31 of the Broadcasting Act would be allowed to lapse by the then Minister for Communications, Michael D. Higgins, when it came up for renewal. 
A few weeks out, Rita asked me to contact RTÉ and find out what they had planned to mark this landmark occasion. I came back and told her that they expressed no interest in the issue and had no plans at that stage to mark it. She was incredulous - the national broadcaster had no plan to mark the ending of political censorship! She said, "Fuck'em".
And that's how independent radio station 98FM became the station that broadcast the first historic interview with Gerry Adams as soon as Section 31 lapsed.
Rita was a natural at developing and nurturing relationships with both Dublin and US officials. She bonded well with many. Others, Rita had a more prickly relationship with. Although small in stature, she carried herself with an air of authority that none of them could dismiss. 
• 1995 Dublin Forum, Rita O'Hare and Pat Doherty
On the night the first IRA ceasefire broke down, she asked me to drive her to a meeting at Government Buildings in Dublin. She had been asked by a senior, panicked official to meet secretly at a corner on Merrion Square. Rita was having none of it. She said, "He can go and shite if he thinks I'm going to be skulking around some darkened street corner. If he shows up tell him, I've gone in to Government Buildings." He did and I did.
Rita could be fierce and forthright and she didn't suffer fools. Rita could be great fun as well. Like many who have grown up and lived through conflict, that humour would often be reflected through a dark lens. 
We both learned to drive around the same time. It became a necessity for Rita as she was required to travel around the country. She encouraged me to learn to drive at the same time as she used to say to me playfully, "Why have a dog and bark yourself?" During some of our road trips, Rita used to take great delight in picking up postcards from obscure little towns and villages and send meaningless anonymous messages to a comrade, then in a high security prison in England. We would wonder how many hours British security personnel would spend trying to decipher them.
Family was everything to Rita. Her Da and Ma, Billy and Maureen, meant the world to her. She idolised Billy. It's where her left-wing politics came from and her love of books, poetry, birds and her deep suspicion of religion. "God's a cod", she would regularly quote Billy as saying.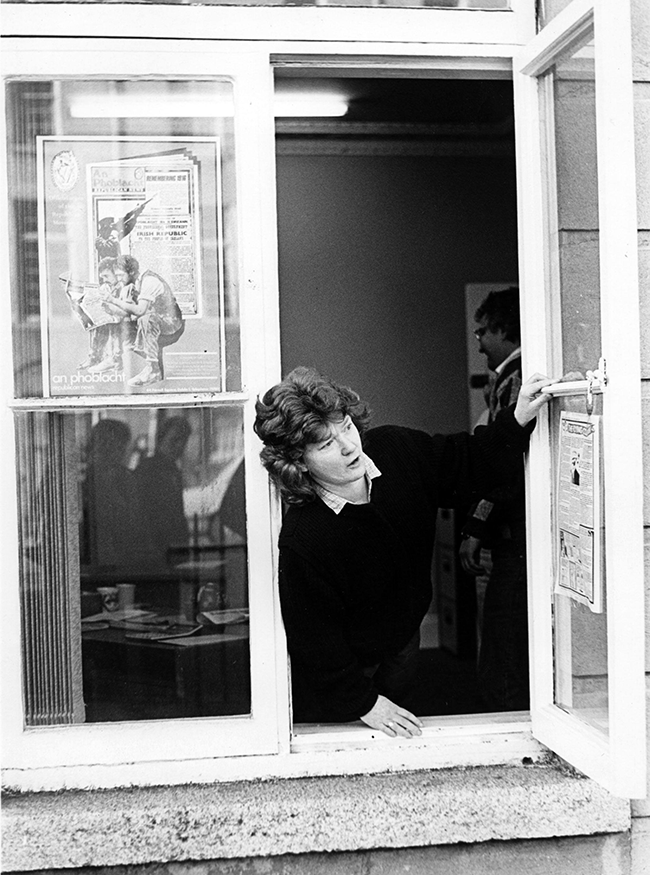 • Rita, speaking to the media from the window of 58 Parnell Square during a raid by Special Branch
Terry, Frances, Rory, and Ciaran, her children, and all her grandchildren and great-grandchildren would always feature in conversations. She thrived in the role of subversive grandparent. And Brendan of course, "My wee Brendan," as she would say, her soulmate, her partner and husband - a constant in her life for so many years. But it wasn't just her own family. Rita was genuinely interested in you and yours. She'd want to know how the kids were and what mischief they were getting up to. Rita loved mischievous kids.
Rita worked non-stop for the Republic right up until the very end. My last meeting was on the Monday before she passed. And although confined to bed, and surrounded by her family, Rita was still keeping up to date with events on the news. We chatted about her book. Rita talked about some phone calls she still needed to make. We smiled as we recollected a few of our shared stories. When I said goodbye, I think we both knew it was our final goodbye.
I feel privileged to have known Rita as a mentor, a comrade and most of all as a friend. I'm grateful for the welcome herself and Brendan gave me to their home for over 30 years and I'll cherish many, many great memories.  She truly was a legend in her own lifetime. I'm glad she stole my youth.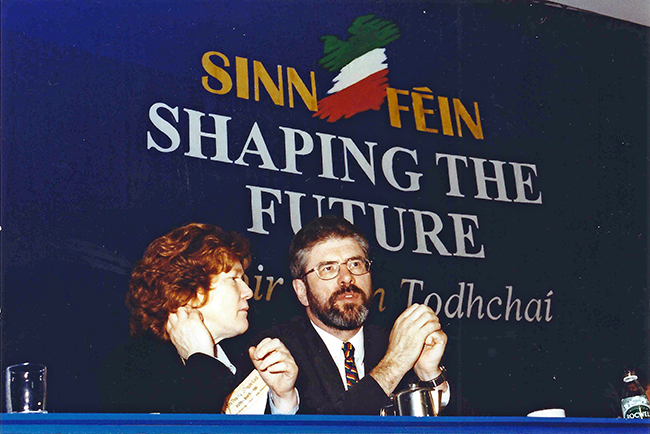 • 1999 - Rita and Gerry Adams, Sinn Féin Ard Fheis at the RDS
• Mick Nolan was a Sinn Féin press officer and Head of Social Media. He is now a full time carer and part-time content creator