25 May 2023 Edition
What happened in Belfast might just follow in Dublin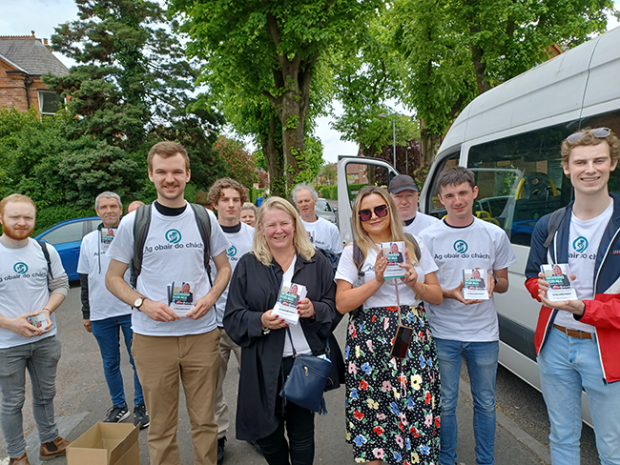 Dublin City councillor Daithí Doolan was one of hundreds of Sinn Féin activists who travelled North to canvas in advance of last week's Six County local elections. Here, he puts a context on the many weekends Sinn Féin members gave up to help the election work across the border.
• • • • • • • • • • • • • • • • • •
So, the local elections in the North are over. The votes have been counted. Sinn Féin are officially the largest party in local government. This comes hot on the heels of a hugely successful Assembly election last year where Sinn Féin came out on top, making history with Michelle O'Neill becoming the First Minister designate.
Making history is part of what we do. Republican activists are well used to the mantra, "This is the most important election ever", which replaced the previous mantra, "Victory is around the corner".
I have been involved in elections since 1992. In that general election, Sinn Féin came out with 1.6% of first preference votes. I have had many roles in many elections. From Director of Elections for Dublin, Director of Election in by-elections, Director of Elections here in Dublin South Central, and even a candidate once or twice.
The best, most enjoyable elections are the ones where someone else is running the show. Heading to Belfast is a bit of a bus driver's holiday for me. The secret is to book your lift and head off bright and early. This allows for good company and a coffee break somewhere on the border. The chats, catching up, the jokes and funny stories are always good.
This year was no different. The journeys up are good craic. Catching up with friends and getting to know new comrades. For some, it was their first time ever up there. For the newer members, they had yet to even canvass down here in Dublin. But they were getting the best of experience on the streets of Belfast.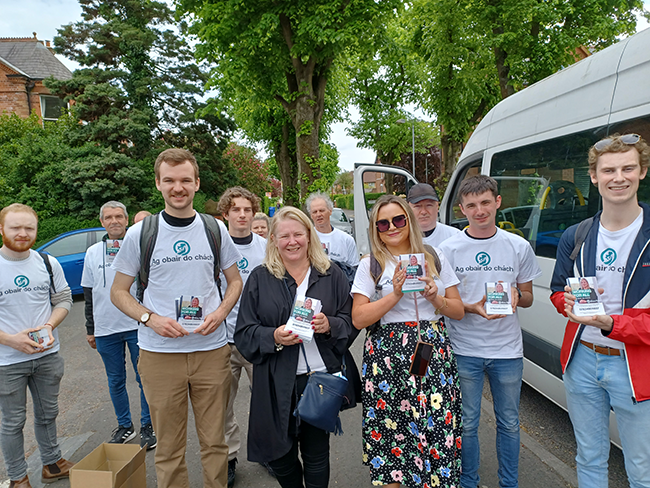 • Working for everyone, the Dublin canvas team ready to knock doors
What struck me during this year's local elections was the huge turnout of activists from Dublin. Upwards of 60 to 70 people on Saturdays would travel in cars and buses to their twinned areas of Belfast and Derry. These numbers were matched on election-day when we travelled back up to help with 'getting the vote out'. An operation whereby dozens of activists from Dublin go in to neighbourhoods leafleting with sample ballot papers and knock on doors encouraging voters to come out and vote Sinn Féin. This is where the real magic happens. 
The previous weeks and months, even years of hard work reaches fruition. The feedback from local activists and on the doorsteps was that people were tuned in and ready to vote. But this did not tally with media reports North and South. Journalists were telling us from their cosy television studios that this election was flat, the public were not interested, the electorate had switched off. Someone was telling porkies. And the result proved it was not the public.
Dublin has been twinned with South Belfast for several elections. I travelled to Ormeau Road election headquarters for the first time in 2003. 
With every passing election, we have canvassed further and further from the Lower Ormeau Road. And this election was no different. 
A highly organised, confident local organisation had us leafleting in leafy suburbs where young families, originally from the Lower Ormeau Road area, were now living. We were greeted with welcomes and commitments to vote Sinn Féin in these new housing estates. 
This was a huge change from 20 years ago, when Alex Maskey stood back in 2003 and won our first seat in South Belfast. During that campaign, we were attacked by loyalists while we were out canvassing. Our mini bus had all its windows smashed. The drive home that night was very chilly indeed.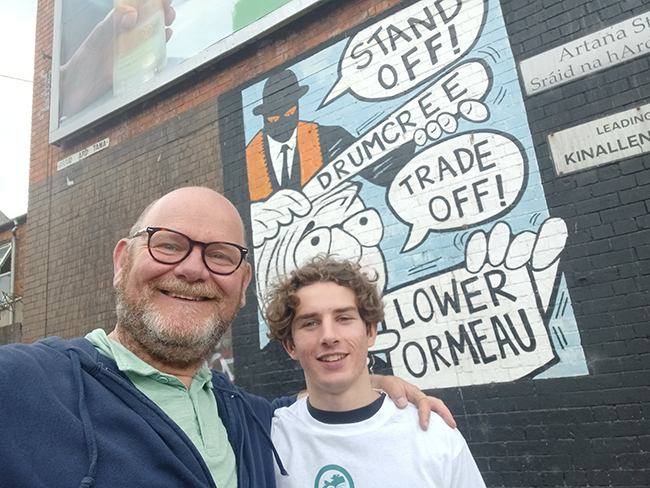 • Councillor Daithí Doolan with Ógra Shinn Féin member Saul Sweeney
This local election was well organised and focused. Each time we arrived in the Ormeau Road office, we were welcomed and immediately set to work. There was an air of confidence that was palpable. Second and third seats being targeted. New seats in their sights. The ground work had been done. A very successful registration drive married with a very clear, understandable political message, 'Sinn Féin – Working for All'. This summed up what we wanted the election to be about. Promoting the politics of inclusion and equality. And the message was resonating with the public. 
The high point of every day trip was the pizza. There are always boxes of Ormeau's finest pizza waiting for the teams when they return from a day's canvassing or leafleting. Stories exchanged. Old tales recounted. Tall tales embellished over hot, cheesy pizza.
Elections are about votes, turnouts, winning and losing. But they are also about the friendships and connections made that will last long after the election results. Some of our comrades from Dublin had been up every weekend for four or five weeks. They had skin in the game. They got to know the candidates. They were now personally invested in this election. They had their favourites and they wanted them to win. They would return week after week to make sure of it.
With every journey back to Dublin, we brought something new back with us. A story, an experience on the door, some learning we can apply back home. Running multiple candidates, vote management, messaging, and dividing up election areas are all major learning curves for us here in Dublin. 
Heading to Belfast for this election was a bit like heading in to the future for us in Dublin. We now realise if we are to make the opinion polls a reality and tap into the good will out there, we will need to be running multiple candidates in local wards in next year's council elections. This is a huge challenge for us. But now we have seen just exactly how that can be done. What happened in Belfast this week might just happen in Dublin next June. 
• Daithí Doolan is a Dublin Sinn Féin Councillor for Ballyfermot-Drimnagh.