25 May 2023 Edition
The voters have spoken
Sinn Féin's record vote growth across every council area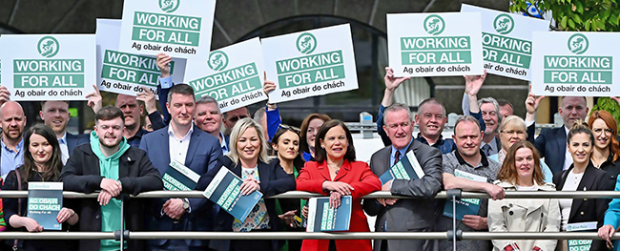 The largest amount of first preferences at 30.7%, the largest number of councillors at 144, an increase of 39 seats on 2019. A 7.7% increase in vote share since the last local elections. These were just some of the firsts achieved by Sinn Féin in the 2023 local elections. 
Sinn Féin is also the largest party in six of the eleven council areas. Sinn Féin president Mary Lou McDonald said that the party was committed to power sharing in the councils where the party held the most seats. McDonald said that positions should be allocated on proportionality and the D'Hondt system. The Sinn Féin president said this should be the approach adopted by every one of the eleven councils.
The party also took seats for the first time in Ballymena, Coleraine, and Lisburn. In Derry and Strabane, Sinn Féin gained seats in every District Electoral Area (DEA), with all of the 18 party candidates elected to the Derry and Strabane council.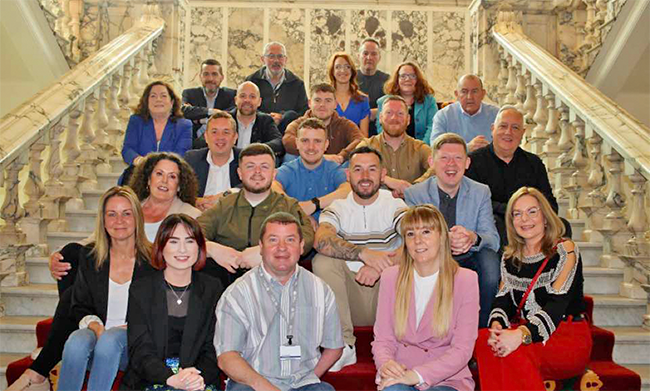 • Belfast City Hall
Speaking in Belfast as the election results came in, Mary Lou McDonald said: "We went into this campaign with a very positive message of wanting to make politics work for all, and focused on what it is Sinn Féin has to offer workers and their families. And we asked people to vote for Sinn Féin candidates who will work hard in local councils every day on the issues that matter to them, and to send a clear signal to support positive leadership, and of course to get the Assembly and Executive back up and running working together to deliver for everyone.
"Thursday was the people's day and they have now spoken loud and clear. The result has been a monumental result for Sinn Féin's positive and progressive platform, to restore government, to invest in the health service, to support people through the cost of living crisis, and to deliver first class council services."
McDonald also said that, "All of this happens at a time of great change right across the island. Sinn Féin is very proud to be part of that change. We now have a huge mandate at local government level and in the Assembly. And we know that with that mandate comes a huge responsibility. We will respect that mandate. We will value that mandate given to us by the people, and we remain committed to working with others to deliver for all".
Speaking on the BBC, Sinn Féin Vice President Michelle O'Neill said:
"We fought a positive campaign from start to finish. We said to them that we would work for everyone in society. We said that we were committed to restoring the executive. We said that we were committed to working with others. We said that we were for civility and maturity in politics. We said we are for inclusiveness. And the public endorsed that message. The public want progressive positive leadership. They want us to tell them what we are for. They want us to tell them what we are going to do. That's what we did in this election and that is what the public have endorsed."
"What I want to say to the electorate at home is that I am not giving up. I am not accepting the autumn as a timeframe for the restoration of the Executive. I will work night and day. I will work with others to try and restore the Executive."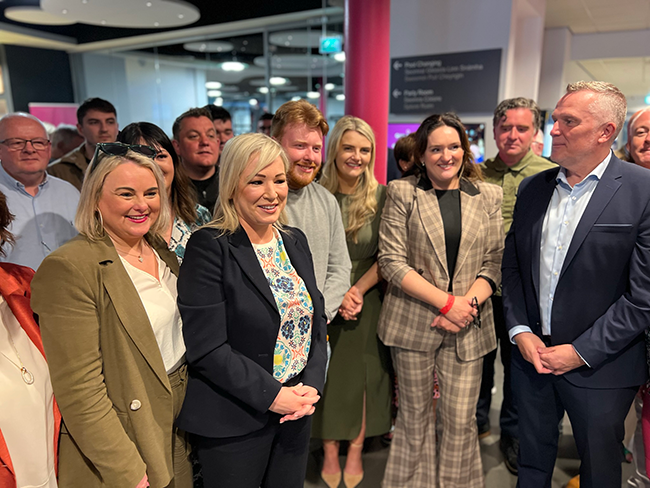 • Sinn Féin Vice President Michelle O'Neill and re-elected Sandra Duffy, Mayor of Derry City and Strabane District Council
Speaking later after the final results had been declared, Michelle O'Neill also said, "Historic change is happening, and Sinn Féin is leading that change right across Ireland.
"These results are a positive endorsement of Sinn Féin's message that workers, families and communities need to be supported, and that the blocking of a new Assembly by one party must end. 
"We want to work together with others. To build a better future for everyone, protect public services, attract investment, create jobs for our young people, and deliver the change people here demand and rightfully deserve.
"The onus is now on the British and Irish Governments to get together and focus their efforts on the immediate restoration of the Executive and Assembly. We expect to see an early meeting of the British Irish Intergovernmental Conference.
"The boycott of the Assembly cannot go on and an Executive must be formed. It is time to make politics work for all right across this island."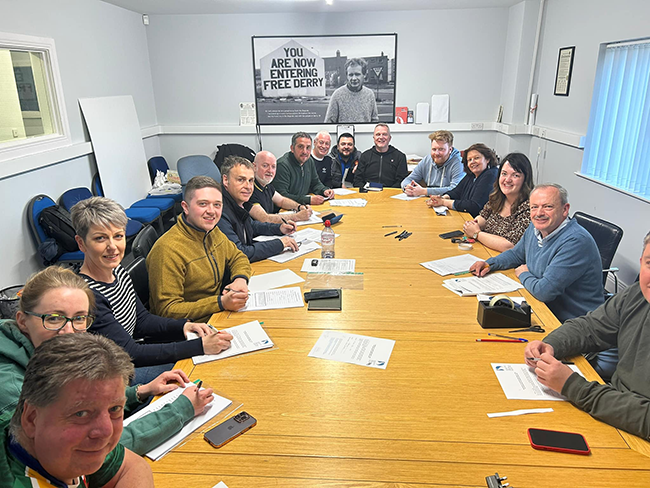 • New councillors in Derry City and Strabane
The record poll confirmed again that the party is the largest in the Six Counties and across the island. The six councils where Sinn Féin won the most seats were Armagh, Banbridge and Craigavon; Belfast; Derry and Strabane; Fermanagh and Omagh; Mid Ulster; and Newry, Mourne and Down.
Sinn Féin is the second largest party in two councils. They are Antrim and Newtownabbey and the Causeway Coast and Glens councils.
The results show how far Sinn Féin has come over the last 40 years. In June 1983 when Alex Maskey won a Belfast City Council seat for the party in a by-election, unionist councillors attempted to disrupt Maskey's maiden speech and Sinn Féin's participation in council business.
The UUP and DUP 'Smash Sinn Féin' campaign failed. The years since have shown the long-term success of the Sinn Féin strategies of demanding equality of treatment and promising progressive inclusion.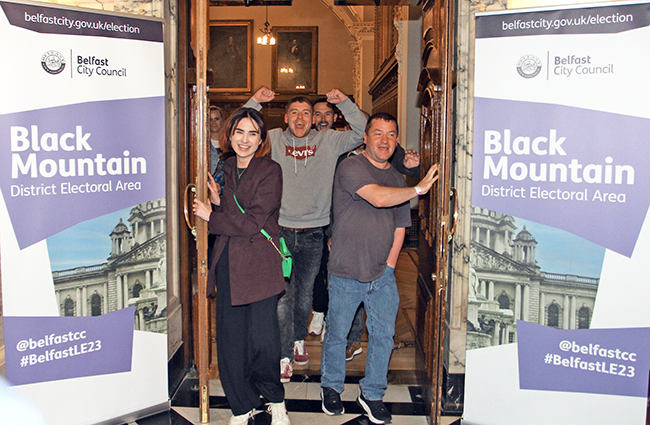 • When the Doors Flew Open!!! Successful Sinn Féin candidates in Belfast's Black Mountain ward celebrate the party's poll topping results in the West Belfast constituency where they succeeded in electing six out of six candidates, in a remarkable example of vote management and organisation. (Left to Right) Róis Máire Donnelly, Ronan McLaughlin and Ciaran Beattie coming through. Michael Donnelly is behind Ronan