9 June 2023
Tom Dunn: Rostrevor's revolutionary hedge school master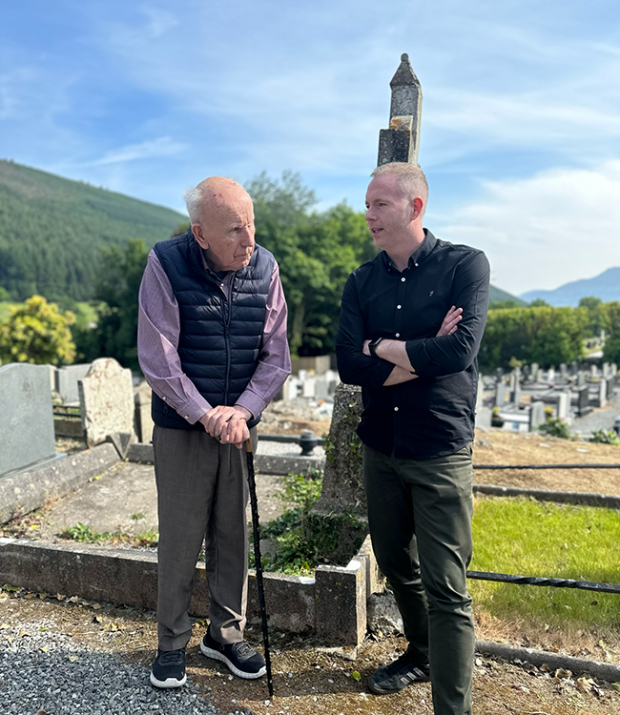 As many enthusiasts of the United Irish era will know, the rebel forces of County Down gathered in the days preceding the Battle of Ballynahinch on nearby Ednavaddy Hill.
So on route to Rostrevor this week to meet with Carole and Mick Murphy I took the opportunity to walk the hill and pick some wild flowers to lay on the grave of a very special, yet not widely known County Down rebel hero: Tom Dunn.
In Rostrevor in the 1790s young and old would gather in the shade of Kilbroney and listen to the local hedge school master, Tom Dunn, translate the writings of Tom Paine and Wolfe Tone.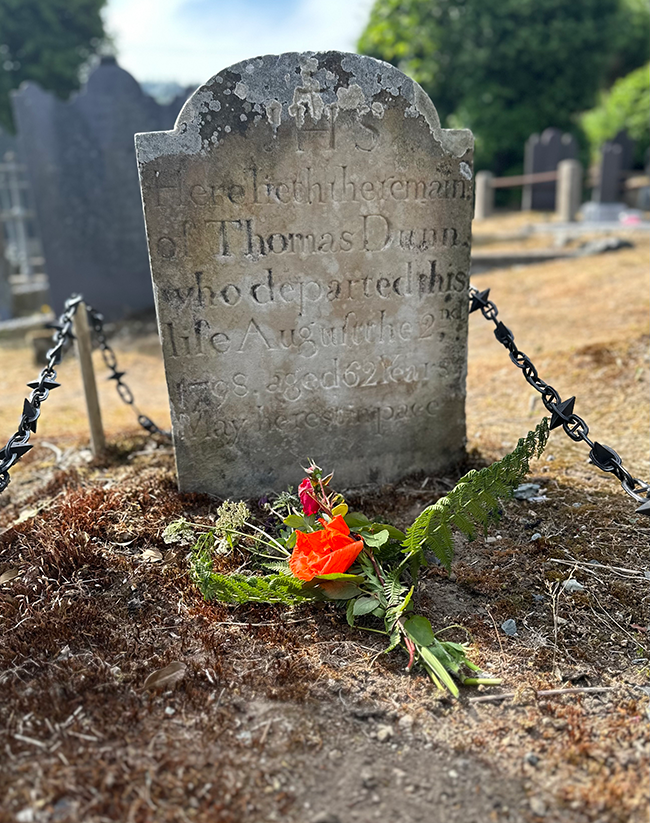 • The grave of Tom Dunn in Rostrevor
Bringing to life the revolutionary concepts of Liberté, Égalité, and Fraternité in the common Irish language of the rural labouring class, he would often read from the Northern Star - opening the minds of the downtrodden to the enlightened thinking of local United Irish figures such as Saintfield's radical Presbyterian minister, the Rev. Thomas Ledlie Birch.
When the schooling was over each night local United Irishmen would then assemble in Tom's barn; from the ash trees around them they would fashion pikes, whilst Tom and the other leaders would discuss the latest bits of scéal from across the county and further afield.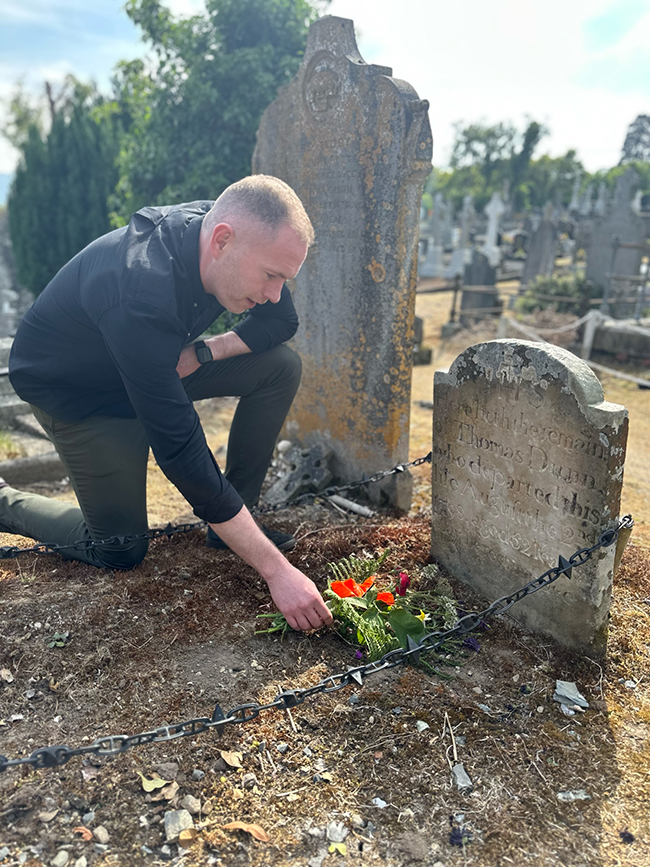 • Chris Hazzard laying some flowers at Tom Dunn's grave
Following the French attempt to land a significant force in Ireland in December 1796, the British government dispatched Lieutenant-General Lake to Ulster to strike at the revolutionary heart of the United Irish movement.
Loosening the Yeomanry and Orange militias, Lake unleashed a reign of terror that would become known as the 'Dragooning of Ulster'.
In August 1797 Tom Dunn's barn was raided, and Dunn was captured. Refusing to reveal the names of his fellow revolutionaries, Dunn was lashed to death - he was 62 years of age.
"I will suffer any torture, even face death itself, rather than be a traitor to my country and my people. For what would it avail me to live a few years on the money obtained, by selling the lives of innocent men, and go to my grave, disgraced for all time"
The rekindling of Tom Dunn's story is a great tribute to the wonderful people of the Tom Dunn Society in Rostrevor, and I can't wait to join them later this summer to see the long overdue statue of Tom Dunn unveiled in the village square.