23 February 2023 Edition
Liam Lynch: A legacy that will endure and inspire
Mícheál Mac Donncha interviews author and historian Gerard Shannon on his new biography of Republican leader Liam Lynch. 
• • • • • • • 
M Mac D: Congratulations on your new biography. Why Liam Lynch and why now?
GS: Thank you! In nearly four decades, there has not been a major biography of General Liam Lynch. To me, that is incredible given his considerable contribution to the cause of Irish independence and the abundance of existing biographies for others from the period, like Michael Collins and Éamon de Valera, or even Arthur Griffith. 
The first biography by Lynch's comrade, Florence O'Donoghue, came out in 1954 and the second biography by Meda Ryan came out in 1986. Both books still have great value, but since Meda Ryan's book, there has been a huge abundance of archival material that has become newly available, such as the personal papers of contemporaries of Lynch's like Ernie O'Malley and Moss Twomey, or the release of the Bureau of Military History witness statements. 
All of these sources help to give a more nuanced, detailed perspective of who Liam was and what motivated him in certain decisions he made and actions he took in the years of the Tan War and Civil War. With the centenary of his death on 10 April 2023, there is an irresistible opportunity now to try and understand Liam more and the impact he made on Irish history. 
What was his background and why did he become involved in the struggle?
Liam Lynch was the second youngest of seven siblings, and was born in rural Limerick, very close to the border of Limerick county and north Cork. His father Jeremiah was a Fenian, and his mother Mary has been a member of the Ladies' Land League, so he grew up influenced by a radical tradition. Accounts of his childhood mention his love for reading books on previous insurrections against British rule in Ireland. 
He worked as a shop assistant in Mitchelstown and Fermoy in Cork, and it is there be first became active in the Gaelic League and the Irish Volunteers. He became truly radicalised into the republican cause during the aftermath of the Easter Rising when he witnessed the Cork Volunteer leader Thomas Kent and his brothers being brought through Fermoy town by the local RIC following their arrests. 
Liam commented to others it was this scene and Thomas's later execution that changed him. Lynch joins the reformed Volunteers in the Fermoy company in 1917 and becomes first lieutenant. It was in this year, he said to his brother Tom in one letter his most famous phrase, "We have declared for an Irish Republic and will not live under any other law".
• Liam Lynch (front, fourth from the left), April 1922
To what do you attribute Liam Lynch's leadership qualities?
Liam Lynch had an extraordinary belief in the righteousness of the fight for the Irish Republic, and this in turn gave him a powerful sense of self-belief and confidence how he could contribute to this fight. It is truly remarkable that he became such a gifted guerrilla commander despite no formal soldiering experience, he was in many ways the exemplary Irish Volunteer. 
He was also often described as a somewhat socially awkward, serious man, but contemporaries noted again and again how Lynch went up and down his battalion and later, Brigade area, and got to know each Volunteer on the ground and held meetings where he listened to each of their suggestions. 
As he moved up the ranks, eventually becoming O/C of Cork No. 2 Brigade and later, the O/C of the First Southern Division, he had later cultivated a huge reputation amongst his comrades. He helped mastermind some of the important actions against the British during the Tan War - the Fermoy arms raid, the kidnap of General Lucas, the flying column attack on Mallow barracks. Lynch also took part in these operations, he never asked his men to do anything he was not willing to do himself.
Much has been written about Lynch and the Treaty and Civil War. He seems to have wanted to reach an accommodation with Collins. Is that the case? What pushed him to war in the end?
Lynch was adamantly opposed to the Treaty, seeing it as a betrayal of the Irish Republic and his dead comrades. Yet, he did not wish to see a split with those he fought with against the British. At this time, he wrote: "I admire Mick [Collins] as a soldier and a man. Thank God all parties can agree to differ." 
In this spirit, he was central to efforts to reconcile the split in the IRA in early 1922, despite his anti-Treaty stance. He worked with Collins to determine some sort of formula that might be acceptable to both sides. 
Lynch's thinking was that the old bonds of comradeship in the Tan War would win through. Given the respect Lynch cultivated in the previous conflict, he was elected Chief of Staff of the anti-Treaty – and majority – section of the IRA in March 1922.
Ironically, despite his military prestige, he was regarded as a moderate by others on the IRA Executive such as Rory O'Connor and Liam Mellows, who even briefly replaced him as Chief of Staff with Joe McKelvey. Of course, both disputing factions within Republican ranks united against the Free State in the face of the outbreak of the Civil War. Unfortunately, Lynch and others in the leadership were little prepared for this conflict.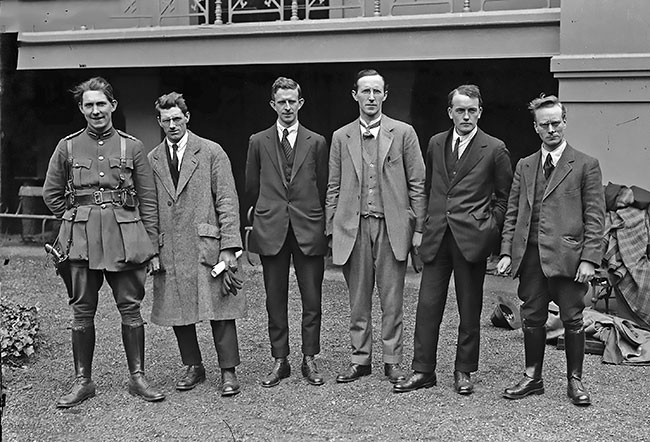 • Seán Mac Eoin, Seán Moylan, Eoin O Duffy, Liam Lynch, Gearóid O Sullivan and Liam Mellows, seen here after a meeting of Pro and Anti-Treaty officers at the Mansion House, Dublin, May 1922
Some, such as Ernie O'Malley criticised Lynch's tactics, such as destruction of railways etc, as futile. What was his thinking as the war progressed?
Lynch's decision-making during the Civil War was controversial to O'Malley and his peers for long after. Several days into the conflict, Lynch, in his capacity of IRA Chief of Staff, attempted to secure territory for the IRA south-west of a geographical line between Limerick and Waterford. This is sometimes referred to as 'the Munster Republic', a term Lynch never used. He attempted to broker a peace deal in Limerick city with Free State forces that collapsed due to the latter secretly attempting to move more soldiers in the city. 
With the swift collapse of republican territory, he was no longer interested in peace. Lynch wanted to find means for the IRA to continue the fight and regain the initiative. His most effective tactic was for the IRA return to guerrilla tactics, which even the Free State admitted had been effective by the end of 1922. 
Lynch also spent much of the Civil War trying to get heavy artillery from contacts in Europe and America. Then of course, his response to the executions of Republican prisoners, in the form of orders for reprisals, most effectively seen in targeting the homes of high profile Free State supporters. Until Lynch was killed on 10 April, it is important to note he still commanded the respect of his officers, and was seen as a source of strength for them. 
Privately however, Lynch's heart was definitely not in the fight; he knew it was a very different conflict to the Tan War. He wrote to his brother Tom in September 1922, that he wished "English hounds tracked me down than old comrades false to their allegiance... who could have dreamt all our hopes could have been so blighted".
What do you think is his legacy?
I think Irish Republicans long ago decided what Liam Lynch's legacy should be, and it is one that will no doubt endure far beyond the centenary of his death this year. He made a substantial contribution to the cause of Irish independence, he was genuinely brave and physically courageous, and the circumstances of his death ensured he will remain a powerful symbol of devotion to the ideal of the Irish Republic.
For Republican activists, Liam Lynch is a heroic example to inspire into the future. My hope with my own book is to reveal a more rounded portrayal of the Liam Lynch, to understand the very human figure behind the icon.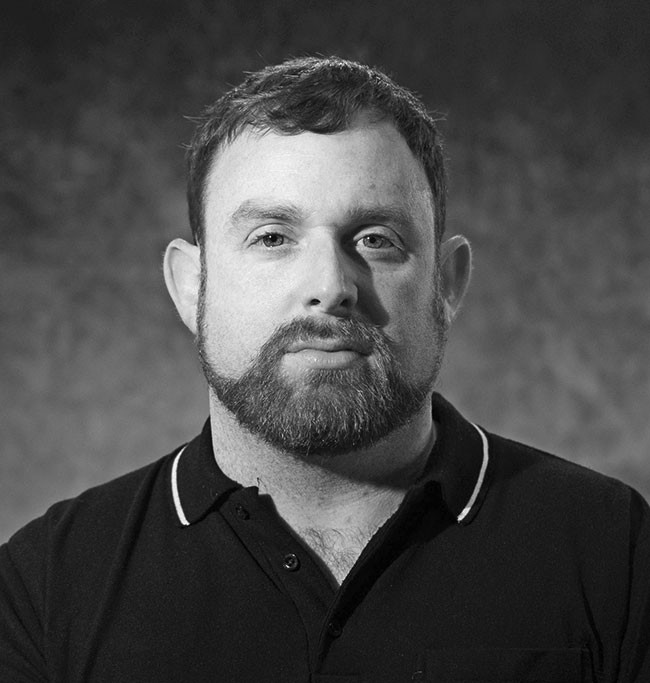 • Gerard Shannon