23 February 2023 Edition
Sinn Féin Building an Irish peace process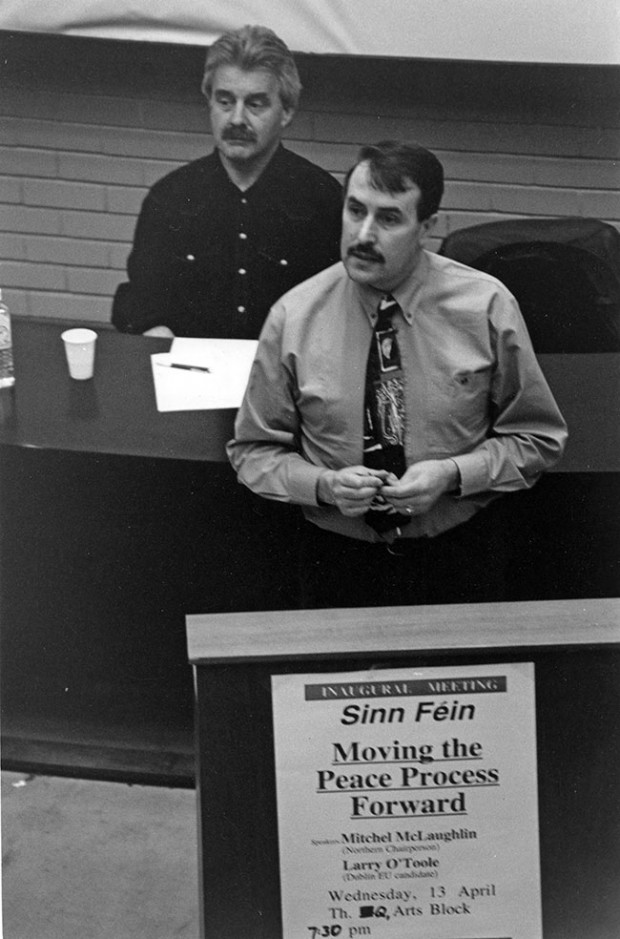 In 1998, Mitchel McLaughlin was Sinn Féin's National Chairperson. Here he outlines the road map to the Good Friday Agreement
• • • • • • • • • 
Prior to the joint referendums to ratify the Good Friday Agreement, the 1918 General Election was the last occasion when all Irish voters as one exercised their franchise, i.e. Self-Determination. Sinn Féin, with a political programme demanding complete independence, won that election with 69.5% of the vote. The democratically elected representatives of the Irish people formed Dáil Eireann and, on 21 January 1919, enacted the Declaration of Independence and Democratic Programme. 
This democratic government mandated by the Irish electorate was subsequently supressed in September 1919 by the British Government and enforced by a British Army garrison of 30,000 troops.
The Anglo-Irish Treaty of 1922, which created Partition of Ireland, was imposed on the Irish people under the threat of "immediate and terrible war". The consequence of British policy in Ireland was sectarian conflict, social and economic discrimination, Unionist hegemony in the North, and complacent indifference in the South combining to create "a carnival of reaction, both North and South", as forecast by James Connolly.
Today, the Good Friday Agreement is regarded globally as one of the most successful peace processes of the modern era. However, what is generally not recognised is that the momentum for a viable peace process and subsequent political developments emerged from the agonising sacrifice of the hunger strikes of 1980 and 1981 and the massive and widespread mobilisations which emerged in Ireland, England and internationally to support the prisoners and their families.  
• Marches and protests during the hunger strikes were a 'broad front' of mainly nationalist citizens and were content to accept the leadership of Sinn Féin
The hunger strikes were the culmination of five years of protest by republican prisoners in the North. The protest began in 1976, when the British government withdrew Special Category Status which recognised the political motivation of the prisoners. 
The dispute intensified into a no-wash protest, because of savage beatings by prison officers as the prisoners attempted to use the showers and toilet blocks. The protest was dramatically escalated when republican prisoners in Armagh Women's Prison joined the protest.
Of particular significance, although rarely referred to in the media, this 'broad front' of mainly nationalist citizens were content to accept the leadership of Sinn Féin in these marches and protests. 
The hunger strikes attracted widespread support in Ireland as well as raising international awareness of British policy in Ireland. When Bobby Sands was elected a Member of Parliament during the strike, it prompted media headlines from around the world. In addition, two other prisoners, Kieran Doherty and Paddy Agnew, were elected to Leinster House in the 1981 General Election. 
Tragically, ten prisoners were to die on hunger strike which ended only after several families stated that they would request medical intervention in the event of a hunger-striker lapsing into unconsciousness. 
At a terrible cost, the prisoners had won their demands. The tactic of electoral intervention had dramatically exposed the cruelty of British policy in Ireland and had demolished the propaganda claim of little or no popular support for Irish Republicanism. 
British intransigence had further radicalised Irish nationalist politics and ironically became a driving force that enabled Sinn Féin to become a mainstream political party.
Throughout the 1980s, Sinn Féin continued to expand and recruit new members. A long-standing policy was amended at the 1986 Ard Fheis to permit Sinn Féin candidates to take seats in Leinster House. 
• The strategy for achieving national self-determination through a broad-based and inclusive process was brought about by elections, in direct face to face discussions and important publications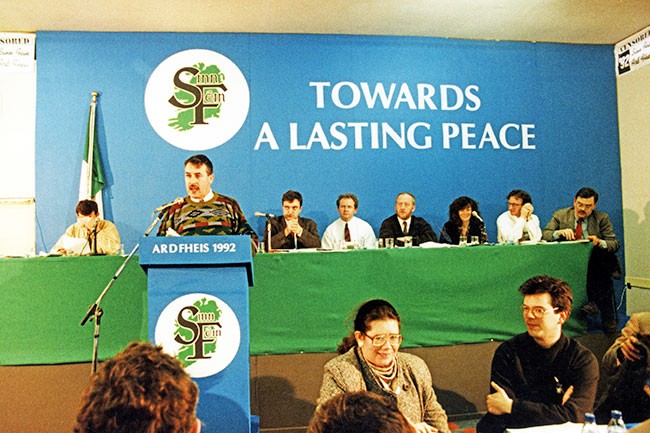 During this phase of growing influence and strength, the leadership of Sinn Féin adopted the slogan "Freedom, Justice & Peace" in 1983 as a clear signal that a new chapter for politics in Ireland was about to emerge. 
These developments were an early manifestation of the growing internal debate about a strategy for achieving national self-determination through a broad-based and inclusive process of building popular support for republican goals through electoral growth and campaigning on social and economic issues.
The Hillsborough Treaty and several subsequent London and Dublin 'Peace' initiatives were deployed to attempt to frustrate this progress, but they all failed, primarily because they were designed by slow learners, who had no commitment to the concept of self-determination in Ireland.
This fault line was effectively challenged by Sinn Féin in elections, in direct face to face discussions and in the 'Scenario for Peace' (1987) and 'Towards A Lasting Peace in Ireland' (1992) publications. 
In briefing party activists and tasking them to deliver the agreed objectives of our peace strategy, Sinn Féin pointed out that our opponents could live with the status quo, but Republicans could not and must provide the dynamic for change. We cannot do otherwise because our project is to re-establish a sovereign republic. We need a clear focus on our aims and objectives and on the strategies to succeed. 
• Sinn Féin voted by a large majority in favour of  the Good Friday Agreement, RDS, Dublin, 10 May 1998. The agreement is regarded globally as one of the most successful peace processes of the modern era
The people of Ireland are sovereign and their right to self-determine is now universally recognised. Even the British Government has accepted this in the Downing Street Declaration (1993) and in the Good Friday Agreement (1998). 
As the largest party in Ireland, Sinn Féin can speak with an authoritative mandate which demands constitutional change. However, there are many different opinions which must also be heard and to share the benefits of inclusivity and equality. 
Sinn Féin has demanded the establishment of a Citizens Assembly, sufficiently resourced and supported by expert panels, which is tasked to examine those issues which must be reported to and debated by the people of Ireland, including those of the British tradition in Ireland.  
Sinn Féin will need to build alliances with whomever we can, even with former opponents. And when a date is finally announced for a Referendum for an Agreed Ireland, we must be prepared for success.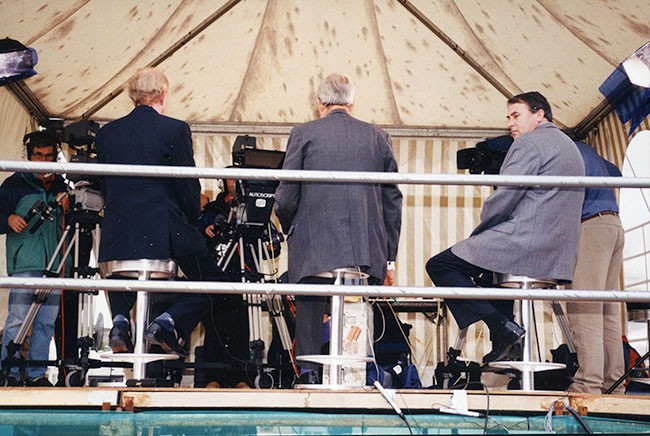 • Mitchel McLaughlin giving Sinn Féin's view outside the Stormont Buildings, April 1998
• Mitchel McLaughlin is an honorary Professor in Peace Studies at Queens University Belfast. He was Speaker of the Northern Assembly, an MLA for Foyle and then South Antrim and Sinn Fein's National Chairperson.