23 February 2023 Edition
Making the impossible possible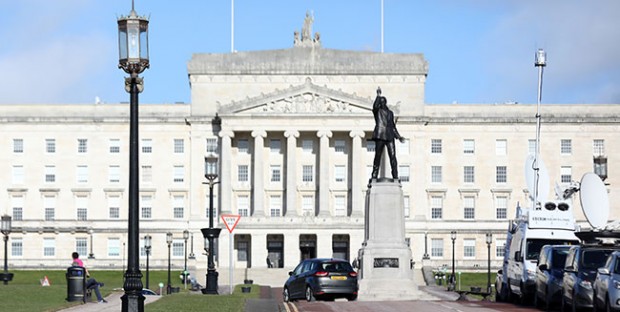 Sinn Féin's Martina Anderson charts her journey from prison cell to Stormont office as part of the first Sinn Féin Assembly team in 1999.
• • • • • • • • • • • • • 
In November 1998, I was released as a Good Friday Agreement (GFA) political prisoner. An election for members of the Assembly had taken place four months earlier in June '98 and Stormont only existed in "Shadow" form.
A few months after my release, in April 1999, I found myself on a journey from Derry to Belfast that had not been part of my post prison dream plan. I was in a car on my way to start my first post-prison job as a Sinn Féin researcher in Parliament Buildings, Stormont – "Stormont"! I shook my head more than once that morning and when I walked into that building, I shook it more!
Every day, Republicans working in Stormont would drive along the Prince of Wales Avenue, past the statue of Carson, park the car next to where Craig is buried, walk into Stormont Parliament Building with Britannia written on the roof on days when there was not one, but two union flags flying and walk past a statue of Craig at the top of the stairs on the way to our offices.
I comforted my resistance knowing that all Republicans who entered Stormont would work as I would, diligently to advance a political process that would lead to an Ireland of Equals. The Assembly was a transitional to something better. 
However, initially one could not help but feel like we did not belong. It wasn't long before I felt that Unionists certainly believed that I and my ilk were in 'their' traditional power base. We were once again made to feel unwanted and unwelcome. Unionists even refused to enter the same elevator that we were in and if one stopped and they were already in it, they turned and faced the wall! 
In the canteen, Unionists eventually cornered themselves into an apartheid-type sitting area – a section of the canteen where they congregated and became physically, deeply uncomfortable when confident Republicans sat where we wanted, when we wanted. 
The only thing that all of that ever did for me was to remove doubts and reinforce "that thought that says you're right". I knew Republicans were right to be there – there were no 'no-go' areas for us. The days of "a Protestant Parliament for a Protestant People" were well and truly over, done with, gone.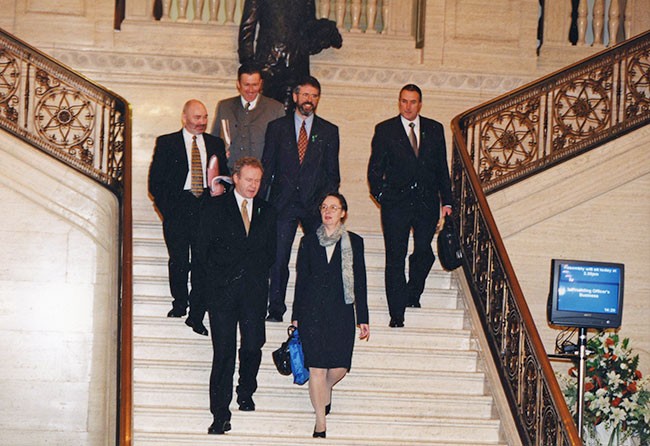 • (front) Martin McGuinness and Bairbre de Brún; (back) Alex Maskey, Conor Murphy, Gerry Adams  and Mitchel McLaughlin on the way to nominate ministers in the Assembly, November 1999
For the first Assembly team of Sinn Féin activists, it was without doubt a steep learning curve. We had to collectively deepen the party's capacity for assuming government responsibility as we took opportunities to learn the trade of efficient governing arrangements. 
Before the GFA, the Six Counties had only six departments. The new Assembly established ten, along with the GFA Strand-2 all-Ireland Implementation bodies and areas of co-operation. 
Sinn Féin secured two ministers, Martin McGuinness was appointed Education Minister and Bairbre de Brún appointed Health Minister. Sinn Féin now needed to ensure cohesion and connect the Sinn Féin Stormont team with the wider party. I was moved from a research role to a new position to help do that.
Whilst our Ministers objected to positions at variance with party policy, our limited political strength at that time rendered it difficult for our ministers to overturn them.
MLAs Conor Murphy, Alex Maskey and I constituted the Sinn Féin Stormont management committee and I admit at times to having both of their heads fried. But we had to be mindful to protect the integrity of our party and protect our core ideas against being compromised by pragmatic realities of 'realpolitik'. 
All of us had to learn about Annual Budgets, Quarterly Monitoring Rounds, Bids, Standing Orders, Private Notice Questions, Legislation, First, Second, and Committee Stages, Amendments, the Assembly Business Committee, the Order Paper, Nil Returns, Written Procedures etc - bureaucratic details that at times challenged us to our outer limits. 
Stormont bureaucrats bombarded us with paperwork, documents, rules, procedures, protocol – the details of which we had to know, but which are the yawning but necessary nuts and bolts to get around those who wanted to maintain the status quo which we were out to change. We had to be mindful of the dangers of institutionalisation. I told my husband that I was in more danger of being institutionalised in Stormont than I was in jail.
All Sinn Féin activists in the Assembly, elected and non-elected, had to learn the craft of civil service tactics. We had to remain mindful not to be blinded when civil servants created a row when we insisted on the Sinn Féin approach to issues. 
There were senior civil servants who were incensed at Sinn Féin MLAs on scrutiny committees "flouting conventions" demanding earlier draft papers and access to documents; incensed at party MLAs doing their job diligently, scrutinising and ensuring democratic accountability – officialdom objected to questions on matters that they regarded as "the exclusive preserve of the civil service".
Martin and Bairbre did sterling work. Martin for example secured the purchase of the former St. Joseph's Training Centre in Middletown Co. Armagh and established an all-Ireland Centre of Excellence in the education of children throughout Ireland with Autism.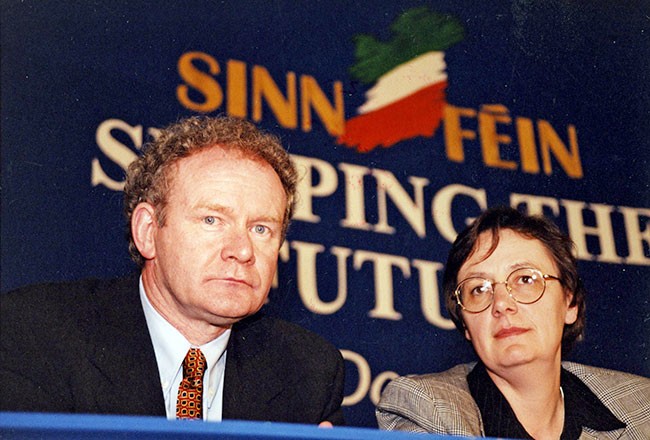 • In the new Assembly Martin McGuinness was appointed Education Minister and Bairbre de Brún appointed Health Minister
Bairbre made advances on an all-Ireland Helicopter Emergency Medical Service and created a framework within which an all-Ireland infrastructure for joint programmes in Clinical Cancer Research was developed.  
Those moves sowed the seeds of the debate for single issues strategies in Health, Education, Agriculture etc, as opposed to the cost incurred in having two separate health and other systems operating in this small island.  
The argument for a planned and prepared process of reintegration towards reunification was accelerated on the back of the Assembly work done by MLAs like Martin, Bairbre, and indeed others, which ultimately resulted in the Sinn Féin Green Paper on Irish Unity. 
MLAs in the Assembly linked with TDs and party representatives on the Implementation Bodies, to establish joint working mechanisms that ensured a strategic connection between their shared briefs, these links that have strengthened, deepened and became more joined up over preceding years. 
The 'reality sandwich' is that without Republicans' input, the change created and opportunities maximised through republican engagement in the Assembly, Executive, All-Ireland Ministerial Council, and Implementation Bodies, would not have happened and that cannot be underestimated.
The first Sinn Féin Assembly team 25 years ago opened previous untapped and new means by which republican politics were mainstreamed. That team was influential in creating the road map upon which more Republicans in the North and throughout Ireland walked and which ultimately lead to making the impossible, possible – Michele O'Neill, Sinn Féin First Minister in waiting, and the real potential of the first woman Taoiseach – Sinn Féin's Mary Lou McDonald. 
• Martina Anderson is the Sinn Féin representative in Europe