23 February 2023 Edition
Marking the Good Friday Agreement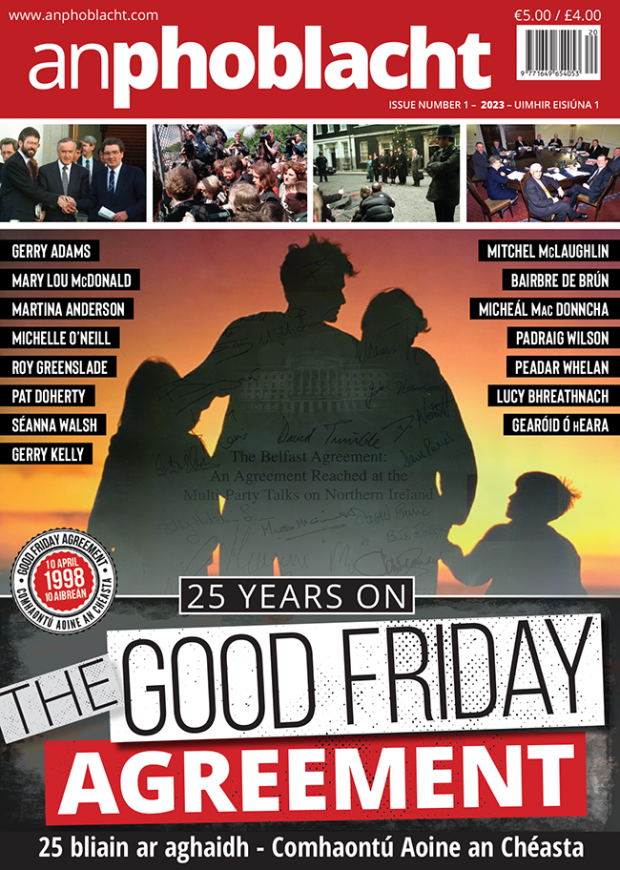 We always knew that the 25th anniversary of the Good Friday Agreement would merit a special issue of An Phoblacht where we would have many of 'the people in the room' making a series of contributions about the years leading to the agreement, the negotiations themselves, and the aftermath.
What we publish here is a unique striking addition to contemporary Irish history. There are never before revealed details and analysis on the peace process. It is important for us to give such a wide-ranging Republican commentary as there are many others in political society including the Irish and British governments, as well as the wider for-profit media in Ireland and internationally, who have been sharpening pens and gathering comment for their own GFA events and publications.
It is important to recount here in a considered way the development of the peace process from a Republican viewpoint. It is clear for example that, from the 1980s onwards, it was Republicans who were the dynamic driving the process forward.
The British government had from the Prior Assembly to the futile Brooke/Mayhew talks locked itself into a pathology of failure. Failure to address the full causes of the conflict in Ireland, and failure to enable a process that could accommodate all of the participants who could create a lasting peace in Ireland.
Political Unionism in Ireland, at times aided by the British Government, stalled and delayed the potential of the peace process to deliver a better future for Ireland, both before and after the GFA was endorsed not just by the majority of political groupings, but overwhelmingly in referenda North and South.
It was Republicans who built the needed cross society coalitions of shared purpose that ultimately delivered the peace process, and who have protected it ever since. This was and continues to be not an easy task.
As An Phoblacht goes to print, it is the anti-democratic destructive forces of political unionism that are once again trying to undermine not just the peace process, but the democratically expressed wishes of the majority of Six-County voters in both the Brexit referendum and last year's Assembly elections.
We have contributions in this issue from Gerry Adams, Martina Anderson, Lucilita Breathnach, Pat Doherty, Gearóid Ó hEara, Gerry Kelly, Mitchel McLaughlin, Mary Lou McDonald, Mícheál Mac Donncha, Michelle O'Neill, Séanna Walsh, Peadar Whelan, and Pádraic Wilson. Collectively, they bring a message of the power of Republican struggle not just in delivering the Good Friday Agreement but protecting its principles over the last 25 years and building the platform for the next stages in building an Ireland for all.