4 May 2023
A journey through the Counter-Revolution
Remembering the Past
On Saturday 29 April, eve of the centenary of the 1923 IRA ceasefire, Sinn Féin in Ennis, County Clare, unveiled a refurbished plaque to three Volunteers executed in the Free State barracks 100 years ago, some of the final Civil War executions. Speaking at the event Mícheál Mac Donncha looked back at the Counter-Revolution and how its centenary has been marked. This article is based on that address. 
• — • — • — • — •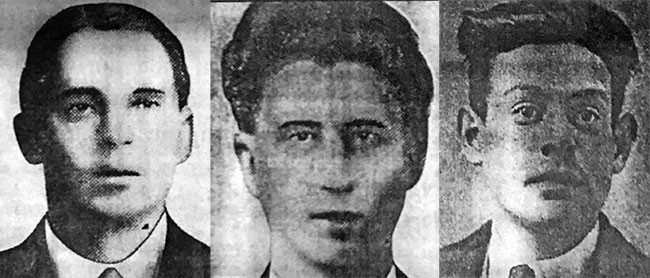 • Volunteers Patrick O'Mahony, Christopher Quinn and William O'Shaughnessy 
I commend the Republicans of County Clare for remembering Volunteers Patrick O'Mahony, Christopher Quinn and William O'Shaughnessy and for restoring this memorial plaque. 
As I put these words together, it struck me that during the last ten months I have attended commemorations for fallen IRA Volunteers whose stories mark the course of the tragic Civil War, the Counter-Revolution, which brought such disaster to our country 100 years ago. 
It began for me in July 2022 in my own area, in Kilbarrack Cemetery at the graveside of Volunteer Thomas Wall, one of the first Republicans to die in the war. He was killed in the Free State assault on the Four Courts in July. And it reminds us that the war did not begin with the Dáil vote on the Treaty in January 1922. No, because that vote was followed by months of efforts to avoid a split in the Army, to avoid conflict and to find a basis for unity. 
The Dáil was solemnly promised that the IRA would remain the army of the country, the army of the people, but that promise was broken. When the Army, a democratic organisation, sought to hold a Convention to decide its policy it was banned by the new Free State Provisional Government, but it went ahead anyway. 
That was not, as some would have it, an attempt by the IRA to carry out an armed coup. In fact, such was the strength of the anti-Treaty forces in Dublin in early 1922 that if they had wanted to overthrow the Free State government by force they could have done so. Instead, when the new Free State Army occupied key positions the IRA did so also, including the Four Courts. Then began the unrelenting pressure from the British government on Michael Collins to go to war on the Republicans. 
The Republicans had reason to believe that Collins would not succumb to that pressure. Why? Because Michael Collins co-operated with the IRA in the Four Courts in assisting Republicans in the Six Counties to undermine the new British-imposed Unionist regime. He supplied them with weapons and transport and funds and men. 
But Collins was playing a double game and the trap he entered in Downing Street when he signed the Treaty in December 1921 snapped shut on him in Dublin in June 1922 when the British government gave him an ultimatum. Bombard the Four Courts or we will. And Collins bombarded the Four Courts. And so began the Civil War. 
Make no mistake, without British government pressure, British government money and British government guns, there would have been no Civil War. 
The next month Michael Collins met his tragic death. I was not at the Béal na mBláth commemoration in Cork but, a few days later I was in Whitehall, Dublin, at the memorial to Seán Cole and Alf Colley, two members of Fianna Éireann. While Collins's body lay in state in Dublin City Hall they were abducted by Free State forces, taken to the outskirts of the city and shot dead without charge or trial. A few days later I was at the graveside of Volunteer Bernard Daly in Drogheda. He was killed in the same manner as Cole and Colley, on the same day, in the same part of Dublin, by the same forces. 
So began the so-called 'unofficial' roadside executions by the Free State, around 100 of them in all from summer 1922 to summer 1923. In September last I was here in County Clare, at Kilmoon outside Lisdoonvarna, speaking at the grave of Volunteer Michael Neville, another Republican killed by the Free Staters in Killester, Dublin.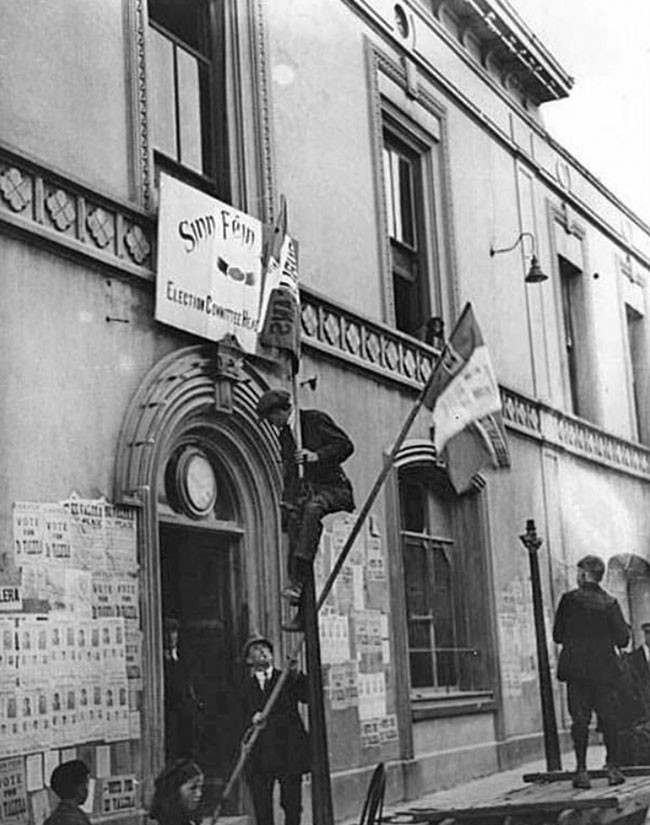 • Mícheál Mac Donncha and Finbarr Mac Gabhann (Clare Sinn Féin) at the door of the Old Ground Hotel in Ennis, the same door in the photo of Sinn Féin activists in the 1923 election
That same month I was at Ben Bulben in Sligo to honour Sligo's Noble Six, the Volunteers killed on the mountainside by Free State forces after they had surrendered. 
The centenary of the start of the prison executions was marked in November and that month we held vigils at Kilmainham Jail where the first four Volunteers were executed and at Mountjoy where Rory O'Connor, Liam Mellows, Joe McKelvey and Dick Barrett were executed in December 1922. 
We were in Castletown, County Wexford, at the graveside of Liam Mellows on a very moving and memorable day with a large crowd from all over Ireland. We  recall here the special connection of Liam Mellows with this County. It was in the hills of East Clare that Mellows and his comrades were sheltered by the people after the Easter Rising which he had led in Galway. 
In March I was in Kerry at Ballyseedy, where eight prisoners were blown up by a Free State mine, as we honoured all the Kerry Republicans done to death by the Free State in that month of terror. It was recognised there also that the deaths of Free State forces and of civilians in that war were tragedies of Kerry too and that terrible deeds had been done by both sides in the conflict
By the start of 1923 the Free State government had effectively won the war but they continued relentlessly with their prison execution policy - 34 in the month of January alone. Following the death of Liam Lynch, Frank Aiken took over as IRA Chief of Staff and on 25 April 1923 he ordered a ceasefire to come into effect on 30 April.
By the time of the IRA ceasefire the Free State had already executed 74 republican prisoners of war in jails and barracks across the 26 Counties. On 11 April, the second biggest batch of executions on a single day took place in Tuam, County Galway, when six Volunteers were executed. Many others had been killed in unofficial executions and acts of reprisal by the Free State forces throughout the country.
On 21 April, a Free State patrol was ambushed in Ennis, and a soldier, Private Stephen Canty, was killed. IRA Volunteers Patrick O'Mahony and J O'Leary were arrested. The jury at Private Canty's inquest found that neither O'Mahony nor O'Leary could have fired the fatal shot. Nevertheless, both were tried by Free State court martial and found guilty and sentenced to death.
O'Leary's sentence was commuted to ten years' imprisonment but O'Mahony's was confirmed. Patrick O'Mahony (25) was executed in Ennis Jail on 26 April. In his last letter on the eve of his execution he wrote:
"I am to die this morning. I am innocent of the death of the poor soldier. I am sorry for his fate but I forgive my enemies — if I have any — from the depths of my heart. May God bless Ireland and may her sons be united once more in love with one another."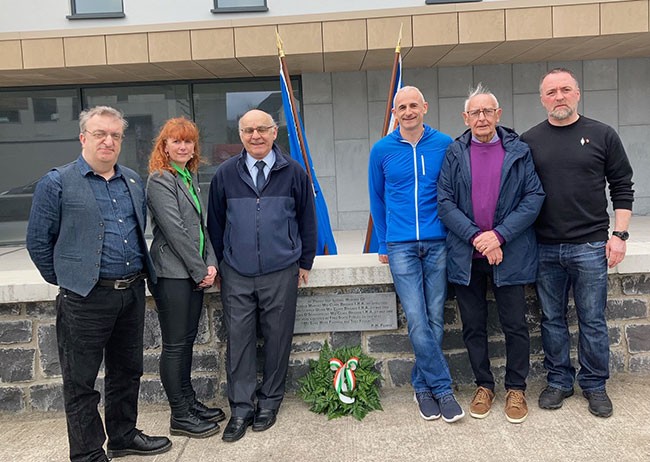 • Mícheál Mac Donncha, Clare Sinn Féin Councillor Donna McGettigan, Tony, Martin and Chris Mahony (relatives of Volunteer Patrick Mahony, and Tommy Guilfoyle (Ennis Sinn Féin) 
Volunteers Christopher Quinn and William O'Shaughnessy, both aged 18, both natives of this town, were also arrested for the killing of Private Canty, tried and sentenced to death. They too protested their innocence but to no avail. In his last letter to his father Christopher Quinn wrote: 
"Well father, I am taking it great, as better men than ever I was fell. You have a son you can be proud of, as I think I have done my part for the land I love." 
Two days after the IRA ceasefire, these two young men were taken out and executed by firing squad in Ennis Jail on 2 May 1923. 
And so I find it fitting and moving to be with you here as we remember three of the last Republicans to die in that war, just as close to my own home, ten months ago, I remembered one of the first. 
Our commemorations are more than history lessons. They are acts of commitment to complete the work of these men and of the countless men  and women, over all the generations, who worked and struggled and sacrificed so much for Irish freedom. 
Liam Mellows was right when he opposed the Treaty and when he said that the Irish Republic was a living thing, an idea and an ideal, which could not be crushed or extinguished. It was not crushed by firing squads, by prisons, by imperialist or neo-colonial armies, by the British government or the Free State government, by the execution policy of Cosgrave or by that of de Valera. It has survived repression, censorship, internment without trial North and South, the H-Blocks, Armagh, Portlaoise and English prisons, lies, misrepresentation and revisionism. 
100 years ago the British Empire established a deeply conservative state in 26 Counties and a deeply sectarian state in the Six Counties. They thought they had buried the Republic but instead they had planted seeds deeper in the soil and they sprouted and grew again. 
The Republican ideal, the goal of a United Ireland, a real Republic of Equals, is at the heart of everything we do. 
The long, steady growth of Sinn Féin over the last two decades is the result of applying Irish Republicanism to the politics of conflict resolution and applying Republican commitment to the maintenance of peace with justice, peace with a clear path of progress. 
• Cllr Donna McGettigan reading the last letter of Volunteer Christopher Quinn 
For us that progress means the reunification of Ireland and the implementation of the principles of the Proclamation with equal rights and equal opportunities, the ownership of Ireland for the people of Ireland, the provision of housing and healthcare and education and public services for all, a decent standard of living and quality of life.
In case there is any doubt in advance of the English coronation next week, let it be made crystal clear that Sinn Féin does not and never will accept the claim of the English monarchy to sovereignty over any part of Ireland. 
The signalled attendance of First Minister designate Michelle O'Neill at the event does not alter that fact; it emphasises her wish to be a First Minister for All and to show, by a very difficult act for any Irish Republican, that in the New United Ireland, people's beliefs will be respected and there will be a welcome place for those of the Unionist and British traditions.
Liam Mellows paid tribute to all those Irish men and women in his day who were fighting for freedom. I quoted his words at the grave of Michael Neville in Lisdoonvarna last year and I do so here again as we remember these Volunteers and all their comrades. What Mellows wrote applies to these lads from Ennis and countless others: 
"You, my friend, talk of me as being the embodiment of Sinn Féin but it may be surprising to you to know that there are men and women in Ireland today, compared with whom I am as nothing. Many of them are poor – almost all are. Most of them are unheard of, and yet their work for Ireland deserves to be known. It will never be in our day anyway, in all probability, but it is to them the thanks for future generations of Irish people will be due. They gave their all in silence, seeking no reward and getting gone." 
With these words of Mellows we remember and thank them. 
Agus go raibh maith agaibhse uile. An Phoblacht abú.