29 March 2023
Easter Week 1916 Remembered in Glasgow
The annual Cairde na hÉireann 1916 Easter Rising Commemoration took place in Glasgow on Saturday 25 March. As many of the participating bands and Cairde activists will be back home for commemorations in Ireland on Easter Sunday, the Glasgow event is traditionally the first Easter Commemoration of the republican calendar.
Hundreds turned out on the day to remember the men and women of Easter Week. Led by the Coatbridge Republican Flute Band and tailed by the Volunteer Sean "Maxi" McIlvenna Republican Flute Band, the commemorative procession paraded through Glasgow's city centre. The large numbers on the march reflected the confidence and pride of the Irish community in Scotland.
The commemoration concluded with a rally in Barrowland Park addressed by Sinn Féin's Pádraig Mac Lochlainn. The Donegal TD began by celebrating the central role that the Irish in Scotland played in the 1916 Easter Rising, telling those assembled:
"The military commander was James Connolly. Born to Irish parents in Cowgate, Edinburgh, Connolly fought for the rights and dignity of the working man and woman from Scotland, to the United States of America, to his beloved Ireland.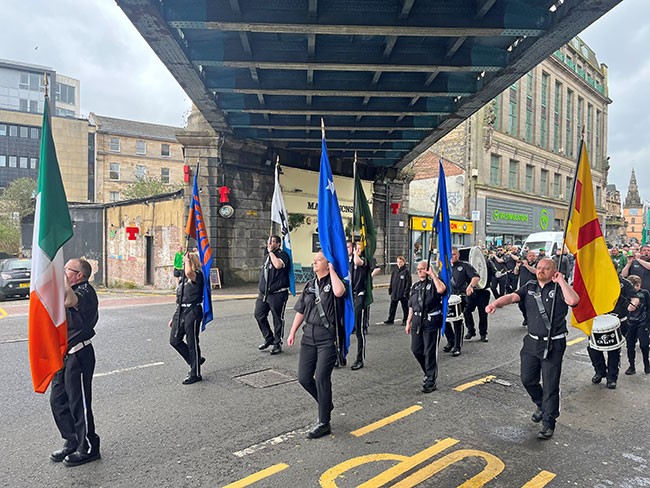 • The Coatbridge Republican Flute Band at the Cairde na hÉireann 1916 Easter Rising Commemoration
"When the British establishment ordered the execution of the gravely wounded James Connolly in his chair, in the Breakers Yard of Kilmainham Gaol, they could never have known what they would unleash. Generation after generation have taken inspiration from this truly great man. While the empire that ended his life is no more."
Mac Lochlainn continued, "But it wasn't just James Connolly. We remember the gallant Margaret Skinnider, born to Irish parents, in Coatbridge. When Margaret took up a rifle to fight in Dublin in 1916, she insisted that women had the same right to risk their lives for the Irish Republic as the men. She was seriously wounded and went on to fight for Irish freedom and for the Irish working classes for the rest of her life.
"And then there were those from the Glasgow Unit of the Irish volunteers who fought in the rising including Sean Hegarty who was tasked with erecting the Irish tricolour over the General Post Office in Dublin, the Head Quarters of the revolution that lit the flame for Irish freedom."
• The Volunteer Seán Maxi McIlvenna Republican Flute Band
The Sinn Féin TD concluded, "But it wasn't just 1916. Our Irish in Scotland have stood by our fight for freedom through every phase of conflict since. And I know that you have faced outright bigotry and sectarianism at times here in Scotland for your loyalty to your homeland. Today, from the bottom of my heart, I thank you."
The day was a fitting start to the period of reflection and commemoration that lies ahead. While the 1916 Easter Rising will be commemorated in towns and villages across Ireland in two weeks' time, the annual commemoration in Scotland will always carry particular poignancy. As Margaret Skinnider once summarised, "Scotland is my home, but Ireland my country."