26 March 2023
'Let us end futile recriminations' - towards a new, united future
By Declan Kearney
Our collective responsibility must be to ensure future generations inherit a reunified and reconciled Ireland.
This time 100 years ago, the Irish civil war was raging. 
It was the latest chapter of political conflict in Ireland; a consequence of continued British colonial interference and the denial of Irish national self-determination and sovereignty. 
When the Anglo Irish treaty was signed, the IRA, Sinn Féin and other republican organisations divided. 
Despite attempts to maintain unity within the broad independence movement, a tipping point was reached when pressure was applied by the British government upon the newly emerging free state administration to bomb the Four Courts in Dublin, which had been occupied by the anti-treaty IRA.  
For over twelve months from June 1922, many hundreds of killings and thousands of injuries were inflicted on all sides of the civil war. 
In this period extra judicial and official executions of IRA prisoners by the Free State government's forces became state policy. 
In greater Dublin, state sponsored death squads abducted and assassinated dozens of anti-treaty republicans, including young teenagers. The security detail attached to then President of the Executive Council of the Free State, W.T. Cosgrove, was directly implicated in at least one such abduction and killing.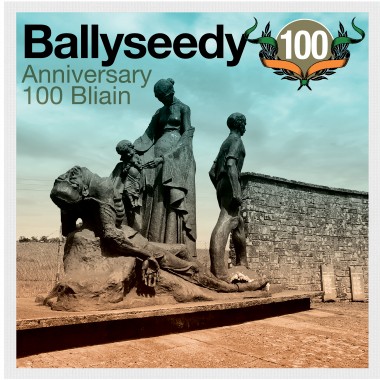 The legacy of the civil war in County Kerry is synonymous with a series of atrocities carried out by Free State forces during March 1923.  
After the killing of five soldiers by the IRA at Knocknagoshel on 6 March, the Free State army's Kerry Command tied nine republican prisoners to a mine at Ballyseedy and detonated it the following day. In the next few days, at Countess Bridge and Bahaghs respectively, four and five more prisoners were blown up in similar circumstances.  
A total of 42 IRA prisoners were murdered by extra judicial executions in Kerry alone. 
Historians have described the actions of the Kerry Command, led by Paddy O'Daly and David Neligan, as based on a culture of 'murder, brutality and impunity'.
Last week, a series of commemorative events marked the centenary of the 'Drumboe Martyrs'; four IRA prisoners executed in County Donegal on 14 March 1923. Ironically, three of them were from Kerry, and the fourth, Seán Larkin, was from South Derry.  
Many very poignant events have been organised to commemorate these and other tragedies of the civil war.
A significant number of historical articles, podcasts and new books have been produced. The scale of the violence which occurred has not been shied away from, including murder, horrific life changing injuries, gender based violence, and psychological trauma. There were also terrible economic and social repercussions.  
No effective reconciliation process was ever put in place after the civil war ended in 1923. 
Our most recent devastating phase of conflict has also still to be reconciled and healed. 
There is a need to find formal acknowledgement and forgiveness to heal all of these wounds.
In a surprisingly under-reported intervention on 18 April 1965, at the unveiling of a monument to Michael Collins, in Sam's Cross, Cork, Tom Barry, the IRA veteran from both the Tan and civil wars, said; 
"Let us leave it that each of us, like I did myself, believed in the correctness of our choice. I concede that those who were on the opposite side believed that their decision was the right one too. But let us end futile recriminations of an event which happened over 43 years ago…" 
With those few words, Tom Barry both acknowledged the contested convictions of both sides in the civil war, whilst advocating the need to move beyond recrimination over past deeds.
He directly addressed the human tragedy of the period, but the import of his words have a timeless resonance. 
Ireland's most recent, and protracted, phase of insurgency against British rule was finally displaced by the Good Friday Agreement (GFA), signed on 10 April 1998. It drew a line under political conflict and established a comprehensive peace settlement. 
It also set forth a vision of a rights based, non-sectarian future. Importantly, it also made a connection between the past and building a better future by stating that; 
"The tragedies of the past have left a deep and profoundly regrettable legacy of suffering. We must never forget those who have died or been injured, and their families. But we can best honour them through a fresh start, in which we firmly dedicate ourselves to the achievement of reconciliation, tolerance and mutual trust, and to the protection and vindication of the human rights of all." (GFA Declaration of Support).  
The forthcoming 25th anniversary of the GFA will rightly be celebrated as having transformed society in Ireland. However, fundamental challenges remain, and sections of political unionism and the British establishment have resisted its full implementation.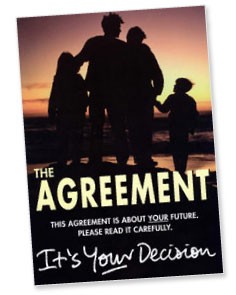 Since 2016, the outworking of Brexit has accentuated the enduring deep divisions in northern society.
But it is essential that the remaining political, social and cultural fault lines are addressed. 
The need for reconciliation in Ireland is beyond dispute. In its absence, the legacy of conflict from the Tan and civil wars until the present will become even more multi-layered and entrenched.
So, as the GFA anniversary approaches, the focus should be upon opening a new phase of the peace process and a pathway towards a new future.
Sinn Féin believes that healing the divisions in Irish society is inseparable from the transition towards a new, agreed constitutional democracy in Ireland. 
The GFA provides a mechanism for self-determination through which Irish unity can be achieved peacefully and politically. 
An agreed, united Ireland should be shaped by the people of Ireland alone without interference. That is an Ireland which guarantees and safeguards the rights of every citizen and section of society. It will mean addressing sectarianism in all its forms, entrenching equality, and dealing with the past on the basis of truth and justice.
This is the time for a genuine conversation about how bitterness and resentment caused by previous conflicts can be left behind. 
The new Ireland has to be built upon a willingness to forgive what happened in the past. Reconciliation and generosity should be embraced as the foundation for managing the constitutional change which is now fixed on the political horizon. 
Our commitment must be to put reconciliation at the heart of all political and civic institutions in a new national constitutional framework . 
The future should be defined by initiatives of compassion and healing. A shared reconciliation process can be the antidote to the hostilities and conflict of the last century, and before. 
That is why Sinn Féin continues to advocate for an initiative of common acknowledgement by all sides; British, Irish, republican, unionist – to address the hurt and injustices caused by, and to, each other.
Our Party supports the establishment of a 'National Reconciliation Day' to remember all victims of the conflict in Ireland, and as a perpetual symbol of our collective commitment to ongoing healing.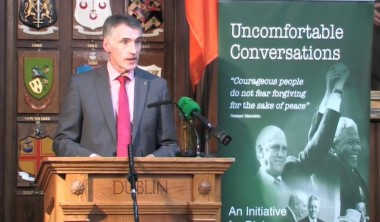 For now the immediate challenge is to ensure that proper power sharing, and the North/South political institutions are restored in terms which are absolutely compatible with the spirit and vision of the GFA.  
Of course this may look like a remote prospect at this time as the DUP persists with its blocking of the power sharing Executive.
However, it is anathema to all strands of domestic and international opinion, and any right thinking person that our political process remains paralysed on the cusp of the GFA's 25th anniversary.
The DUP, and unionist political extremists should no longer be allowed to defy democracy. 
The future is too precious to be subject to the whim and veto of those who choose to live in the past. The aspirations and rights of the majority must not be subordinated to appease an anti democratic minority. 
One hundred years on from the tragedy of our civil war, and 25 years after Ireland's iconic peace settlement, there is now both an imperative and opportunity to move beyond old recriminations. 
Our collective responsibility must be to ensure future generations inherit a reunified and reconciled Ireland.  
The key to opening this new phase of our peace process will depend upon an agreed acceptance of the role which democracy, forgiveness and generosity must play in the strategic task of creating a united and a shared future.