10 March 2023
Let us salute Óglach Rita O'Hare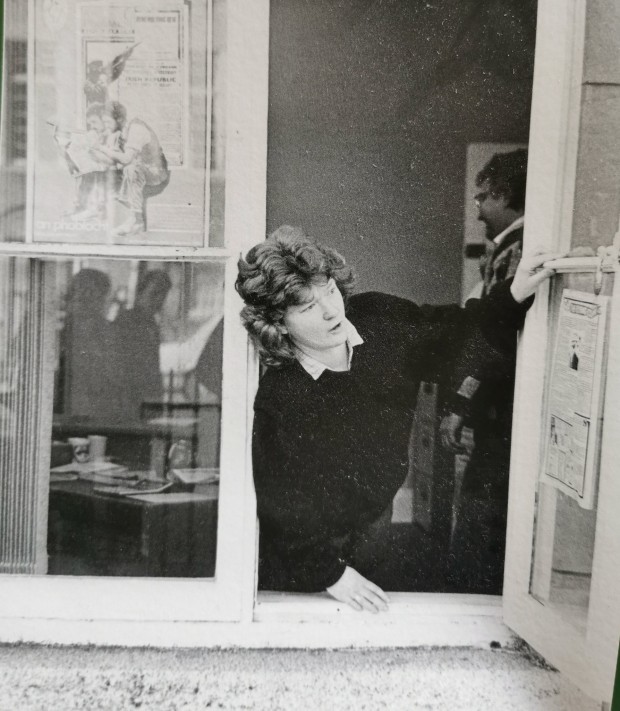 Hundreds of republicans across Ireland and the generations of struggle turned up at Glasnevin cemetery this week to say goodbye and salute republican veteran Rita O'Hare. Below we carry the funeral oration give at the republican plot by former Sinn Féin President Gerry Adams.
"Dia Daoibhse. Fáilte mór romhaibh uilig. A wee while ago I got a note from Rita. It was titled My Wishes. In it she set out her wishes for her funeral. These included a request for me to say a few words. She wanted to acknowledge that she was a Volunteer, 'if' as she said, 'that was' possible, sensible, appropriate'.
Gerry Adams delivers the main oration from Rita O'Hare's funeral in Glasnevin
So let's deal with that first. Rita stood in the Bearna Baoil and went toe to toe with the British military in the 1970s just like other women volunteers did in the Irish Republican Army, Cumann na mBan and The Citizens Army from 1916 to 2005 when the IRA Leadership formally ordered an end to the armed campaign.
Let us commend Rita and all these warrior women. Let us salute Óglach Rita O'Hare. Well done to Brendan also for all your contributions and your activism. Brendan brought love, good cooking, companionship, comfort and stability into Rita's life.
Tá muid buíoch fosta do Terry, to Frances and Rory and your families. Agus do Ciaran and your clann. I have also had the pleasure of knowing Rita's parents, Maureen and Billy and her brothers Alan and Bill.
She got her socialism from Billy and her convent school education and her obsession with English grammar courtesy of Maureen. So, let's look back a bit.
In the late 60s Rita and her husband Gerry were part of the popular uprising in the North which arose around the civil rights demands of that time. Rita was a young mother, a student and a housewife.
In 1971 Margaret Gatt, a neighbour and a friend of Rita's asked her to go to a protest at Belfast Court – 'We'll be back in time for dinner.'
They weren't. They were arrested and locked up in Armagh Women's Prison where Rita finished her studies with extremely high grades. They were released shortly before internment was introduced in August 1971.
Three months later Rita was shot and seriously wounded by British soldiers and ended up back in Armagh. She eventually got bail; jumped bail and went on the run. She successfully fought extradition.
I met her occasionally when she and her wee clann were living like refugees in extreme poverty and dependent on the support of other good republicans here in Dublin. In all she spent 51 years in exile. She had the distinction of being in prison in both states on this island.
In 1978 the late Mick Timothy invited Rita to work for An Phoblacht. Rita succeeded Mick as editor when he died suddenly in 1985. Those were the days of widespread censorship, Section 31 and later Thatcher's broadcast ban and widespread media bias and censorship.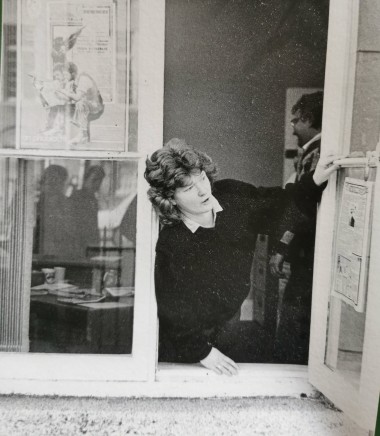 Rita O'Hare briefing media outside the Sinn Féin office on Parnell Square
An Phoblacht reported extensively on events in the North. It also reported on all of the social issues of the day that affected people all over Ireland. Housing, health, homelessness, women's rights, unemployment, gay rights, emigration, discrimination.
In 1991 Rita became the party's Director of Publicity when Danny Morrison was arrested. She also helped to shape the direction of the party as we went through the many defining moments of advancing our struggle. Rita was at the heart of it all.
We learned a lot in those days about strategy and strategic objectives. About the need for internal debate, internal unity, cohesion, and accountability. About the need to plan. About discipline, about comradeship. About putting up with each other. About friendship. About activism and the ideology of republicanism.
About electoralism. About peace making. About building Sinn Féin across Ireland as a popular republican party. And reaching out internationally. Rita was a leader in all that.
So too were numerous other comrades. Men and women who gifted us their intellect, and their energy and determination. And their lives. Some died along the way. As we all grow older others have died.
And today we are witnessing part of the moving on of one of that unique generation who gave us leadership decade after decade after decade. And we salute them all.
You'll all be delighted to hear that struggle never ends. It is a continuum. Like a relay race with each generation of activists passing the baton on to the next generation. But before our time this was usually done after a defeat. After a pause.
Sinn Féin Vice President Michelle O'Neill (left) carries the coffin of Rita O'Hare through Glasnevin Cemetery alongside Sinn Féin President Mary Lou McDonald (right).
For Rita and her comrades there has been no pause. There was no defeat. We took setbacks in our stride and we grew stronger.
We kept going through what Tom Hartley describes as the longest ever continuous unbroken phase of struggle against English rule in Ireland. Fair play to us.
Our success is enhanced by everyone having a role – no matter how small. Our success is measured by the progress- the real changes - we achieve.
Rita was a change maker. Today Sinn Féin is led by a new generation. Mary Lou and Michelle and others are leaders of the largest political party on this island. Rita was rightly proud of them.
This is the generation which has the ability to achieve Irish Unity. That is Rita's generation's gift to you. It is her generation's gift to us all and to future generations.
The Good Friday Agreement – under threat at this time - has created another phase of struggle in the continuum of struggle. Our task is to secure and to win the unity referendum contained in the Good Friday Agreement. 
Of course, it won't be easy. Struggle is rarely easy. But never forget what we were told over the decades, by the great and the good. They told Rita and the rest of us time and again that many of the changes demanded by us would be impossible.
Rita told them to f… off. Rita would want us to face the future with confidence. To face the unity referendum in a planned, strategic, optimistic and hopeful fashion just as we have faced many, many other challenges.
To engage in generosity with those from unionist backgrounds who are looking for a new future. And others who are persuadable about the form the future will take. No better people than republicans to persuade these folks that the place we all call home can be a better place for everyone. 
Rita was wedded to that belief. Speaking in Bodenstown in 1996 she said: 
'We seek constitutional change which places in the hands of the Irish people the sovereign power to determine our own future, free from outside interference.
We seek reconciliation among Catholic, Protestant and Dissenter, people of every religious belief and none, leading to unity in the common name of Irishmen and Irishwomen.
We seek equality and respect for the rights of all in place of discrimination, sectarianism, and second-class citizenship.
We seek proper education for our children, the provision of a free and comprehensive health service for all, jobs and facilities in our communities for our young people, freedom from the scourge of drug abuse and the crime it brings, and a secure old age for senior citizens.
Rita served in many positions, including Ard Rúnaí and Cisteoir. She was on the Ard Chomhairle – was a founder along with Lucilita and others of the first Sinn Féin Women's Dept. 
This is a poem I wrote for Rita's great friend Siobhán O'Hanlon and I now offer it to Rita also:
Macalla na mBan
Streachailt na mbBan
Caoineadh na mBan
Fulaingt na mBan
Neart na mBan
Foighne na mBan
Fearg na mBan
Dóchas na mBan
Ceol na mBan
Croí na mBan
Craic na mBan
Gáire na mBan
Cairdeas na mBan
Áthas na mBan
Grá na mBan
Todhchaí na mBan
Saoirse na mBan
Rita was an important part of the link to senior civil servants in the Irish government and to the US Embassy, particularly during Jean Kennedy Smith's tenure. Among other things Rita taught the Ambassador how to swear.
That was Rita. Leading by example. She was great at f-ing and blinding. Once in my presence Rita used particularly colourful language during a phone call with a senior Irish civil servant who resisting her entreaty to take a robust line with Downing Street.
When I admonished her afterwards she was unrepentant. 'The dirty so and so said the signal was breaking up and that he couldn't hear me properly. So there's nothing he can do about what I called him'.
Rita played a pivotal role in the peace process. Some of the media describe her as an OTR. Rita never once asked us to make representations to the British on her part.
Though Martin McGuinness, who loved Rita, and I did it regularly because of the absurdity that allowed her to travel to the USA to meet with Presidents and senior politicians or enjoy the company of Mo Mowlam and Jean Kennedy Smith in the Ambassador's residence but she couldn't travel the 100 miles to visit her aging parents or indeed to attend their funerals.
For me this was always a sign of how petty and vindictive the British system can be. In 1998 she went to New York for the first time at the invite of Niall O'Dowd to speak in a debate about the media. Not long after I asked her to take on the job of Sinn Féin representative in the USA and Canada.
She reluctantly agreed 'for a short while.' That short while became twenty one years. Then she came home to work on our United Ireland Committee. Her work in the USA and Canada particularly the relationships she built and the influence she developed was exemplary.
The presence here of our American friends Joseph Smith, Ian Russell, Greg O'Loughlin, Terry O'Sullivan, Brian Donohoe, Sean Kelly, Paul Kelly, John Samuelson, Joe Hadyen, Trisha Ziff, Fionnula Flanagan, Deirdre Feeick, Bernadette Kelly and the many, many messages of solidarity is proof of that.
Some years ago she was diagnosed with cancer. She fought it every day. All of us who know Rita well have our stories to tell about her. She could be contrary, difficult, thoughtful, caustic tongued, headstrong, provocative, kind, funny, generous, loving.
One of the few times that Rita expressed any regrets to me was about how her family suffered because of her activism – having to put up with a mother who was off getting shot; going to prisons and other distractions.
When this would come up I would always tell her that Terry, Frances and Rory turned out great – Ciarán wouldn't have the life he has except for Rita.
And he turned out great also.
Some of us do get a second chance and Rita's great pride and true legacy in her second chance is her four children and her 11 grandchildren and her nine great grandchildren.
There are Presidents of the United States of America who are familiar with the names of all of these weans. So, let me speak directly to you.
To Kevin, Aidan, Aoife, Naoise, Dualta, Luke, Caolainn, Sinead, Meadhbh, Emma, Conall, and to great grandchildren Kate, Keelin, Mason, Fionntan, Luiseach, Cathal, Rioghnach, Oisin, and Ríadh.
She was quite rightly proud of you all. She delighted in your achievements. Those of you who are old enough will remember her forever. But some of the younger ones may not remember.
So to the older grandchildren and great grandchildren tell the younger ones about Rita. Tell them about your Mamó. Let them know who she was. What she did for you all in your own personal lives, in that lovely subversive relationship, that good grandparents enjoy with their grandchildren.
Tell them this and tell them before they were born that she fought for them and for their future. So, that you will all grow old in a free and united Ireland.
Tell them their Granny was in IRA. Tell them she was a rebel. A freedom fighter. Tell them that she and Brendan were champions for rights. Activists for equality.
Thank you Rita. Thank you for your friendship; for your activism; for your comradeship; for your sacrifices. Thank you for your leadership, your tenacity and for your vision of a new future.
Rita loved books. She also loved poetry. She could recite long verses of poems by Yeats, and Heaney, by Kavanagh and others by heart. She was very fond of Robert Frost's work.
So, here you are Rita. "Two roads diverged in a yellow wood. I took the one less travelled by.
And that made all the difference". And Rita told me many, many times that the magic word in that is the word 'by'. I took the one less travelled by and that made all the difference.
Thank you Rita and Brendan for making the difference.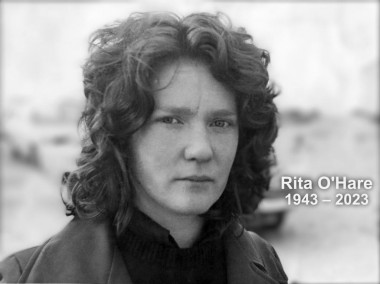 Rita was a trailblazer, activist and freedom fighter who will be missed dearly by her family, friends and comrades.
Slán a chara."