15 February 2023
New book on Galway's Roll of Honour
Every year at Sinn Féin Easter commemorations, it is usual for a roll of honour to be read out listing those who died for an Irish republic. On the Galway Republican Roll of Honour there are now 70 names. These are mostly Galway volunteers killed in the service of the Irish republic between 1916 and 1940.
Now, for the first time ever, Galway Sinn Féin has published a comprehensive book of the Republican Roll of Honour, comprising all those in Galway killed in the struggle for Irish Independence, from 1916 up to 1940, including civilians killed by Crown Forces. Compiled from archived and available sources, this book is not only a first, but also a welcome addition to the stock of literature of this kind.
While names like Liam Mellows, Éamonn Ceannt and Fr Michael Griffin are well-known to a lot of people, and others like Mícheál Breathnach and Tony Darcy are known to those with an interest, there are also names on the Galway Roll of Honour that most people have never heard of.
More than a simple listing, the book is biographical as well and tells the circumstances of those killed. There is the awful cruelty surrounding the murders of Volunteers Pat and Harry Loughnane from Shanaglish, South Galway, the disturbing story of Eileen Quinn, a pregnant woman, indiscriminately murdered by Crown Forces, and the story of Tony Darcy's death on Hunger Strike in Arbour Hill Prison in 1940. Darcy the last Galway Republican to die on active service.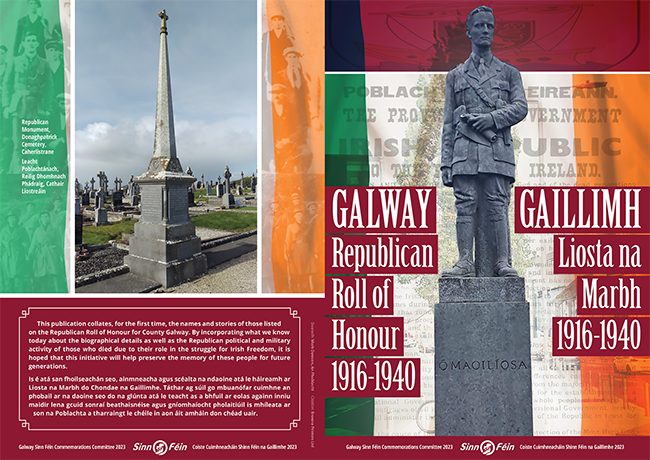 The idea for the book is the brainchild of Galway Sinn Féin Commemorations Officer, Martin Concannon, who writes in his introduction to the 172-page book, that listening all his life to the Roll of Honour being read each year left him fascinated and curious to learn more about these people.
The foreword to this nicely produced publication is by Mairéad Farrell TD, Galway's first Sinn Féin TD since Liam Mellows, who led the 1916 Rising in Galway, later became a TD, and was executed by the Free State in 1922. Indeed, there is a section at the beginning of the book devoted to Liam Mellows, written by Galway Sinn Féin Public Relations Officer, Jim Ward. Sinn Féin in Galway had a special commemorative event in Athenry last December, on Mellows' 100th anniversary.
A dedicated editorial team from Galway Sinn Féin, including Martin and Jim, along with Luke Callinan, Kevin O'Hara and Stephanie Campion, compiled and produced this first edition of a well overdue publication to remember Galway Republicans, for as Mellows himself said in 1919 about the people who had risen with him in 1916 in Galway:  
Most of them are unheard of, and yet their work for Ireland deserves to be known. It never will be, in our day anyway, in all probability, but it is to them the thanks of future generations of the Irish people will be due. They gave their all in silence, seeking no reward and getting none.