6 February 2023
Liverpool-Irish patriot remembered 100 years on
One hundred years ago, the Liverpool-born IRA Volunteer, George King was fatally wounded by Free State forces. On his centenary weekend, Irish republicans from across Ireland and Britain gathered in Liverpool to commemorate his life and sacrifice.
Óglach George King was shot in a firefight with pro-Treaty forces, on 5 February in Rathmines, Dublin. The following night he succumbed to his wounds, in the Meath Hospital, and died on 6 February 1923.
Because he was wanted by the Free State authorities, George King had been living under the alias 'Nicholas Murphy' (a combination of his mother's maiden name and the first name of a deceased brother). This led to some confusion as to whether two men had in fact been shot in Rathmines.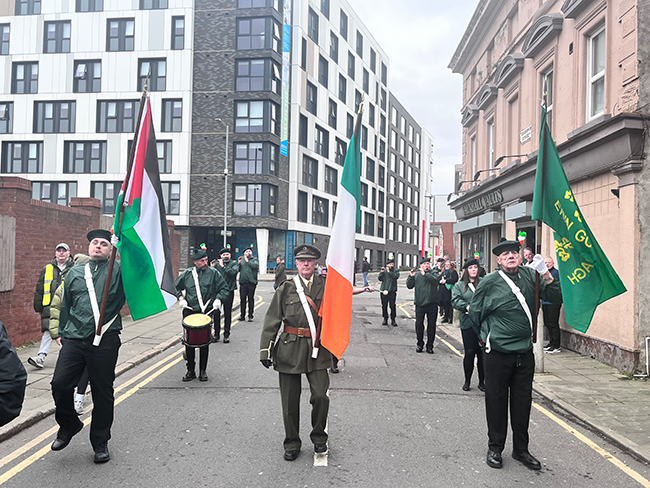 George King was in every sense an Irish patriot. In 1916, he had left his job as a clerk in Liverpool and journeyed to Dublin – alongside his brothers Patrick and John – to participate in the Easter Rising. He served as a member of the famous Kimmage Garrison and fought in the Imperial Hotel and the General Post Office during Easter Week.
During the evacuation of the GPO, John King was wounded and consequently remained in the Castle Hospital until the end of June 1916. Meanwhile, following the order to surrender, George and Patrick were deported back to Liverpool.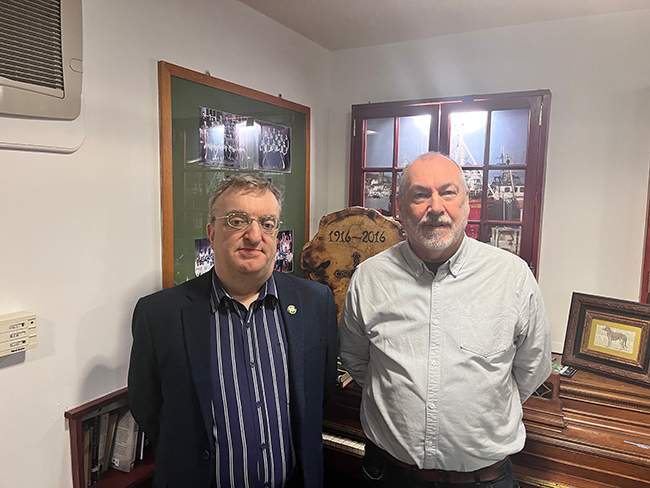 • Mícheál Mac Donncha and Peter King, grand-nephew of George King 
The two brothers were brought before Liverpool police court, under the Military Service Act, as absentees. They were each fined 40 shillings and press-ganged into the British Army.
However, when ordered to wear British Army uniforms, the two King brothers refused. Instead, as punishment, they were forcibly stripped naked and made to march down Liverpool's Dale Street. 
Conscripted into the British Army but refusing to fight, the two were eventually discharged in March 1917. They immediately returned to Ireland and set about re-joining the fight for Irish freedom.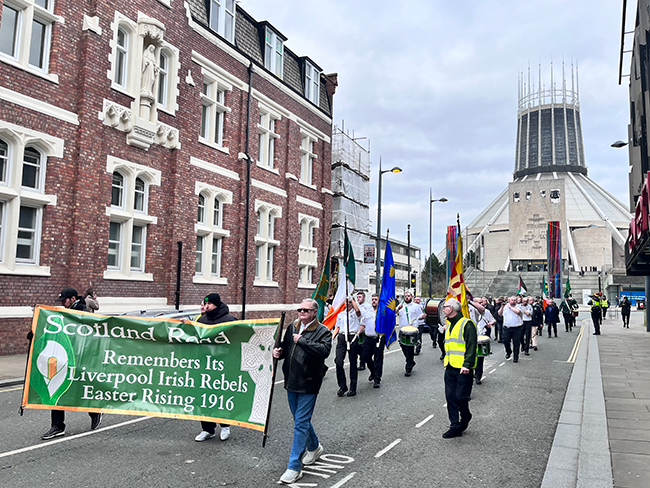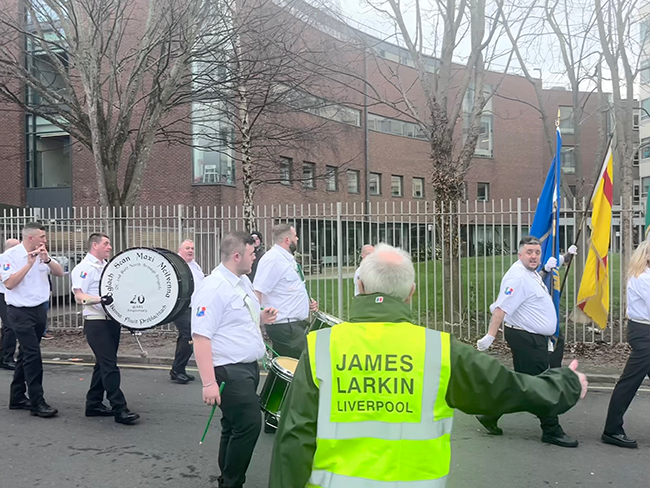 Tragically, when the Treaty came in late 1921, the two brothers found themselves on opposing sides of the split. Patrick King became an officer in the Free State Army working from the Eastern Command HQ. Meanwhile George remained true to the Republic proclaimed in 1916 and sided with the regrouping republican forces in Dublin.
Patrick King, knowing full well his own brother's daring fearlessness, hoped that George might be captured early-on in the conflict. A desperate wish to see his brother's life spared.
But this was not to be. Indeed, a few days after George's death, Patrick received a message informing him that there was 'something of interest' in the Meath Hospital mortuary. That something of interest was his brother's lifeless body.
The story of George King is a powerful reminder of the cruelty of civil war and the heavy cost that is exerted on the families of fallen volunteers.
It also demonstrates the importance and strength of the Irish diaspora. It is no accident that Saturday's commemoration attracted republicans from as far as Glasgow and London, who made the journey to Liverpool specifically to remember one of their own.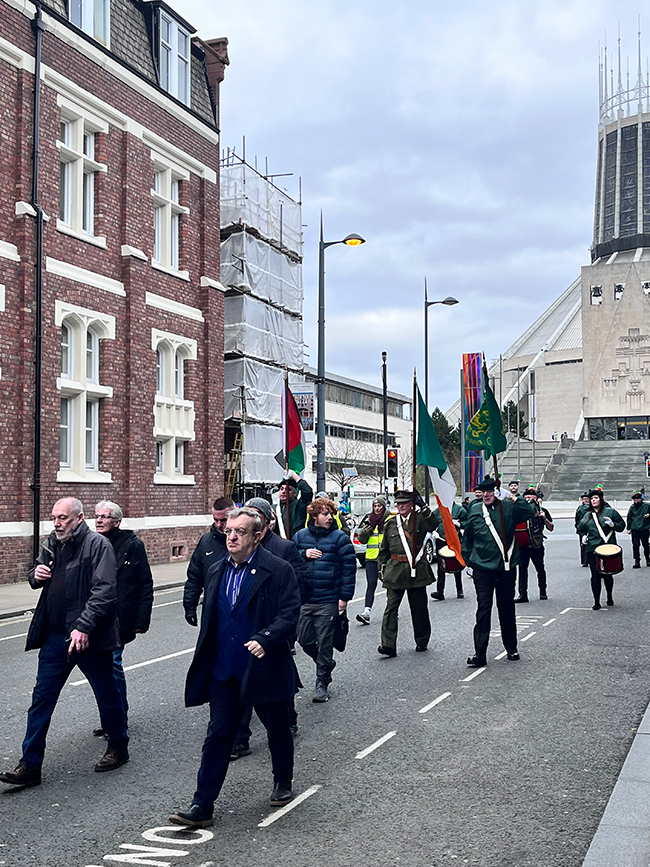 It stands as a measure of just how far things have come that, one hundred years since George King's death, an Irish republican commemorative march - with two accompanying republican flute bands - can proceed, in full confidence, over the very same Dale Street where once the two King brothers were forcibly stripped in an act of humiliation.
All credit must be given to Cairde na hÉireann activists in Liverpool who organised the day's events, and also special mention to the Banna Fliuit Learpholl and the Óglagh Sean Mcilvenna RFB for their steadfast commitment and hard work. The commemoration itself included special guest speakers Peter King, a great nephew of the King brothers, and Dublin City Councillor Mícheál Mac Donncha of Sinn Féin.
Addressing those assembled, Cllr. Mac Donncha stated:
"As a representative of Sinn Féin, who has spoken many times across this island, I want to pay tribute to those people – over many years and who continue to do so today – who have stood here in Liverpool in solidarity with the cause of Irish freedom back home. On our behalf, I want to thank you all for your support over many, many years. Today we are closer than ever to the ideal that George King and so many volunteers gave their lives."