2 February 2023
Óglach John Joe Donnelly remembered
Republicans across Ireland were saddened to learn of the recent death of Óglach John Joe Donnelly on Sunday, January 15th. John Joe was a very well respected and lifelong Irish republican whose commitment to the struggle for Irish freedom never wavered.
Republicans from many parts of Ireland gathered in Cavan to say farewell to John Joe before his remains left that county for the last time to return to his native Tyrone.
John Joe's standing in the local community of his adopted Mount Nugent was such that the local GAA club formed a guard of honour along with his former comrades. Many more gathered in Aughamullan and Brocagh in Tyrone for the funeral on Thursday, 19th January.
There John Joe was buried with his granduncle, Volunteer Paddy McNally who was injured in an IRA operation in August 1923 and died three months later from his injuries in the Curragh Military Camp.
Also buried in the same graveyard are IRA Volunteers Willie Price and Sean Campbell. Delivering the oration at John Joe's funeral, Sinn Féin's Gerry Kelly said: "I am very honoured to be here today to say a few words about Óglach John Joe Donnelly, who was, amongst many other things, a life-long Irish republican activist.
"John Joe was born in 1956 in Wales. He was the eldest of six children born to parents, John and Molly Donnelly. He was brother to Caiti, Brian, Thomas, Carol and Kieran. The family moved home to Co Tyrone in the early 1960s. John Joe attended Aughamullan primary School before going on to St Joseph's College Coalisland."
"As a teenager, John Joe Donnelly was of that generation which witnessed the rise of the civil rights movement and the Orange State's attempts to crush it with violence and imprisonment without trial. He saw the thousands of British troops who were sent here to crush his community."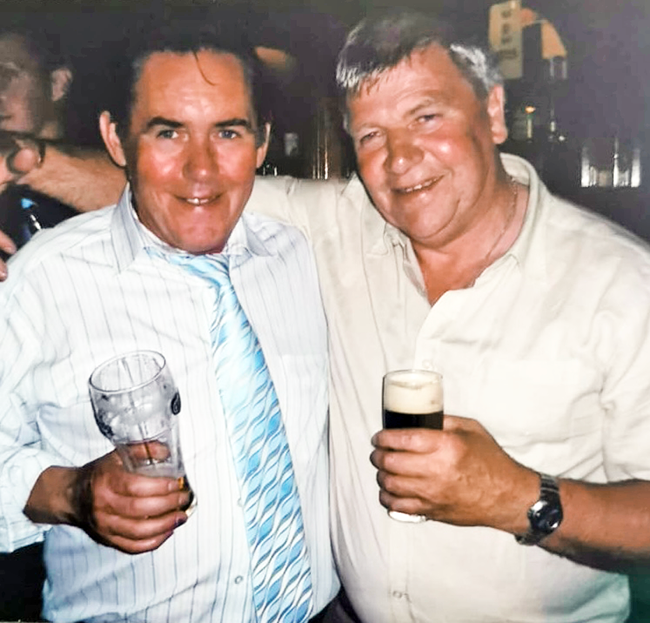 • John Joe with his friend and comrade Sean Reilly
"He was of the generation that decided it was no longer an option to meekly accept the naked sectarianism, the supremacism, the discrimination and the brutality of the Unionist regime, the British government and its military. He knew of the pogroms of 1969, where thousands of Catholics were driven from their homes."
"John Joe watched British army massacres in Derry, Ballymurphy, Springhill and New Lodge alongside the loyalist death squads that were killing so many innocent people. Like many others he decided to defend his community. He decided that armed resistance was the only way to bring about change."
"John Joe was not going to leave it to others. He joined the Irish Republican Army in 1973 at 17-years-of-age to lead from the front. He spent the rest of his life leading from the front as a republican activist."
"As an IRA Volunteer he was highly active in the East Tyrone area against the British Forces up until October 1975. John Joe was part of a generation of revolutionary republicans which included Volunteers such as Pete Ryan, Jim Lynagh, Padraig McKearney, and numerous others and who, when war came to them, were not found wanting."
"After escaping capture on an IRA operation, where other comrades in his active service unit were arrested, he was forced to go on the run. John Joe lived in Monaghan initially, remaining on full-time active service along the border, until his arrest in the 26 Counties in 1983."
• John Joe at the First Communion of Saoirse Reilly along with her uncles Eurich and Seanie Reilly
"He spent a number of years in Portlaoise Prison where he was an avid reader, studying Irish history as well as following other liberation struggles throughout the world, learning from their experience.
"John Joe was released from Portlaoise in 1986, and reported back to full-time active service in different areas of Ireland and further afield. He finally settled in Mount Nugent in County Cavan where he became deeply involved in the local community and helped re-establish the Ladies Gaelic football Club, helping them to win the league in 2006."
"John Joe Donnelly knew that military action on its own would not achieve a United Ireland and that republicans needed to be active in every aspect of society, whether that was in fighting for housing rights, the Irish language and culture, for jobs and workers' rights or fighting against discrimination of any kind."
 "John Joe was part of the national leadership and fully supportive of, and involved in, the initiatives of that leadership over the years. He cared for the upcoming generation and spent a lot of time passing on his knowledge and experience. He knew that republicans had to learn from the past but act in the context of the present."
"Because he was on the run and then in jail I didn't meet him until I was released in 1989. John Joe was always very security conscious and valued his anonymity. So, I met him a number of times before I actually knew his name-and it wasn't even him who told me!"
"His reputation was as a very committed and dedicated activist who was prepared to do whatever was asked in whatever sphere of activity that would bring us all closer to achieving a United Ireland of equals."
"He achieved great things for the struggle during his life. Sadly it has been cut short because he had much more to give. Now in 2023, we are closer than ever to undoing the injustice of Partition and reuniting our country. 
"The Orange State has gone. Unionist domination has gone, and thankfully our young men and women no longer feel that they have to risk their lives and liberty on active service. Irish Unity, of course, will not just happen. We need to make it happen. If we work together, if we put our shoulders to the wheel, as John Joe always did, we can and will finish the task ahead."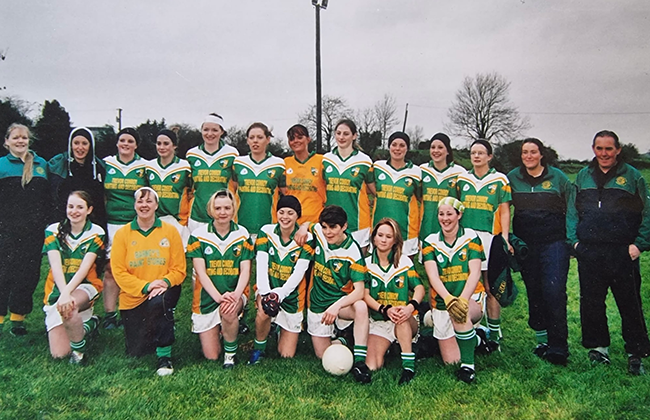 • John Joe with the Mountnugent Ladies Football team, which he helped form
"We will achieve an Irish national democracy, a new republic, where the rights and identity of all people, living on this island, of whatever persuasion or background, will be accommodated and cherished. That, a chairde, will be the most fitting epitaph for our comrade, Óglach John Joe Donnelly."
"John Joe was part of many family lives right across Ireland who looked after him and his comrades. Two of these families stand out - those of Tommy and Ann Devereux in Castlebar, County Mayo and Sean Reilly in Mount Nugent.
"You will have your own cherished stories of John Joe and no doubt tonight the joy and the sadness will be shared in celebrating a life well lived.
"But a personal summary from one of his friends, which I was given, sums him up better than I can. Someone who worked with John Joe until recently said the following: 'When John Joe and I first went into business I didn't realise I was going to spend the next two decades with one of the most engaging, honest, punctual, hardworking, diligent, forensic and interesting men. A man who could interrupt a construction project to speak about topiary, or the history of place names, or a deep analysis of any football game over the millennia. We completed many projects together, but the one that lasted the longest was our friendship. He's sadly missed by all of us.'
"Most of all, John Joe will be sadly missed by his loving family Caiti (George Hanna), Brian (Isobel), Thomas (Noreen), Carol (Declan Hughes) and Kieran, his nephews, nieces and his wider family circle."
I measc laochra an hÉireann go raibh sé.