26 January 2023
A giant among activists Tommy Devereux 1933-2022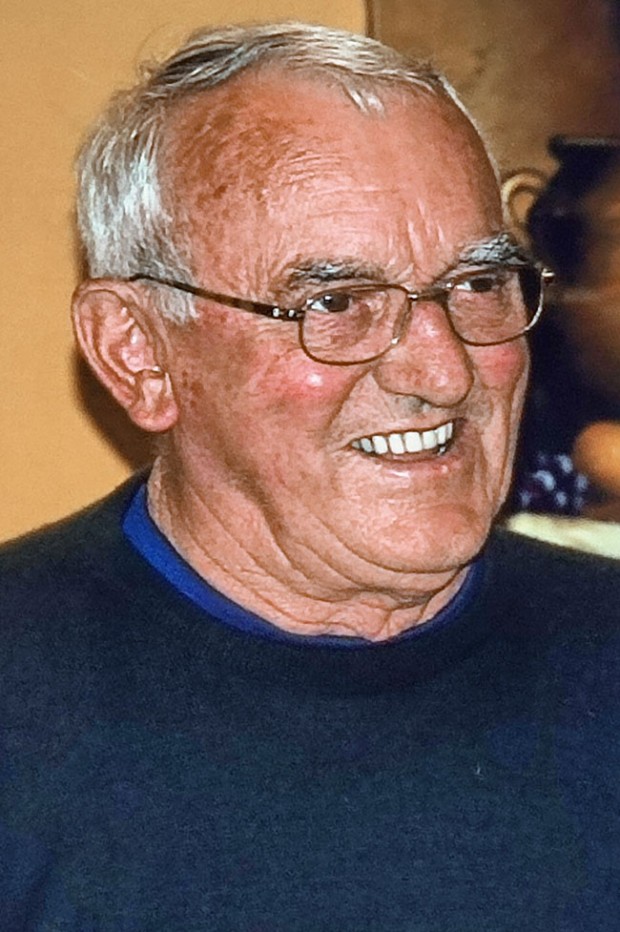 The wider republican family was saddened to learn of the passing, on 12 December, of lifelong Mayo republican Tommy Devereux. 
Republicans and friends from across the provinces gathered in Castlebar to bid farewell, and pay their respects, to a man who was a giant among activists for so many years. Delivering the graveside oration, Tommy's good friend and comrade, Martin Ferris spoke of Tommy's decades-long dedication to the aims of Irish republicanism:
"Tommy joined the IRA in 1953, and along with Mick Fleming, was part of the back-up support to the Volunteers who took part in the Brookeborough raid on New Year's Day in 1957 when Volunteers Seán South and Feargal O'Hanlon were killed on active service.
"Tommy and his comrades made no apologies for honouring people like Sean South, Feargal O'Hanlon or Kevin Barry while today's establishment demonise those who commemorate Irish republicans in song.
"Tommy was an active IRA Volunteer and served the Republican Movement at all levels with the courage and determination that were his hallmarks."
Born in Castlebar in 1933, Tommy became involved in many sporting organisations in his hometown. He was chairperson of Castlebar Wheelers cycling club, Castlebar Boxing Club and Castlebar Hurling Club.
• Tommy Devereux celebrates the election of Noel Campbell to Castlebar Town Council in 2004, as his friend and comrade Joe McHale (with clipboard) punches the air 
Tommy had a great love of cycling and excelled in the sport when he cycled in the 1952/53 season of the RÁS Táilteann. In later years, he followed cycling enthusiastically and loved to watch racing at all levels.
Tommy was employed for 25 years with Castlebar Urban District Council, where he served the people of Castlebar and surrounding areas with distinction.
He was a man who opposed any form of discrimination. When the first Traveller family were housed in Castlebar in the 1960s, Tommy and others stood with the family against those who objected to the move.
Local Mayo County Councillors shared stories and paid tribute at their December meeting to Tommy, who one councillor referred to as "a proud Castlebar man who worked with so many clubs in the town".
Tommy was passionate about the republican cause. As Martin Ferris detailed in his oration: "In 1969, the Troubles broke out and the sectarian, Orange state denied civil rights to the nationalist community in the Six Counties. Tommy and his comrades were not found wanting in their defence, unlike the political establishment of the time who stood idly by."
"When hundreds of nationalists were burned and driven out of their homes in the pogroms, Tommy and his wife Ann opened their home to those fleeing persecution. Those doors were to remain open to republicans from the length and breadth of Ireland for many decades to follow".
"Tommy was instrumental in rallying support at home and abroad for Michael Gaughan who was on hunger strike in Parkhurst in 1974. Michael died from being force fed on hunger strike. Tommy was part of the committee that organised his funeral".
"Frank Stagg died on 12 February 1976 in Wakefield Prison. His body was hijacked by the Gardaí at the behest of the Irish Government and the Minister for Justice Paddy Cooney and, despite Frank's final wishes to be buried with his comrades in the republican plot in Leigue Cemetery in Ballina, they buried him under six feet of concrete.
• Pictured at a function in Castlebar marking Tommy Devereux's retirement from the outdoor staff of Castlebar Urban District Council - Front row: Martin McGuinness MP, Ann and Tommy Devereux, Gerry Adams MP. Back row: Des and Oonagh Corcoran, Orla and William McDonnell
"The following year Frank's wish was granted when he was laid to rest with Michael Gaughan and comrades in the republican plot."
Tommy and his comrades were very active in Mayo in 1981 and he was part of the H-Block Committee who organised for Owen Carron, Bobby Sands' director of elections, to speak in Castlebar during the hunger strikes. Tommy travelled to the Six Counties to attend the hunger strikers' funerals.
Tommy was very supportive of the electoral intervention of H-Block candidates which led to a broadening of the republican struggle and Tommy had a central role in building Sinn Féin in Mayo.
In 1984, Sinn Féin contested the European Parliament elections for the first time and the Connacht/Ulster candidates were Mary McGing, Eddie Fullerton - who was later murdered by British Death Squads - and Caoimhghín Ó Caoláin, who went on to be elected as Sinn Féin's first TD to take a seat in Leinster House since Partition.
Tommy was foursquare behind the Republican Movement's decision to pursue an electoral strategy as put forward at the Sinn Féin Ard Fheis in 1985, and later backed by an overwhelming majority at the 1986 Ard Fheis.
Tommy stood in the 1985 local elections in Castlebar. The strategy at the time was to ensure that every person who wanted to vote for Sinn Féin got the opportunity, even in opposition strongholds.
The selfless act of standing for election in what were deemed unwinnable seats got Sinn Féin on the ballot sheet and led the party to where it is today - a party with a real chance of forming a government after the next general election. 
Tommy was 100% behind the IRA's decision in 1994 to call a ceasefire. The Tory government reneged on the agreement in July 1997 and the ceasefire broke down. Tommy and others pursued another ceasefire and they actively engaged with members and activists to fully endorse the Good Friday Agreement of 1998. Tommy's part in this cannot be understated.
Tommy was a mentor to myself and many young republicans who joined Sinn Féin. In the 2004 Castlebar Town Council election, Sinn Féin took a seat on that authority for the first time in almost eighty years.
The origins of that electoral victory were sown by Tommy and his comrades in the preceding decades.
Tommy was a great source of advice, encouragement and friendship to me during that election campaign and he proudly celebrated Sinn Féin's success in his own quiet way.
As Martin Ferris acknowledged: "A part of Tommy's makeup was his modesty. He was never about looking for accolades or praise." 
Tommy continued to support the younger generation of republicans who were always welcomed into the Devereux house.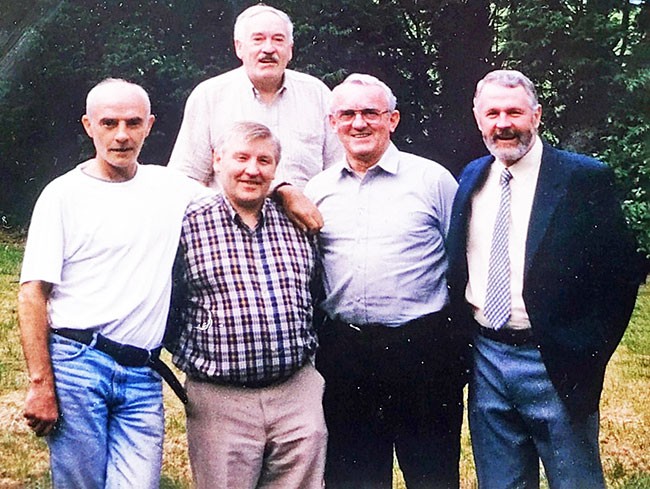 • Brian Keenan, Harry Thompson, Tommy Devereux, Martin Ferris and Dickie Glenholmes (at back)
Leading local tributes, Mayo Sinn Féin TD Rose Conway-Walsh described Tommy as a great friend and mentor to her over the years. Deputy Conway-Walsh said:
"Tommy was always there to help me through the toughest of times. I was deeply saddened when I learned of his death."
Mayo Sinn Féin County Councillor Gerry Murray also paid tribute to his friend of many years. In concluding his tribute to Tommy, Martin Ferris reminded us:
"Tommy was inspired by the Fenian Proclamation of 1867 and the 1916 Proclamation, and Mayo's Michael Davitt played a pivotal role in his thinking and he lived his life accordingly.
"The Republican Movement of today and its huge political growth across the island, where Sinn Féin is the largest party both in the Six and the 26 counties, is down to the hard work and determination of people like Tommy and Ann Devereux and others.
"Tommy's rock was Ann, whom he married in 1964, and side-by-side they gave decades of service to the Republican Movement.
"On the shoulders of these great republicans and that of our patriot dead, our struggle for unity and equality for our people will be achieved."
Tommy was a devoted family man, father to Orla and Oonagh, father-in-law to Des and William and a proud grandfather to Liam, Tommy, Brendan, Eimear, Bronagh and Martin.
Tommy Devereux passed away peacefully, in his 90th year, at his home on Davitt's Terrace, Castlebar, surrounded by his family.