19 December 2022
Ireland's future will be shaped by our nation's rainbow diversity – Declan Kearney
Planning towards a new Irish constitutional democracy means engaging with the key economic and social priorities of today – healthcare; pensions; jobs; a route back into the EU.
I recently addressed the second public event organised by Sinn Féin's Commission on the Future of Ireland in Derry city.  
The title of this panel discussion was 'Celebrating Diversity - Ending Division'. The panellists were the Reverend David Latimer, Denzil Mc Daniel, Catherine Pollock, and Maeve Mc Laughlin. Joe Martin acted as independent chairperson.  
There was a large attendance, and a very good discussion took place.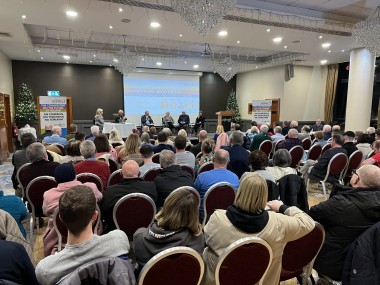 Panel addressing packed event in Derry's City Hotel
The Commission's aim is to promote grass roots engagement on the key issues associated with the present discourse around constitutional change. 
Our party wants these events to deepen popular democratic participation in the growing conversation about our shared future. 
A few days previously the Apprentice Boys of Derry held their annual parade in the city. 
That parade, once contested, is now a settled issue; but it was not always so. 
The resolution of the parades dispute in Derry became a reference point within our peace process.  
The transformation of this seemingly intractable dispute, which was the source of decades of division, instability and conflict into agreement, became a sub theme in the panel and audience discussion.
Finding a resolution in Derry took courage; a willingness to engage; to embrace and make change; to recognise that the status quo was not working; and a willingness to compromise.
It was also about agreeing on the need to respect difference and diversity.
My friend, the late Donncha Mac Niallais, and others, led by example, with great leadership.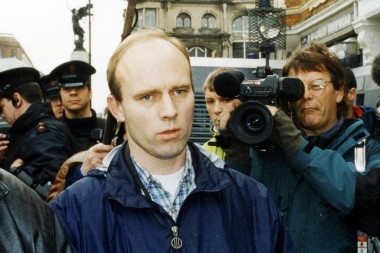 Despite its history of conflict and turbulence, Derry has now become synonymous with cultural diversity.
Across the city walls, there is an interpretative centre run by the Apprentice Boys.
The flourishing Cultúrlann Uí Chanáin in the city centre is a hub for the promotion of an Ghaeilge, and Irish culture.
Just over the county border, the Ulster Scots tradition of East Donegal is celebrated in a museum and community centre close to Carrigans.
The former Ebrington military base, which housed a centuries old British army in Derry, and once a symbol of state repression, has become a thriving economic and job creation centre and shared communal space.
Change is still happening in Derry, across the north, and throughout Ireland.
The conversation on constitutional change is everywhere.
Irish unity isn't inevitable, but everyone is talking about the possibility.
All this is being fuelled by historic change and electoral realignment north and south.
In the north, the once permanent unionist electoral majority has gone.
In the south, the century old dominance of the two big conservative parties has been eclipsed. 
Change is in the air. 
There's a desire for something new to replace the status quo. 
And it's growing in momentum.
But change needs to be managed.
With the establishment of our peace settlement, the Good Friday Agreement (GFA), gave us a framework of rules and values to manage democratic change, and ongoing transformation within society.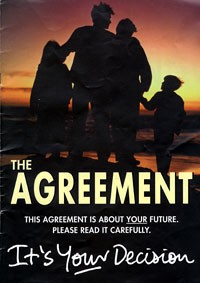 Then came Brexit, and everything changed again.
Economic and political relations between and throughout these islands have been dramatically impacted. 
The democratic demand for Scottish independence is resurgent.
Increased autonomy powers are being sought in Wales. 
The so called 'United Kingdom' has become terminally disunited.  
Twelve years of Tory rule have turned the north of Ireland into a backwater, with substandard economic performance; low productivity; low educational achievement; and the worst health outcomes of any region in these islands.
The imposition of Brexit has cut off an economic lifeline for the north to the EU. And the ongoing refusal to properly implement the resulting Protocol is creating further instability and uncertainty for local businesses. 
Tory rule is bad for everyone's health and economic subsistence in this region, regardless of citizens' religious, political or ethnic backgrounds.
Declan Kearney & Cllr Anne Marie Logue on the picket line with striking nurses in Antrim
Last week thousands of nurses, health and social care workers, and postal workers took strike action for proper pay levels, decent terms and conditions, and safe working environments.
At the same time this Tory government is taking new anti trade union powers in an attempt to break organised labour.
The big question for many to consider is whether it is better to be a first-class citizen in a new Ireland, in control of our own affairs, rather than a second-class citizen, in the Tories' 'Brexit Britain'. 
Brexit has put the constitutional status of the north centre stage and triggered an unprecedented conversation about the future.
Many, including an undefined section of people from unionist backgrounds, are involved.
Something very profound is happening.
That was evidenced at a recent 'Ireland's Future' meeting in Belfast's Ulster Hall: It was packed.
But it's also reflected in the 'Together UK' group launched by Arlene Foster. I actually think this is a welcome development.
Admittedly, the group's stated aim is to counter growing support for constitutional change. 
But it makes sense for proponents and opponents of Irish unity to be engaged with each other in respectful and rational debate.  
The GFA allows for constitutional change through the exercise of self-determination in a peaceful and democratic way. 
It also provides a framework of protections and rules to address division, inequality and sectarianism, and also promote inclusion, pluralism, and diversity. 
Just because the past remains contested, does not mean the future has to be.  
It's time to open up a new phase of our peace process. 
We deserve a democratic and pragmatic discussion, which deals with constitutional change in the context of quality of life issues. 
A discourse which moves beyond the chaos and dysfunction created by Brexit.  
The doubts held by those who remain to be persuaded about Irish reunification do need addressed. 
So, can we protect public services, guarantee pensions, and create decent jobs and pay? 
Can we create an Irish national health service, and design an education system which becomes a world leader in delivering qualifications and skills?
Can we educate our children together and not apart?
Can we agree new constitutional democratic structures, which will accommodate all identities and traditions?
Can we eradicate sectarianism, racism and end segregation? 
The answer is that we can and must.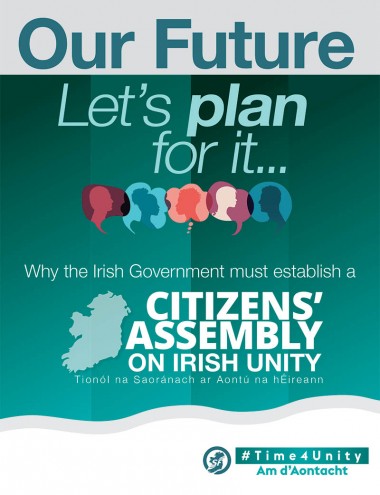 This discussion about Irish unity should be structured and systematic. 
All voices need to be heard in a conversation which is pragmatic; not one distracted by fake news, nostalgia or sentimentality.  
Planning towards a new Irish constitutional democracy means engaging with the key economic and social priorities of today – healthcare; pensions; jobs; a route back into the EU. 
Present day Irish society is already multi-cultural and multi-lingual.  
That is our strength – inclusion and diversity. 
Sinn Féin and genuine Irish republicans are absolutely committed to accommodating the orange tradition and British identity in a new Ireland.  
Yes, there can and will be Orange parades without dissension in a new Ireland. 
Derry showed how this could be achieved 20 years ago.  
Ireland's future will not be defined by the division between green and orange. It will be shaped by our nation's rainbow diversity. 
Our unionist neighbours, who may already be considering this process change; or who may hold reservations about reunification; should freely identify the guarantees and protections which are important to them.  
Sinn Féin does not own the Irish unity debate. We do not claim to have all the answers. 
A genuine and open discussion should be taking place about the principles and reassurances required to underpin a new constitutional settlement on the island.
That's why the Irish government should establish an all-island Citizens' Assembly without further delay. 
The people should be sovereign.  
It is they who must self-determine our future on this island.
Everyone should have their say.
And no one should be left behind.
A new era in Ireland's history is dawning.
All of us can shape that future by showing generosity and grace, by making compromises, and stretching out the hand of friendship to each other.
(This article is dedicated to the memory of Donncha Mac Niallais - a life long republican activist, committed to building a new Ireland, and who died suddenly on 9th September 2022.)