14 December 2022
Eight Kildare martyrs
Remembering the Past - Centenary of Curragh executions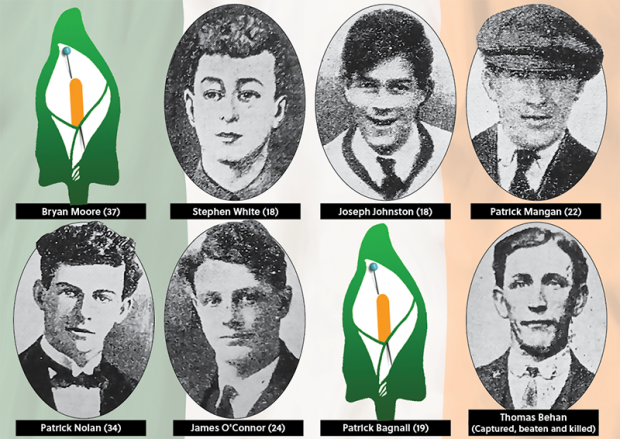 The Curragh Camp in County Kildare was for decades the chief British military base in Ireland. It was handed over to the Free State army in May 1922 but it was shortly the scene of imprisonment and execution of some of the same republicans who had fought the British.
On 13 December 1922 a detachment of Free State troops set out from the Curragh Camp to raid for arms. At Mooresbridge, about a mile and a half from the camp, they discovered the woman owner of a farmhouse in possession of a loaded revolver. A thorough search of the house uncovered a large dugout hidden under the floor. There were eight IRA Volunteers in the dugout. They had ten rifles and ammunition, which had been bought from a Free State soldier based in Naas barracks.
The Volunteers surrendered but after they did so a Free State soldier struck one of them, Thomas Behan of Rathangan, with a rifle butt and broke his arm. The republicans were ordered to board a truck. When Behan was unable to do so because of his broken arm, he was beaten savagely around the head and fell dead. The murder was covered up by the authorities with the usual excuse, "shot while trying to escape".
The seven surviving republicans were taken to the Glasshouse, the military prison in the Curragh. Under powers given to them by the Free State government, military tribunals could impose the death sentence for possession of arms. With 12 republicans already executed under this regime since the end of November, the fate of the seven Kildare Volunteers was sealed.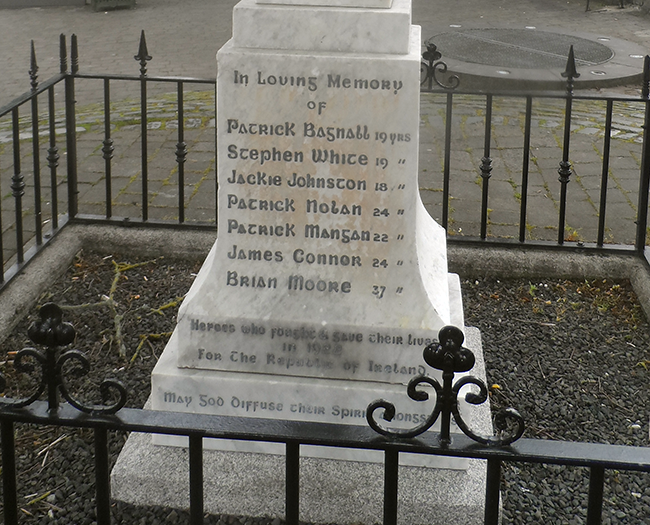 The Officer Commanding and eldest of the Volunteers, was Bryan Moore, of Rathbride, Kildare, aged 37. Volunteers Patrick Bagnall (19), Patrick Mangan (22), Joseph Johnston (18), Patrick Nolan (34) and Stephen White (18) were all Kildare men and James O'Connor (24) was from Bansha in County Tipperary. All were either railway workers or general labourers, reflecting the typical social profile of the Republican Volunteers in the Civil War period.
All the men wrote final notes to their families. Patrick Nolan wrote to his brothers and sisters:
"Now that I'm about to part from this world, I ask you for one favour - be kind and good to Father and Mother, and never dishonour the Cause for which I die - a Free and Independent Ireland. I bear no ill will to any person."
The Kildare Volunteers were executed by firing squad at the Curragh on the morning of 19 December, having been captured, and their comrade Thomas Behan beaten to death, on 13 December 1922, 100 years ago this week.
* Note: This article, first published on 12 December 2002, is based on the account in 'On the One Road - Political Unrest in Kildare 1913 - 1994' by James Durney.