1 December 2022
Bus workers killed in Dublin bombings remembered 50 years on
The 50th anniversary of the deaths of three Dublin bus workers was marked in the city on 1 December, the date on which Tommy Duffy and George Bradshaw were killed in Sackville Place off O'Connell Street. Tommy Douglas was killed in the same place on 20 January 1973.
• John Grandfield remembers his fellow workers
The bombs were the work of British agents and the December attack resulted directly in the passing in Leinster House of the repressive Offences Against the State Act. Up to the night of the 1 December bomb the Fine Gael party was due to vote against this Fianna Fáil government legislation. But after the bombs exploded they voted for the bill.
• Musicians Cormac Bhreatnach and Eoin Dillon
The commemoration ceremony on 1 December was organised by Justice for the Forgotten and Margaret Urwin read profiles of the three men. The event was chaired by Tommy Duffy, whose father was one of those killed. Ardmhéara Bhaile Átha Cliath Caroline Conroy laid a wreath as did Education Minister Norma Foley. Among those attending were Mary Lou McDonald and Michelle O'Neill, as well as several Sinn Féin TDs and Councillors. Retired bus worker John Grandfield, a friend of all three men killed, spoke of his fellow workers. He was among seven men present who worked with them.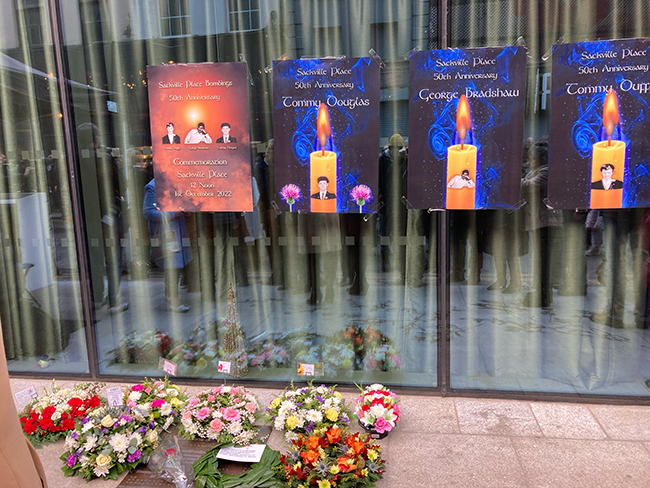 • Sackville Place, 50 years on